15 Minutes with Myles Kennedy- Interview by Joleen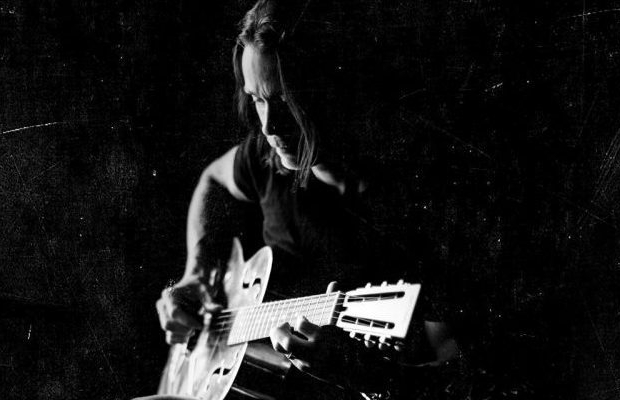 By Joleen Kuchenbacker
October 19, 2018
I had the pleasure of speaking with Myles Kennedy on October 19; Myles was calling from his home in Spokane, WA after just wrapping up his tour dates with the Conspirators and Slash in support of their new album Living the Dream. Myles was just beginning a few weeks off at home before embarking on the second leg of the Year of the Tiger US tour, which kicks off November 13 at the Concord Music Hall in Chicago.
Joleen: I saw you on the first leg of the tour in May at Rochaus (West Dundee, IL) and it was great; you have such a light and energy you bring in engaging the crowd and everyone had a such a good time. What will the fans see different this time around on the second leg of the tour in the US?
Myles: The biggest difference is that I am bringing a band this time. I'm going to bring the rhythm section, the guys that played on Year of the Tiger with me, and we'll be doing more of the songs from that record. It's just really fun to take these songs and massage the arrangement such in a live context; it works as a power trio, it's a 3-piece. In the studio I had banjo and all these instruments at my disposal; what I've decided to do with this is approach it a little bit different; take the songs and rock them out to a degree.
We did a run in Europe this June and July, and it was a ton of fun. It was just an amazing experience, so we wanted to take that same approach and do it here in the States.
J: You used the band in Europe?
M: Yeah, there are still parts in the set where I play acoustically, or I bring out the resonator. I feel like that's just such a fun part of the process for me. I love doing that. I love stripping a song down to just vocal and guitar and letting the song just do its thing. But it relies more heavily on the band approach for this particular tour; two-thirds of the set will be with the band.
J: So you won't be traveling in the van this time?
M: (laugh) No, no van this time; this time we're going to have a bus and a crew and a few more folks involved.
J: Very importantly, is Shasta still with you?
(note: Shasta was the tour mascot from the first leg of the US Year of the Tiger tour; the pink pony guiding the way across country from the dashboard of the van)
M: (laugh) Ah Shasta! (laugh) We will have to make sure Shasta is with us and in the mix, hopefully somebody still has her. That's funny, I forgot about Shasta
J: Hopefully you can bring her to Chicago! (laugh)
M: Maybe I will have her sitting on my amp or something (laugh)
J: You had a really great year, with your solo tour of course, the new album and tour with Slash and the Conspirators, and the Alter Bridge release of Live at Royal Albert Hall. Today I wake up and you are on The Sound of Silence with David Draiman as part of the new Disturbed album just released. How did that come about?
M: Yes, it's been a crazy year, a good year. Disturbed and Alter Bridge toured in 2016, we did a run with Breaking Benjamin and St. Asonia. The idea was brought up that perhaps when they did The Sound of Silence, bring Myles out and do a duet. Obviously the original version of that song, Simon and Garfunkel, that's how it's done, as a duet. So, I just learned the harmonies and the fans seemed to enjoy it, and they enjoyed playing it. I was honored that they brought me out; it was a cool experience. Earlier this year, they reached out and asked if it'd be cool if they put it on their record. I said absolutely; I'd be flattered.
J: It's just amazing; bringing you guys together was really special. I've seen you with Slash also; I really enjoy your work, and you bring such a great energy into your performance; the fans are great too. For you, music is your life. For most of us, music is our escape; going to shows is a great way to relax. What do you do to take time away, and how do you bring balance into your life?
M: That's a good question because music is the magic elixir for so many of us, myself included. I still listen to plenty of music, if I'm not making my own, then I still love to just sit and power down with some good music in the background, or in the forefront. But I guess one of the things I do, that I discovered in the last year to truly power down and truly relax, is I've really gotten into meditation. It's definitely brought something needed, especially considering the amount of time that I am expected to be "on", maintaining a certain plateau mentally. That's been very useful for me; it has kind of been a life changing thing for me. I do that, exercise, try to take things in, appreciate things, be grateful, and not stress, that's the main thing.
J: How did you become interested in meditation?
M: Interestingly I was on tour with Alter Bridge in Europe in 2017, and I was watching this documentary on Steve Jobs, who I've always been fascinated with. At some point during the documentary, he brings up Ram Dass and this book Be Here Now, and I was like what is this, who is this Ram Dass guy? If Steve Jobs is into it, it's got to be something special, so I started research and listening to his lectures he did in the late 1960s and 1970s, and that created a spark for meditation. I went back and read a lot of books I had read a long time ago. There's a book called Wherever You Go There You Are that was popular in the 1990s and so, yeah, I really got into it and I love it.
J: What do you have planned for 2019?
M: 2019 will be another fun year for me. I will be touring with Slash and the Conspirators starting at the beginning of January, we are heading to Asia and Australia, then we'll be doing Europe after that. And then, right into making the next Alter Bridge in April. It's going to be a busy year, and a good year.
J: I hope you keep it up Myles; you bring a great joy to a lot of people.
M: Thank you so much; that's the best compliment ever. That's why I do it; I just want to make people happy.
*Cover photo taken from the new album- Year of the Tiger