3 Doors Down @ HEB Center, Cedar Park, TX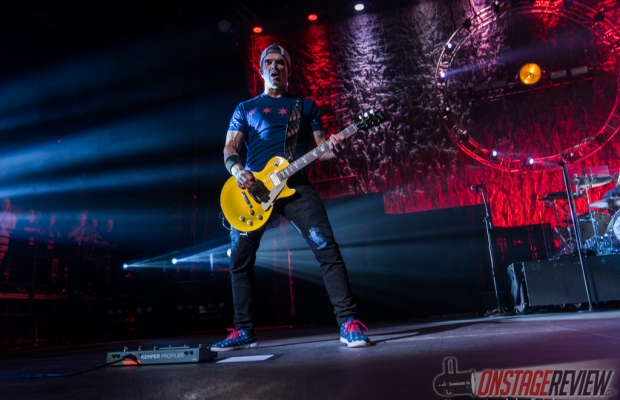 July 18, 2018
Don't lie; you've heard 3 Doors Down whether you've realized it was them or not. Arguably their most iconic song, Kryptonite, has nearly a quarter of a billion song plays on Spotify alone. And while you may think that isn't comparable to the few songs well over 500M or at 1B+ plays, that's not considering the international fame of some of these artists like Sheeran, Drake and Biebs. 3 Doors Down, like most 90s rock bands, has stood the test of time and still kicking some top charts and lists on streaming services today. With their The Rock & Roll Express Tour steaming full speed ahead, this multiplatinum band isn't showing signs of slowing down.
The band is currently comprised of Brad Arnold (lead vocals), Chet Roberts (lead guitar, some vocals), Chris Henderson (guitar, some vocals), Justin Biltonen (bass) and Greg Upchurch (drums). Arnold's vocals show no signs of age as heard in both Cedar Park, TX's HEB Center, and throughout his musical career dating back to the band's first album in 2000, four years after the band started. The slightly raspy, gravel voice has the same character and same enthusiastic and aggressive tone since the start; he's seen the band through since inception as the founding and only original member still present.
Roberts and Henderson really stole the show; along with the killer lights you'll see below, the duo guitarists showcased the electricity in the air with their headbobbing, guitar-strumming, foot-stomping attitude you'd expect from most rock-and-roll shows.
Perhaps one of the more interesting songs in the setlist is Citizen/Soldier, which was filmed alongside the U.S. National Guard and featured heavily in the Guard's advertising and promotion. Henderson is also a Navy veteran, which has been hinted through the band's use of American flags on stage and next to Upchurch's drum kit. Being in Texas where national pride runs as deep as oil they drill for, it was one of their most welcomed and appreciated songs in their 17-song setlist. The crowd was already a deep gathering of their hardcore fanbase, but when this song came right after Be Like That, you might as well be at a Freddie Van Halen concert with Eruption starting up on the guitar. It was explosive…which may be fitting for a military song.
Along with 3 Doors Down, Collective Soul and Soul Asylum joined for the tour. While there's not much to say about Soul Asylum other than the fact that their lead singer looks EXACTLY like Harry from Dumb and Dumber, there's plenty to be said for Collective Soul. Ed Roland, the lead singer and founder, looks like a discount Ozzy Osborne, but in a complimentary and really good way. He's got the same swagger, same enthusiasm, same charisma, same smile. And while the band is slightly older in both age of members and group, their energy may even be greater than 3 Doors Down. And while both bands were founded in the South, Collective Soul's music can really showcase the influence of some lighter and airy guitar vs. the more grungy and heavy strumming found in 3 Doors Down.