A PERFECT CIRCLE @ UIC PAVILION – Chicago, IL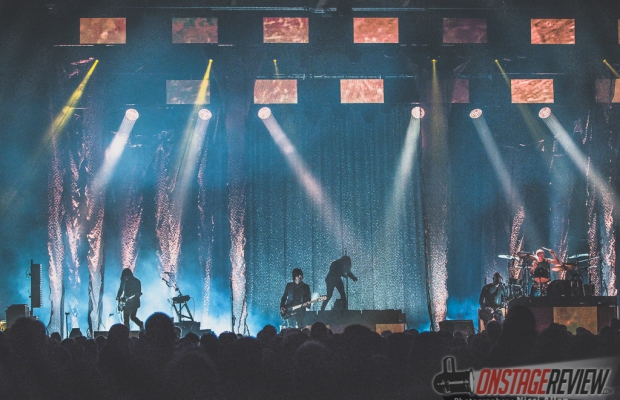 November 24, 2017
This particular band had been sitting on my "to see live" list for quite some time. I have been a huge fan of A Perfect Circle since I was a young teenager. Even with over ten years of anticipation, this group did not disappoint in the least.
Opening the show with a thin curtain draped across the stage, A Perfect Circle stayed hidden from the crowd for the first track. This introduction sincerely added to the build up and excited the crowd even more as the cloth dropped to the stage at the beginning of the second track,"The Hollow."
The gradual increase of intensity at this concert reminded me of one of my favorite bands to see live, Sigur Ros. As the show continued the tension, emotion, and overall sentiment of the music seemed to grow with every new track.
One of the most impressive aspects of this band's live performance was the airtight and extremely expressive drumming from Jeff Friedl. It never stood out to me that a good portion of this bands tracks are actually rooted in odd timing until seeing them live. The overall production and execution from this crew was nothing short of astonishing.
Maynard James Keenan was brilliant as always. Of course he brought his unique sense of humor and goofy antics to the stage with him, lifting weights and cracking jokes. When a band produces some of the most heart wrenching and sentimental tracks written in the last decade, its nice to have some light-hearted playfulness in between songs.
Shortly before playing their new apocalyptic single "The Doomed," A Perfect Circle announced that they will be releasing a new album in 2018. If every song is as spellbinding and unique to the rest as the new ones they performed this evening, this album will blow minds. If only we can be lucky enough to get a new A Perfect Circle album as well as a new Tool album in the same year, their fans might finally be content.
A Perfect Circle checked one off the band bucket list for me, and added a new unforgettable memory to my collection. Do not wait to grab tickets for your town…