ADAM ANT @ THE OBSERVATORY OC – Santa Ana, CA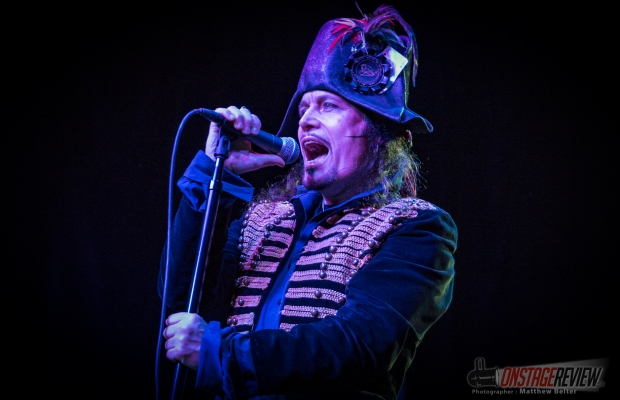 February 17th, 2017
"In a time where many bands from his generation are starting to fall short of expectations during their live performances, ADAM ANT seems to be getting better with age.  If you ever get a chance to ADAM ANT on tour, do so – you will not be disappointed.  There is a reason why almost every show he performs around the world is Sold Out!"
The early eighties were a magical time for music.  The New Wave revolution was just beginning to take off, and post-punk bands like SIOUXSIE AND THE BANSHEES, JOY DIVISION and the TALKING HEADS were all the rage.  Whether you were in the UK or here in America, this avant-garde style music was making a statement and the unique sound that many of these bands were putting out was fresh, catchy, and most importantly relevant.  There was an obvious shift from blues and rock to a new sound that incorporated the best aspects of punk, disco, ska, electronic, and mod – alas the New Wave moment was born.  From under this umbrella came many sub-genres of New Wave including Post-Punk, Power-Pop, and Synth-pop.    One group that that fell into the Post-Punk bucket was at the time a little-known band called ADAM AND THE ANTS.   Their punk beginnings quickly morphed into a very distinct style that many of its adoring fans simply labeled, Antmusic.  At almost 40 years and 40 million albums later, ADAM ANT is still rocking harder than ever.  On Friday, February 17th, he took over The Observatory in Santa Ana, CA for what proved to be an epic night of music with a legend that many consider to be among founding fathers of the 80's New Wave movement.
Opening the show for ADAM ANT was a local glam band from Hollywood called the GLAM SKANKS.  This hard-hitting all-female "Glitter-Glam Rock N Roll Band" featured Ali Cat on Vocals, Millie on Bass, Cassie on Drums, and Veronica Volume on Guitar.  The 10-song set list was jam packed with some amazing jams like "Teenage Drag Queen", "Fuck Off", and my favorite of the evening "Glitter City".  These ladies were beautiful, talented, and absolutely deserved to be on stage supporting ADAM ANT – well done GLAM SKANKS!!
After a brief intermission and a well-deserved break from the GLAM SKANKS self-proclaimed roller-coaster ride, ADAM ANT took the stage.  He opened the show with "Dog Eat Dog", opening track off of his 1980 release, Kings of the Wild Frontier (which he would play in its entirety).  This is one of my favorite tracks off of the album and he absolutely nailed it.  Next up was "Antmusic". Adam had no trouble bringing this track to life with his amazing vocal range and dynamic stage presence – definitely a highlight of the show. Over the next hour and a half, ADAM ANT fans were treated to an incredible set list that again encompassed the entire Kings of the Wild Frontier album as well as hits that spanned the entire ANTS catalog as well as his solo work.  From fan favorites such as "Desperate But Not Serious" and "Goody Two Shoes" to more obscure classics like "Christian Dior" and "Feed Me To The Lions", there was something for every ADAM ANT fan. The 26-song marathon set came to an end with an encore consisting of "Red Scab", "Get it On" (A Marc Bolan cover),  and an additional track off the American version of Kings of the Wild Frontier, "Physical (You're So)". ADAM ANT couldn't have picked a better trio of songs to end what many considered to be his best performance of the tour.
As a lifetime ADAM ANT fan (and my first time seeing him live), I could not have been more excited about his performance on Friday evening.  Adam's band, consisting of Andy Woodward on Drums, William Crewdson on Guitar, Jola on Drums, and Joe Holweger on Bass, were spot on the entire show and brought their best to legions of ADAM ANT fans crowded inside the Observatory OC.  No one, and I mean no one, in that venue walked away disappointed from this spectacular performance.  In a time where many bands from his generation are starting to fall short of expectations during their live performances, ADAM ANT seems to be getting better with age.  If you ever get a chance to ADAM ANT  and his killer band on tour, do so – you will not be disappointed.  There is a reason why almost every show he performs around the world is Sold Out!
Until next time…
Stay Frosty and Rock On!
ADAM ANT
GLAM SKANKS