ALICE COOPER @ Milwaukee Theatre – Milwaukee, WI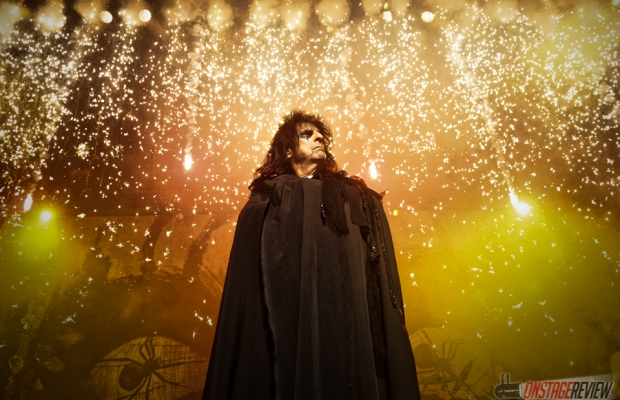 October 6, 2016
There are very few artists that can make you say "WOW," and not from elaborate choreography, expensive light shows, or even big area stage sets. At 68, Alice Cooper still brings more energy to the stage than today's biggest rock bands, which is no wonder he recently joined Mötley Crüe on their farewell tour. His classic hits are rich in substance not usually found in today's cookie cutter formula. Strangely, this also allows him to craft a performance that flows like a play from one song to the next and that are chock full of theatrics.
This tour, "Spend The Night With Alice Cooper," feels like we are Alice's guests at a twisted sleepover. Like a child dressing up to entertain his family, Alice routinely changes attire all the while grabbing different props from his toy box to help tell the story of each song. Joining him on stage is his wife, Sheryl Goddard, who mesmerizes us with her graceful dancing and beauty. Sheryl, for many years, has played numerous characters, from an object of Alice's desire to a tormenting nurse hellbent on killing Alice Cooper.
Helping to bring this show to life are some very talented musicians including: Nita Strauss, Ryan Roxie, Chuck Garric, Tommy Henriksen, and Glen Sobel. These unsung heroes, each with a very impressive resume' worthy of their own tour, effortlessly give powerful performances with a little old-school flair reminiscent of the showmanship found in big '80s rock bands.
From start to finish, there is no downtime in the 24 song set. Opening the show with the haunting voice of horror icon, Vince Price, for the song "Black Widow" to closing the night with a very explosive "Elected," the set-list was full of surprises. There were quite a few deep cuts that really lit up the fans' faces such as: "Public Animal #9," "Halo of Flies," and "World Needs Guts." Alice also pulled no punches in rolling out all the staples such as: "18," "School's Out," and "No More Mr. Nice Guy." The highlight of the night, however, involved Alice and the gang paying tribute to fallen musicians Keith Moon, Lemmy Kilmister, and David Bowie by rocking out "Pinball Wizard," "Ace of Spades," and "Suffragette City."
Alice Cooper may be one of the last true showman in the industry. Combining horror theatrics and solid rock anthems, he never fails to impress and always gives 110% every show. If you missed him this tour don't worry, he's claimed to have no plans of retiring anytime soon and says he is booked into the next century. After seeing Thursday night's performance at the Milwaukee Theatre, that statement appears to be completely true.