American Aquarium @ City Winery – Chicago IL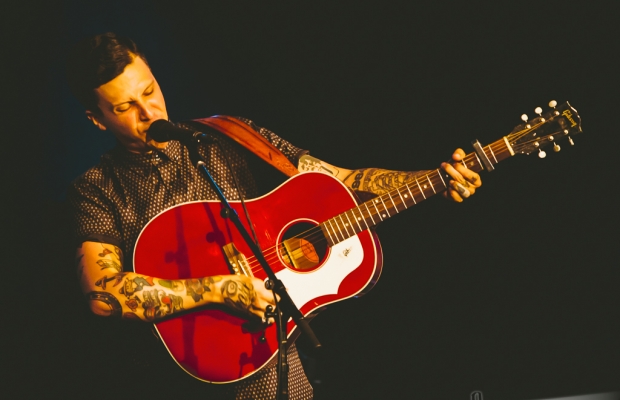 MAY 28th, 2018
Photos & Review by CHRIS MORAN
A couple of months back a song popped up on my Spotify Daily playlist. It was a song called "Losing Side of 25" by a band named American Aquarium. Its one of those songs that just jumped out at me and caused me to stop what i was doing and really listen to it. It is a song that resonated with me and my life, talking about getting older and being a musician and not going about life the way that others may have planned out for you. It talks about friends growing up and having kids and other families children getting "the good jobs" while the author of the song takes a different path and finds happiness in being a touring musician.
This song caused me to dig more into the band. Upon listening to them I found that many of the songs and themes really related to me. The sound of the band is also amazing outside of the lyrical content. This band is a blue collar, Americana, Alt-Country powerhouse that has built a following and fan base the old fashioned way by playing upwards of 300 dates a year. Lead singer and founder BJ Barham started this, his first and only band, while he was in college and hasn't looked back since. The band has gone through quite a few members over the years. The newest lineup of the band in my opinion is the best and tightest they have ever sounded.
I was thrilled when I saw they were coming to town. This was my first time experiencing American Aquarium live, and I was blown away. BJ has a great presence about him. He is charming, funny, and most of all honest. He is a great story teller and really sets the stage for the songs he is playing with his band. Whether he is talking about getting sober 4 years ago, parting with old band members, or speaking of his opinions of the current political climate in this country, there seems to be nothing he won't share with the audience. I'm not sure if all of his shows are like this or if the intimate setting of the City Winery made the show more of a "Story Tellers" show, but I can't wait to see them again to find out.
June 1st 2018 marks the release of the bands 10th album, "Things Change". I would highly recommend picking this up. I have been listening to it non stop since it came out. Be sure to catch American Aquarium the next time they come through your town. You will not be disappointed!!
cm