ANDREW W.K. POWER OF PARTYING @ REVOLUTION BREWING TAP ROOM – CHICAGO,IL
By Dan Scheiman on September 18, 2016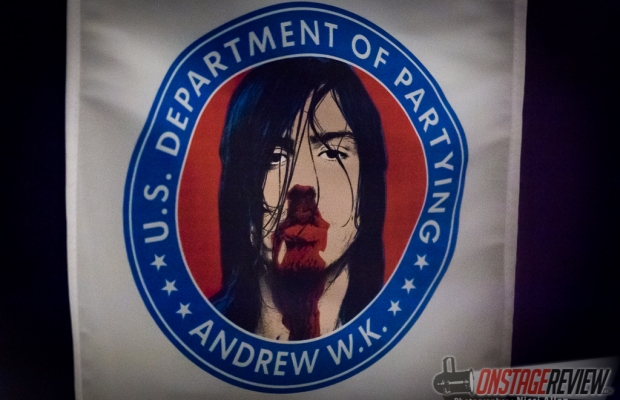 September 15, 2016
The background of the stage was draped with a gigantic American flag, the lighting was dimmed, and there were candles sitting on barrels of beer in the taproom of a brewery that celebrates revolution and change for the better. This environment felt like something that our ancestors may have experienced while they planned the American Revolution. This tour is based on an entirely new approach, mostly related to partying, but a revolution nonetheless. Revolution Brewing tap room seemed like the perfect place to host the very first Power of Partying speaking tour by Andrew W.K. himself. Every new member of the Party Party was handed a Revolution's Rev Pils on the house upon walking in and directed to a line for free pizza. The crowd was an extremely friendly and welcoming bunch and everyone was clearly there for one reason and one reason only; partying.
Andrew W.K. was greeted by an explosion of an applause as he walked up to the podium. He sincerely seemed to be in shock by the amount of people that showed up and the amount of love and energy that the crowd had to offer him. He immediately admitted that he was beyond nervous and that this was something he was doing both to spread the word about partying and to test to himself to gain the confidence to try something he never has. He spoke about this tour being something he felt compelled to do. Within a few minutes of speaking he started to shake his nerves clean of any concern he may have had and he began to speak from his heart.

Andrew opened himself up to his listeners more than I ever would have imagined. I wasn't honestly sure what to expect but when he started speaking I instantly found myself enthralled by his words and the genuine concern I saw in his eyes. This man was discussing partying, yes, but his definition of partying is something far deeper than what so many may think. Partying was roughly translated to enjoying and celebrating life and all of the impossibly complex aspects that are tied to being a human being while whole heartedly being a part of the human experience.
This man spoke of positivity, finding purpose, embracing hardships, and taking on challenges in life as tests. One of my favorite lectures to listen to are those of Alan Watts, and I found a great deal of similarities between his and Andrew's words. This man has more wisdom pent up inside him than you would possibly imagine. Not only is Andrew W.K. a fantastic musician and a man with a good heart, but he is someone that is trying to spread good vibes and advocate a positive outlook on life.
At one point in his lecture he mentioned the fact that it should be entirely acceptable for people to be overwhelmed by life and I support that statement so very much. Part of why I write is to explain how amazing these live performances are and I feel like people should not think that it's out the ordinary to feel amazed or euphoric from an experience in their lives. I think this sensation should be a regular and widely understood phenomenon. I am not going to spoil anything by telling you any of the deep, philosophical, statements that this man so thoroughly discussed, but if tickets are not sold out for his lecture in your town I strongly, strongly recommend you go. I gained so much from this short speech. Thank you Andrew W.K.
Dan Scheiman With an entirely open and unbiased obsession with music, Dan decided to take the opportunity given to him to share his thoughts for On Stage Review. Having been to hundreds of concerts of a variety of styles and genres over the years, he's no stranger to live music. He has been playing bass guitar for over twelve years now and has been dabbling in vocal work, drums, and piano for almost as long. Growing up listening to metal and industrial then transitioning into jazz and classical, and now having a particular love for funk or anything that grooves; his perspective comes from a well-rounded musical background and some amateur experience as a musician. He has too many favorite bands to list, but some of his favorite live experiences include: Sigur Ros, Porcupine Tree, Papadosio, Tool, The Ocean, Animals As Leaders, Lettuce, and of course, Victor Wooten.
Features

Nicci Allen | February 13, 2020

House of Vans Chicago Presents: Lamb of God on February 14th Featuring Harm's Way and Special Guests Photography Exhibit Featuring Works of D. Randall Blythe RSVP HERE . On February...

Featured Photographer

Joe Hendrickson | January 17, 2020

Danny Worsnop & Starbenders @ The Forge – Joliet, IL January 15, 2020 Review & Photos by Joe Hendrickson Danny Worsnop, of Asking Alexandria and We Are Harlot, set...
ABOUT ONSTAGE REVIEW

On Stage Review is a collaboration of passionate and enthusiastic music lovers coming together to give you an inside look into some of today's hottest and most intriguing artists.

We'll dive into their lives and careers on and off the stage and give you an up close perspective few get to see.

Facebook

ADMIN
Copyright © 2017 ONSTAGE REVIEW.com. Site by FM Imagery.