Anthrax, Killswitch Engage & The Devil Wears Prada @ The Paramount – Huntington, NY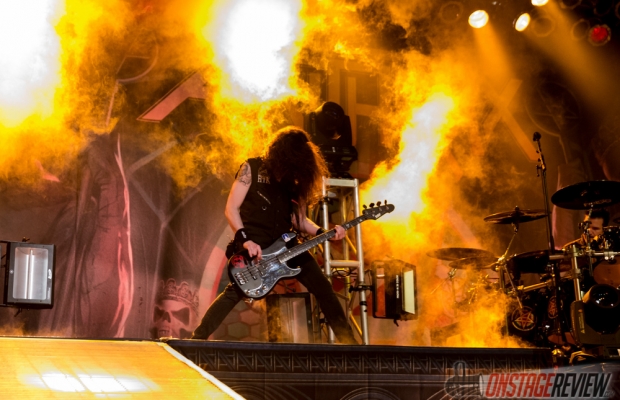 May 5, 2017
After rejoining Killswitch Engage, frontman Jesse Leach faced a lot of negative criticism, often having his vocal performances compared to the band's previous vocalist, Howard Jones. But all that came to an end with the success of Disarm the Descent (2013) and Incarnate (2016) as Jesse Leach not only carried the momentum Jones help create, but reestablished the band's success. From the moment Leach returned to Killswitch Engage, they have consistently been on tour, and recently made a stop at The Paramount in Huntington, NY with thrash metal legends Anthrax, The Devil Wears Prada and Code Orange opening up the night to a sold-out crowd.
Code Orange's performance was intense, dark, and energetic, with five out of the six band members contributing vocals which only added more ambiance to their dynamic stage presence. The set list was composed mainly off their latest album Forever which was released in late 2016. About midway into the set, the crowd started to embrace Code Orange with songs like: "Bleeding in the Blur," "The New Reality," and "I Am King."
The Devil Wears Prada's energy from the very beginning was brutal as the place exploded with a small group of fans starting a mosh pit in the back that only grew as the night progressed. Songs like "Planet A," "Outnumbered," "Assistant to the Regional Manager," and one of my favorites, "To The Key of Evergreen" highlighted their performance as they were able to keep the metal heads on their feet and headbanging.
Killswitch Engage was set to hit the stage, and as a 15-minute stage set up seemed like an eternity, the crowded started to chant their name waiting eagerly for Jesse Leach and the rest of the band. "Hate By Design", "Vida Infra", and "My Last Serenade" kicked things off to what would be a memorable night. The most incredible aspect was witnessing nearly everyone in attendance singing each song word for word displaying their emotion as if every song meant something special to them with "The End of Heartache" being a perfect example. From singing to moshing, headbanging and crowd surfing, it was one of those intense shows where everyone was involved. To close out the set, Killswitch Engage and Joey Belladonna (vocalist for Anthrax) shared the stage to honor the late Dio and performed "Holy Diver."
"Among the Living" was the opening song for thrash metal titans, Anthrax. It proved to be an incredible start to an already vitalized crowd. "Caught in a Mosh," "Madhouse," and "Fight 'Em 'Til You Can't" set the crowd into a chaotic frenzy. Joey Belladonna's vocals on "Breathing Lightning" and "Blood Eagle Wings" (from their 2016 album For All Kings) were on full display. With only a few shows left on the "Killthrax tour," Anthrax is set to embark on a world journey which will end in Japan and Europe before returning to the states to perform at Chicago Open Air with Kiss, Megadeth, and Rob Zombie. I'd suggest not missing them there, as this was a show not to be forgotten.
Code Orange
The Devil Wears Prada
Killswitch Engage
Anthrax