ART OF DYING, CHILDREN 18:3 & LETTERS FROM THE FIRE @ H.O.M.E. Bar – Arlington Heights, IL
By Janelle Rominski on October 17, 2016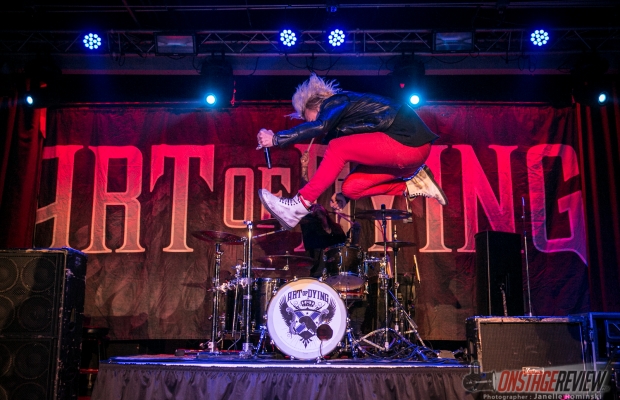 October 13, 2016
Vancouver-based quartet, Art of Dying, played an intimate concert at H.O.M.E. Bar Chicago in Arlington Heights, Illinois with Children 18:3 and Letters From The Fire.  Art of Dying is in the middle of a US tour sharing with fans their brand new tunes from their EP "Nevermore" that was released last month.   Many of my favorite tunes that were played included "Die Trying", "All Or Nothing", "Rise Up" and "Torn Down".  The front man for Art of Dying, has such exuberance on stage, I nickname the band "Art of Flying", as Jonny Hetherington jumps and flies, his band impresses my ears as he impresses my eyes.
Taking the stage before Art of Dying, was Minnesota Christian band, Children 18:3, a trio of talented musicians who show no signs of slowing down.  Their energy and enthusiasm for their music really drew you in to their love of the art of rock and roll.  I honestly had never heard of the band and that's one reason I love opening bands, so newcomers can get introduced to new acts breaking onto the scene.  Throughout their show their ferocious female bassist, Lee Marie, never skipped a beat and was an acrobat from the beginning to the end.  She swung her bass around, jumped up and down, and has a killer backward bend.  The drummer, Seth, is an animal with guns bigger than some of his drums.  He played a mean drum solo and power encapsulates his every  move.  Vocalist, David, had a great stage presence.  It caught me off guard when towards the end, he broke out into a sermon about God. However, their band name led me to believe there might be some religious undertones with the "18:3" as scripture reads.
The San Francisco quintet, Letters From The Fire, opened up the show.  I previously saw LFTF at H.O.M.E. Bar two years ago, but with a different vocalist.  With the departure of their former male singer, the band brought in a female powerhouse named Alexa Kabazie, with vocal chords that rock.  The band has a great future ahead with an even more polished sound and show seeing them now, versus two years ago.  Their tunes are solid and they really draw you in with their passion for their art.
Check out our photos from the show below.
ART OF DYING
CHILDREN 18:3
LETTERS FROM THE FIRE
Janelle Rominski's favorite place to be is in the photo pit. She has been to over 600 concerts and loves the feeling of being close to so many talented musicians and taking quality photos of their shows. She began her passion of "rocktography" and show reviews as soon as she could drive herself to concert venues.
Features

Joe Hendrickson | September 16, 2019

BABYMETAL & Avatar @ Aragon Ballroom – Chicago, IL September 20, 2019 Preview by Joe Hendrickson BABYMETAL is currently on tour with support from Avatar and On Stage Review...

Featured Photographer

Nicci Allen | September 11, 2019

LINGUA IGNOTA @ THE EMPTY BOTTLE, CHICAGO, IL September 9th, 2019 Photos/Review: Nicci Allen When I first heard of Lingua Ignota, the headlines alone sparked my interest. I kept...
ABOUT ONSTAGE REVIEW

On Stage Review is a collaboration of passionate and enthusiastic music lovers coming together to give you an inside look into some of today's hottest and most intriguing artists.

We'll dive into their lives and careers on and off the stage and give you an up close perspective few get to see.

Facebook

ADMIN
Copyright © 2017 ONSTAGE REVIEW.com. Site by FM Imagery.