AS I LAY DYING @ HOUSE OF BLUES – CHICAGO, IL
By Joe Hendrickson on December 5, 2019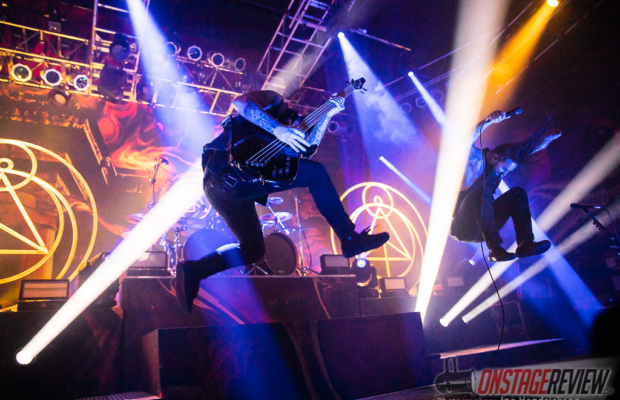 December 3, 2019
Touring off of their recent album, Shaped by Fire, As I Lay Dying came through on their Shaped by Fire Tour at the sold out House of Blues with Emmure and After the Burial. The tour was also presented by Heart Support, which is an organization that helps those struggling with mental health issues. I haven't been to the House of Blues in a while and this was a great show to come back to! This was my fifth time seeing As I Lay Dying but my first for Emmure and After the Burial.
Emmure is a metalcore band that's been around since 2003 and seven full length albums to date and an additional on its way in 2020 called, Hindsight. The lights remained very low with strobes flashing throughout the entirety of their set as they played songs from their new music to the old. Fans began moshpits and got warmed up with crowd surfing early in the night as the sold out venue was packed from start to finish. Singer, Frankie Palmeri screamed at the crowd as they screamed back with raising their metal horns above their heads. Fans had the opportunity to hear the new single, "Pigs Ear," before their album gets released. Be sure to be on the look out for the new album some time next year.
After the Burial, Minnesota-based metal band, surprised me with how much I enjoyed their set because I don't have much experience with them. The stage was filled with smoke, the band starts their set off on the risers at the front of the stage when the lights kick on for, "In Flux." As the band headbangs and jumps around on stage, the crowd is busy in the circle pit and moshing. This entire band is very talented at their crafts and I really enjoyed listening to the guitar work of Trent Hafdahl. His shredding riffs and solos lit up the crowd and on solos, you can watch the fans hold their hands up and playing the solo along with him. One of the crowd favorites seemed to be their most recent single, "Behold the Crown." Check out their most recent album, Evergreen.
I haven't seen As I Lay Dying in many years and I've been waiting for them to go out on tour again. They've been great on every tour and festival that I've seen them on and I think that they've only gotten better over the years. Personally, I'm also hoping for a reunion of Tim Lambesis' other band, Australian Death Machine, a metal band based on Arnold Schwarzenegger movies. The band has two of the symbols up on the back of the stage that represent the alchemy symbol of fire and a shadow eclipse to represent a new era for the band, according to one of the bands YouTube videos. You'll be able to see the stage setup in the pictures below.
The band started out the night with the "Burn to Emerge" intro on their new album and leading into "Blinded." This band's stage presence has a powerful aura around it and knows how to command the attention from the fans. The music ranged from all over their previous albums with songs like, "Shaped By Fire," "94 Hours," "The Sound of Truth," and "A Greater Foundation." The After the Burial singer, Anthony Notarmaso, even came out to help with a song in the middle of the set, which was fun to watch both singers interact. Tim Lambesis is a great frontman with his gritty voice coupled with interacting with the fans. On numerous occasions, he reached out to fans with the fist pound and clapping hands, which was very well received. The band ended the night with "Confined" before wanting to take a picture in front of the audience where they had a photographer go up on the drum riser to snap a picture. I love how the band sounds on their albums but they have a different kind of energy when playing live that I would see over and over again. Hopefully it won't be too long before they come through Chicago again.
One thing that I appreciated that all of the bands mentioned was taking care of each other in the mosh pit to try to avoid people getting hurt. As always, the sound in the House of Blues was fantastic and a reason why it's one of my favorite venues in Chicago. Overall, the venue was packed and everyone had a great time so what more could ask for? There are still some dates left on the tour so if you haven't seen them in your town, get your tickets now because they'll likely sell out!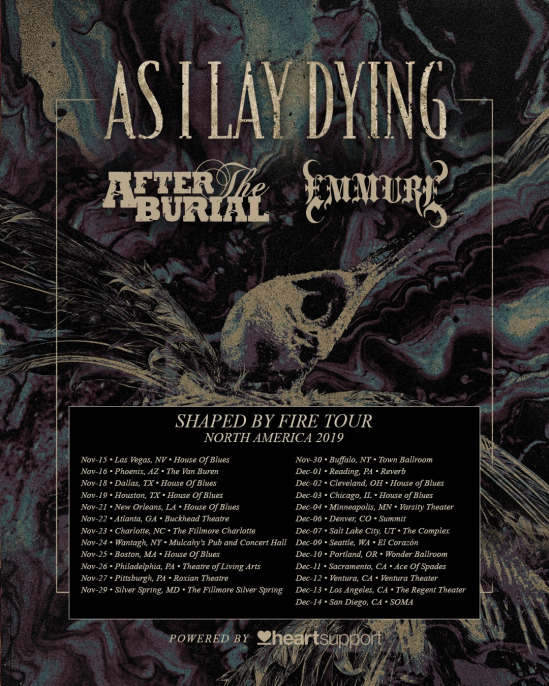 Emmure
After the Burial
As I Lay Dying
Features

Nicci Allen | February 26, 2020

LAMB OF GOD @ HOUSE OF VANS– Chicago, IL February 14th, 2020 Review: Dan Scheiman Photos: Nicci Allen What better way to celebrate Valentines Day, than an intimate winter...

Featured Photographer

Joe Hendrickson | February 18, 2020

Machine Head @ The Metro – Joliet, IL February 15, 2020 Review & Photos by Joe Hendrickson Machine Head made a stop at The Metro on their Burn My...
ABOUT ONSTAGE REVIEW

On Stage Review is a collaboration of passionate and enthusiastic music lovers coming together to give you an inside look into some of today's hottest and most intriguing artists.

We'll dive into their lives and careers on and off the stage and give you an up close perspective few get to see.

Facebook

ADMIN
Copyright © 2017 ONSTAGE REVIEW.com. Site by FM Imagery.