BARONESS @ DURTY NELLIES- PALATINE, IL
By Nicci Allen on August 2, 2019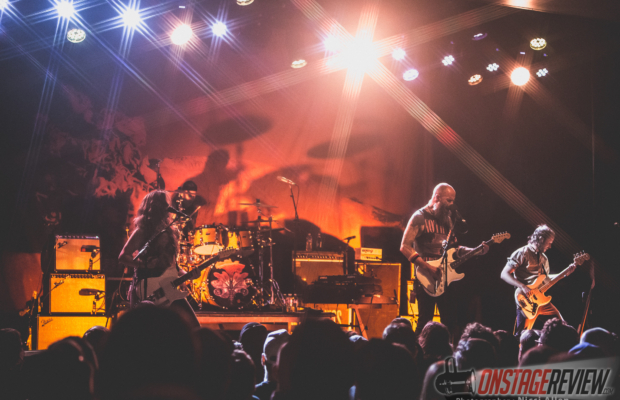 July 23rd, 2019
When I first heard that the mighty

Baroness

was playing Durty Nellies I was dumbfounded, but I do absolutely love when powerhouse metal bands play the more intimate venues. In this particular case, stuffing a band that has enough emotional energy to power the entire city of Chicago and its fans into a venue this size seemed to be borderline dangerous. Luckily, due to the psychedelic undertones and sophistication of their music, a mosh pit wasn't in the cards for this show. It would have been ridiculously entertaining to watch if one had broken out, but most of the crowd stood in awe while others sang every lyric and headbanged throughout each track.
I've seen

Baroness

a fistful of times now, and I will catch them anytime they are in town, but this show was different. After the first few tracks, frontman John Baizley was visibly shaken up and when he went to speak to the crowd you could hear a slight quiver in his voice. While sincerely thanking the fans for their support he mentioned that Durty Nellies was one of the very first shows they played in 2003 when the band first went on tour. He was profoundly moved by the packed venue and the crowds immense response. It is so heartwarming to see weathered musicians get so deeply touched by nostalgia and the love from their fans. This emotional tidal wave shared between the band and the crowd grew stronger with every track they played.
The addition of Gina on lead guitar has given this band a whole new feel. Her stage presence is so vibrant and powerful. The chemistry between Gina and the rest of the crew appears to be dialed in now and it is so much fun to witness in a live setting. The way she plays on stage is just like every kid plays air guitar when their favorite track comes on and no one is watching.
Digging through their entire discography, they played all their best, as they always seem to do. Sprinkling in the best of Red is always what I am waiting for, but their newest album has some masterpieces on it too. Gold & Grey was very well received by the fans as well. Each album has its own unique attributes, but somehow when you see these guys live they seamlessly transition from new to old tracks as if the set list was one long work of art.
Baroness

is a band that puts more heart into their music than most are even capable of, and if you don't believe me, go ahead and grab tickets for their next show; You will thank me. This group is a glowing example of what people are referring to when they say heavy metal is therapeutic for them. Thank you

Baroness

for the many years of auditory medicine.
Nicci Allen is a photography/graphic design major who has been an active and involved member of the music scene since she was old enough to be let in local shows. Whether it was bartending concerts at The Pearl Room, being an involved member of the Girls of Metal, booking and promoting local shows and benefits, attending festivals and supporting artists of every genre, or DJing and writing her own music, Nicci has always made music a necessity in her daily life.
Features

Nicci Allen | February 26, 2020

LAMB OF GOD @ HOUSE OF VANS– Chicago, IL February 14th, 2020 Review: Dan Scheiman Photos: Nicci Allen What better way to celebrate Valentines Day, than an intimate winter...

Featured Photographer

Joe Hendrickson | February 18, 2020

Machine Head @ The Metro – Joliet, IL February 15, 2020 Review & Photos by Joe Hendrickson Machine Head made a stop at The Metro on their Burn My...
ABOUT ONSTAGE REVIEW

On Stage Review is a collaboration of passionate and enthusiastic music lovers coming together to give you an inside look into some of today's hottest and most intriguing artists.

We'll dive into their lives and careers on and off the stage and give you an up close perspective few get to see.

Facebook

ADMIN
Copyright © 2017 ONSTAGE REVIEW.com. Site by FM Imagery.