BENT KNEE @ BEAT KITCHEN – CHICAGO, IL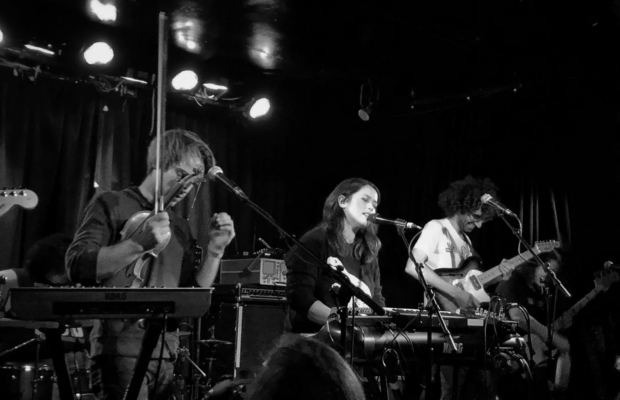 Arriving with only seconds to spare before Bent Knee was on stage, we noticed the sign on the door stated "sold out".  We rushed inside only to hit a wall of people as soon as we opened the door into the main concert area. It was nice to see that Bent Knee has gotten big enough to fill the Beat Kitchen to capacity. Of course, the incredible Thank you Scientist was headlining so that had quite a bit to do with the headcount, but normally, the opening bands won't fill the music room of this venue… not like this. 
We managed to slip through the cracks after they played "Bone Rage" and "Give us the Gold" to get up front and center. While the sound was absolutely pristine from back by the merch booths, the proper way to experience Bent Knee live is to be as close and intimate as possible. I have been waiting to see this group for at least five years, and they did not disappoint.
Vocalist and keyboardist Courtney Swain stood her ground at the front of the stage. She had confidence in her eyes, along with a spark of playfulness, and a bit of craziness. All of that seemed to be expressed easily, mixed at the same time with overwhelming gratitude. In between every few tracks she would thank the crowd in a genuine and heartwarming manner. At one point she said to the crowd "Wow… we made it, thanks to you all" and the applause that followed filled the entire venue. For a band that many people would consider to be too abrasive both emotionally and musically, it is amazing to see such support for artists like this.  
Bent Knee is a hard band to describe. Its emotional expression is unbelievably powerful and profound, a truly unique style that some might consider to be too aggressive or somewhat of an abusive approach to music. They take the deep heartfelt aggression and sadness from soul and blues, and combine it with various metal influences, jazzy, playful melodies, and operatic vocal chops. Add an unreasonable amount of energy from each member of the group and it produces one of the most hard to categorize and dumbfounding bands I have ever come across. It is not often that a sincerely new approach to music is unveiled in this industry. There isn't anybody that I have found that is doing quite what this group is. My obsession level with Bent Knee has now tripled since being lucky enough to see them live.
Each of the six members adds a particular color to the palette of this band. Remove any one member and this band would not be quite as fantastic as they are. They each complement one another so well, and when given the opportunity to show off a bit, every single one of them can bend the laws of both physics and music alike as they showcase their ridiculous skill sets and unparalleled creativity. Ending on "Lovemenot" left me speechless with tears in my eyes.
Their performance was as close to flawless as I could imagine it being, and considering how difficult some of the things they are required to do are, that is pretty damn impressive. Ben Levin on lead guitar was specifically having the most fun of anyone in the band, but all in all, this band comes off as a bunch of long term friends that are still blown away that they are doing what they love every day for their fans and friends. This band shows that no matter how odd, how intense, or how insane your musical or artistic style or approach may be, if you bring forth your art with sincerity and honesty, you can find a huge fan base for just about anything. The talent this band possesses is one thing that deserves praise, but their glowing energy and the abstract and theatrical angle they take on music is like nothing else on the market right now. This band is not for the faint of heart, but if you can handle emotional peaks in all directions, angelic yet eerie vocal harmonies, and a psychotic undertone throughout, this is a path that is well worth wandering down. Bent Knee is like Bjork meets Mr Bungle at an elegant opera house, but then halfway through the play, the orchestra pit is murdered and replaced by a brutal sludge metal band and the entire audience begins to riot uncontrollably. If this is something that interests you, look into this band.
We only managed to catch a few tracks of Thank you Scientist, unfortunately, but this band deserves an incredible amount of respect and praise all the same. The technical talent, brilliant songwriting, and fantastically creative approach they take to music is simply awe-inspiring. These two bands were a solid combination of artists. They share many qualities while being entirely original artists as well. Thank you to whoever pulled the trigger on this tour and thank you to the amazingly unique artists involved, and of course, thank you to our scientists. Music this incredible could not exist without a fair amount of science after all.