BEYOND CREATION @ REGGIES – CHICAGO, IL
By Dan Scheiman on September 22, 2019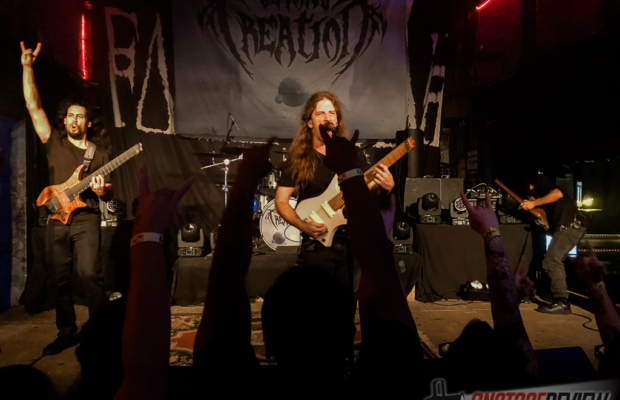 September 20, 2019
Reggies was the first stop of the Algorythm North American Tour. The lineup for this tour is simply astounding. Equipoise is a new and very unique tech death project featuring the same bassist from Beyond Creation; Hugo Doyon-Karout, along with a plethora of extraordinary musicians from bands like First Fragment and the Faceless as well. Their debut album got a ton of attention from the metal community right out of the gate, and rightfully so. They blend classical elements, piano, and flamenco guitar into an extremely polished technical death metal sound. Unfortunately, we arrived just after Equipoise finished, but I was dumbfounded to hear that Hugo did play with them, and that for the remainder of the tour he will be playing with both bands each night. The amount of endurance and dexterity required to tour an entire country playing not one, but two extreme tech metal sets every night is nothing short of incredible. I will not miss these monsters next time they come through Chicago. With the talent this band brings to the stage, they could very well be headlining next time they tour.
Arkaik was the only band on the lineup I was unfamiliar with. They did not disappoint. Every member of this group had a unique sound and a hell of a skill set to bring to the table. The vocalist and bassist stood out to me in particular for their stage presence and fantastic sound. The bassist used just about every type of bass playing technique in the book to create a wild and well rounded approach to accommodate a wicked and technical group. The crowd response was pretty excellent for the house still not being quite full. More and more people continued to pour in as Arkaik warmed up the mosh pit for the mighty Fallujah.
Fallujah came in firing on all cylinders as expected. Occasionally, the problem you can run into with extreme metal music is that the sound board isn't balanced properly or the gear itself isn't set up just right, and the result is a bad mix with a lot of noise. This was one of those cases. I moved around to multiple spots in the venue and nothing helped. The guitars were muffled and too quiet to properly appreciate the insane riffs being played. The drums were audible but not well mixed, and the vocals were too loud. I understand sometimes this happens for a wide range of reasons, but this was my first time seeing Fallujah, and it took a hell of a lot of the oomph out of their set. It was still sweet being able to see their drummer work his magic, and from what I could see and hear, they appeared to be airtight. Fallujah is one of the major tyrants in the technical metal realm. It was nice to finally see them pull off their blinding speeds and maddening riffs in person.
Beyond Creation, on the other hand, sounded absolutely flawless. The handful of times I have been lucky enough to see this band, they have always had absolutely mint production quality. Simon held his ground at center stage with a sinister smirk on his face as the crowd went absolutely nuts. They played through the entirety of their newest album Algorythm, and while I can't imagine that I would have caught it if they did, I didn't notice a single flaw. With some bands you notice imperfections and frustrations all the time, but not with this group. It is all smiles, laughs, and spiral headbanging while they absolutely rip through some of the most intricate and elaborate technical death metal in the game. These guys have a melodic undertone to their music that makes for a sound that is unique to them. While the drummer is tearing through fill after fill and vibrating the core of everyone in the audience with his relentless double bass, there is still a beautiful layer on top of it all. Not many bands have been able to pull this off as well as Beyond Creation. Simon's stage presence and vocal technique actually reminds me of one of my idols in the melodic death metal world, the great Mikael Akerfeldt from Opeth. While he never shredded like Simon does, the comparison still comes to mind.
There is something profound and rare about Beyond Creation, and the only way to truly get a taste of this, is to see them live. The clean speed, airtight execution, and unruly technical skills are all expected after listening to their albums, but their stage presence has something more to it. Their vibe is something you don't often get from a brutal metal band. They are genuine about their music and they are clearly ecstatic to be presenting their masterpieces of musical creativity to their fans. It reminds me of when I finally got to see the illustrious Gorguts in person. I was expecting some dark and terrifying performance, but Luc Lemay was an extremely kind and funny guy. Beyond Creation is a band that clearly is proud of what they do (as they should be), and they appear to enjoy what they do for a living. These guys are a good example of success coming from what I can only imagine was an unbelievable amount of time and energy practicing their respective instruments. Thank you gentlemen for the fresh inspiration to pick up my bass and get back in the shed. A hell of a performance, as usual.
Dan Scheiman With an entirely open and unbiased obsession with music, Dan decided to take the opportunity given to him to share his thoughts for On Stage Review. Having been to hundreds of concerts of a variety of styles and genres over the years, he's no stranger to live music. He has been playing bass guitar for over twelve years now and has been dabbling in vocal work, drums, and piano for almost as long. Growing up listening to metal and industrial then transitioning into jazz and classical, and now having a particular love for funk or anything that grooves; his perspective comes from a well-rounded musical background and some amateur experience as a musician. He has too many favorite bands to list, but some of his favorite live experiences include: Sigur Ros, Porcupine Tree, Papadosio, Tool, The Ocean, Animals As Leaders, Lettuce, and of course, Victor Wooten.
Features

Nicci Allen | February 26, 2020

LAMB OF GOD @ HOUSE OF VANS– Chicago, IL February 14th, 2020 Review: Dan Scheiman Photos: Nicci Allen What better way to celebrate Valentines Day, than an intimate winter...

Featured Photographer

Joe Hendrickson | February 18, 2020

Machine Head @ The Metro – Joliet, IL February 15, 2020 Review & Photos by Joe Hendrickson Machine Head made a stop at The Metro on their Burn My...
ABOUT ONSTAGE REVIEW

On Stage Review is a collaboration of passionate and enthusiastic music lovers coming together to give you an inside look into some of today's hottest and most intriguing artists.

We'll dive into their lives and careers on and off the stage and give you an up close perspective few get to see.

Facebook

ADMIN
Copyright © 2017 ONSTAGE REVIEW.com. Site by FM Imagery.