Black Stone Cherry @ The Sandlot – Green Bay, WI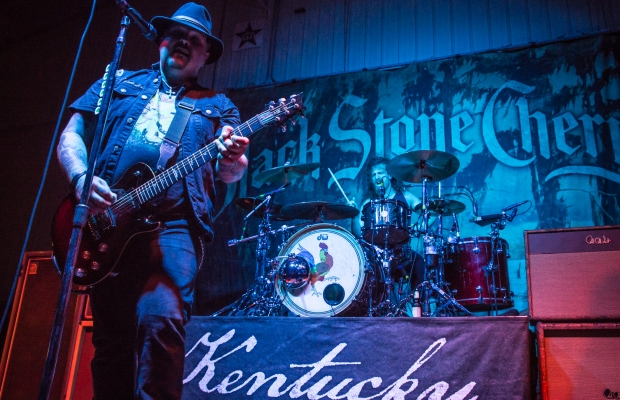 March 31, 2017
Black Stone Cherry packed the house at the Sandlot in Green Bay, Wisconsin. They brought with them special guests, Caleb Johnson, Through Fire, and Wisconsin's own, Haliwel.
Haliwel started off the night with a high energy set. Being a Wisconsin band, there was a majority of the crowd excited to see them perform. Haliwel was formed in 2011 but they didn't gain traction until 2014 with their first release. Vocalist Dax Roberts was sure to keep the interactions with the crowd high, and making sure energies were high for the following bands.
Next to hit the stage was Through Fire. Formed in 2015, Through Fire has gained a large fan base in a short time with their unique sound. Energies were still high throughout Through Fire's set as they played hit songs like "Stronger"  and "Breathe".
Caleb Johnson was next on the stage. Caleb Johnson is a previous American Idol winner, and tonights performance can be a prime example why. Heart pounding drums, intriguing lyrics, heavy guitar riffs with a southern rock and blues feel, what's not to love? Caleb Johnson was the perfect supporting act for Black Stone Cherry as both bands really emphasize the 'soul' in the music, really adding in the roots of the genre with their own twist.
The crowd went absolutely insane when Black Stone Cherry finally took the stage. Having first saw Black Stone Cherry open up for Zakk Wylde's Black Label Society back in 2006 and many times since, it's incredible to see how far they have come as a band and individual artists. Throughout the years Black Stone Cherry has really kept true to their sound, listeners can hear the same style throughout their set as they played songs new and old. John Fred Young to this day is still one of the most fierce drummers I have ever see perform live. The energy this man puts into every swing of his drumstick (which mind you, is like a mini baseball bat) is eye opening. Guitarist Ben Wells wasn't able to stand still the entire performance, constantly running around the stage and jumping around. He was definitely feeding off of the energy and reactions from the crowd.
Unfortunately the tour with these amazing bands has ended, Green Bay, Wisconsin being one of the last legs of the tour. Good news is, most of these bands will continue to be on tour throughout the summer! If you're able to get out to any one of these amazing artists shows in the upcoming months, you won't regret it! Plus, what's better than supporting live music?
Haliwel
Through Fire
Caleb Johnson
Black Stone Cherry