BLACK STONE CHERRY w/ TYLER BRYANT & THE SHAKEDOWN AND THE JOSEPHINES @ THE FORGE – JOLIET, IL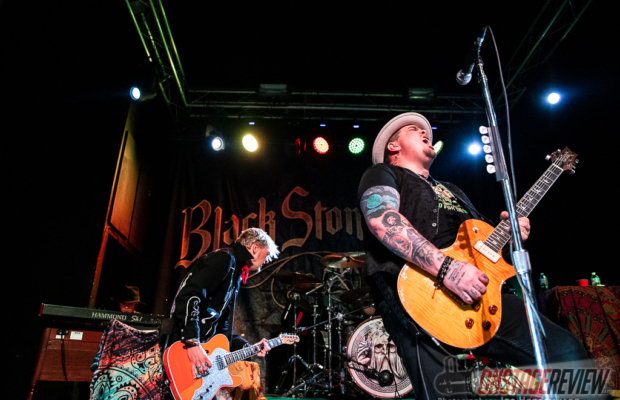 April 11, 2019
Photos & Review by Joe Hendrickson
On April 11, 2019, I had the pleasure to attend the Black Stone Cherry concert at The Forge, also featuring Tyler Bryant & The Shakedown and The Josephines. I've been a fan of Black Stone Cherry since their self-titled album and saw them three times in concert before this show with Black Label Society, Hinder, Shinedown, and others and I've never been disappointed. The musical and songwriting talent in this band is beyond amazing it truly shows in their music and especially in a live atmosphere.
The rock/country band, The Josephines, took the stage first and immediately had a strong stage presence with fans singing back to them. The highlights for me were the songs "Cocaine" and "Fireball" where the crowd lit up. After the show, the band hung out with fans at the merch table in their classic The Josephine jackets.
Next up was Tyler Bryant and The Shakedown and they were a blast to watch. I've never seen the band before and an audience member gave me a hint that the drummer, Caleb Crosby, usually takes one of his drums away from his kit to bring it out on stage. He didn't disappoint by taking it onto the stage and then onto the barricade to be with the crowd. Singer, Tyler Bryant was very interactive with the crowd and band members then ending with some wild guitar solos with guitarist, Graham Whitford.
Black Stone Cherry immediately grabbed everyone's attention as they entered with the fans going wild. One of my favorite songs "James Brown," from their newest album Family Tree, was one of the first songs played and I was thrilled. The band takes the time to have a jam session for each of the members in between some of the songs to show their amazing musicianship from guitar to keyboard to drums. They clearly have a great respect for each other and seemed to have so much fun by rocking out and seeing what the next member would do with their time. Singer, Chris Robertson, was shredding in his solos and made his bluesy rock singing look effortless. Ben Wells was all over the stage, throwing his guitar around, and singing into the crowd.
They played a variety songs from all of their albums and the crowd sang back with their hit songs like, "Soulcreek," "Blame It On the Boom Boom," and "Lonely Train." I always appreciate at the end of the shows when the band takes the time to thank the fans, giving out guitar picks, drum sticks, and set lists. Finally the band takes a bow and exits the stage.
Thanks to all of the bands for a great time!
The Josephines
Tyler Bryant & The Shakedown
Black Stone Cherry