BRAD PAISLEY & ERIC PASLAY @ US Cellular Coliseum – Bloomington, IL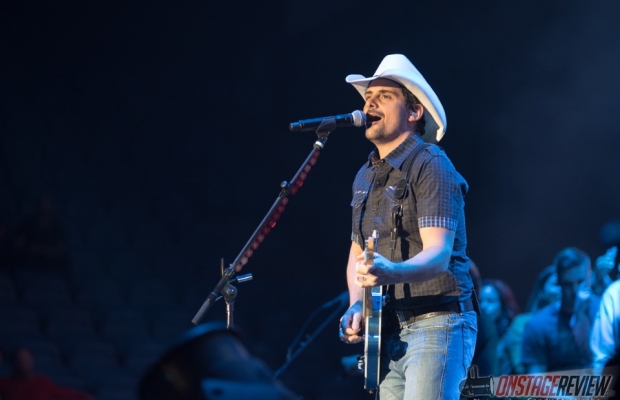 March 10, 2016
Attending the last show of a tour can often be a gamble; there is always a possibility that the artist(s) and their band members will be tired, wore out, and just counting the hours until they can walk off the stage knowing that they are in for a break.  Brad Paisley and Eric Paslay showed absolutely zero signs that they were ready to call it quits.  From Eric's energetic dance moves to Brad's unrelenting desire to never stay in one place on the stage for too long, this show did not lack for energy or originality.
Eric Paslay kicked off the show with a combination of original songs and covers; "Song About a Girl," "Barefoot Blue Jean Night," (which Paslay co-wrote with Jake Owen) and his latest single "High Class" to name a few. Coming off of a well-deserved Grammy nomination, Eric danced and gyrated his way through his hour long set, continuously giving 100%.  There is no doubt in my mind that Eric will have a long and rewarding career in country music.  I look forward to many more singles and album releases from this very talented musician.
Having been a long time fan of Brad's music and seeing one of his shows back in 2010, I knew he was quite the performer.  He loves entertaining his fans in every way he can.  Not only were his vocals and guitar playing on point throughout the entire evening, he also cracked jokes, took selfies, and allowed a young man to propose to his girlfriend on stage as he serenaded the arena with a perfect rendition of "She's Everything."  The audience cheered on when the Grammy award winning artist handed off his guitar to a youngster in the audience and stated, "See you up here in ten years, kid."  As if that wasn't enough to win us all over, he later brought a young boy on stage to play a game of Mario Kart on the sixty-foot screen that served as the stage backdrop.  This lad was also sent off with another guitar.
I was very pleased with the wide variety of songs Brad performed during his near two-hour set.  Old favorites such as "Mud on the Tires" and "Me Neither" were welcomed by the audience with as much energy as the new hits like "River Bank" and "Crushin' It." I am often disappointed when artists simply play through their most recent album, but Brad kept me smiling by consistently playing all of my favorites throughout the whole evening, taking breaks between songs to delight the arena with guitar and drum solos.
All in all, Mr. Paisley and Mr. Paslay stole the hearts of everyone in the US Cellular Coliseum and ended the "Crushin' It World Tour" with a bang.  Attending and photographing this show is something I will never forget.
Photos by Candy Stresinshe
BRAD PAISLEY

ERIC PASLAY