BRAND NEW @ FIRSTMERIT BANK PAVILION at NORTHERLY ISLAND – Chicago, IL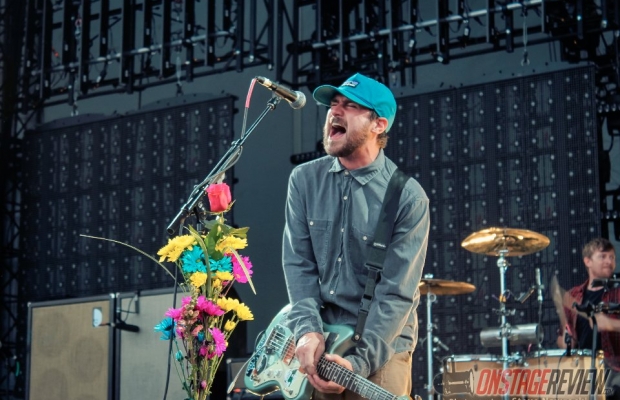 July 2, 2016
Brand New: 2000-2018
This is the prophetic branding that began appearing on merch before the start of Brand New's current co-headlining tour with Modest Mouse, which made a stop in Chicago at the FirstMerit Bank Pavilion at Northerly Island on July 2nd. Was this some sort of warning of the band's impending breakup? Would their performance be a somber funereal affair, only going through the motions while awaiting their figurative demise?
These questions would be answered with an emphatic NO immediately after the band would take the stage as the sun was just beginning to set behind the Chicago skyline. It began with singer/rhythm guitarist Jesse Lacey simply exclaiming "Hi, we're Brand New," before leading his fellow bandmates through a roaring one-two punch of "Sink" and "Gasoline" from their 2009 album Daisy. Lacey would emerge from the smoke spewing from onstage to wail fervidly into his microphone with almost reckless urgency, while lead guitarist Vincent Accardi floated across the stage in spastic movements, violently strumming his six string as if he were a possessed marionette with invisible strings. The overpowering intensity and charisma of these two were balanced to perfection by the lockdown intertwining tempo of drummer Brian Lane and the stoic energetic aura of bassist Garrett Tierney. The rhythm section took control after the opening salvo, slowing things down and giving the rapt audience a moment to catch their collective breath. This is when the unbelievable chemistry of the band would shine through, the highlight of which was the songs "Degausser", "Limousine", "Jesus Christ", and "Luca" in the middle of the set, all pulled from the superlative album The Devil and God Are Raging inside Me. The faithful were presented with a new song entitled "I Am a Nightmare" which hearkened back to the band's earlier post-hardcore sound before the evening was closed out with a haunting rendition of "You Won't Know", leaving the audience hypnotized in the darkness as Lacey and company slowly exited the stage amidst the dissolving sound of guitar feedback.
It was a fitting statement to end the night and to answer the questions which preceded it. This did not seem in any way like a band at the end of their run. If anything the connection between the band felt more solidified than ever, and that was apparent in the pure passion in their performance. No one in the band mentioned anything from the stage about an impending breakup or of any reasons for one. There's something to be said for ending something before it gets to the point where you have nothing more to offer. If that is the case in this instance, Brand New is making a lasting final impression with an unforgettable performance to cap a storied career.