BRONSON WISCONSIN @ THE PIKE – Long Beach, CA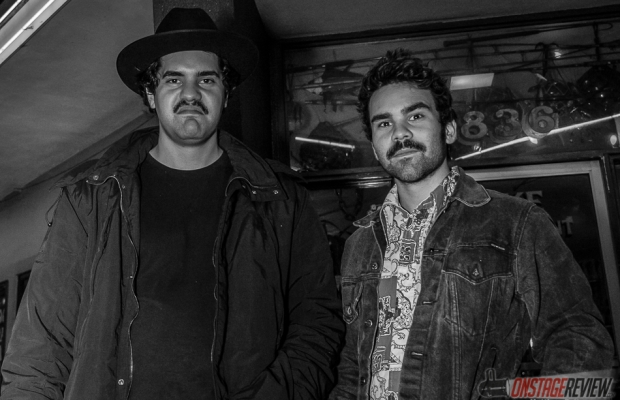 November 20th, 2016
Photos and Review by Matthew Belter
On any given weekend, one can literally find hundreds of bands playing their hearts out in small bars and clubs across Southern California.  Many are virtually unknown, and most are playing to small audiences to expose others to their music with the hope of making it big one day. Chris Reece (of Social Distortion Fame) showcases up and coming talent like this at his eatery, The Pike Restaurant & Bar, located in Long Beach, CA. In addition to amazing grub and a world-famous jukebox, one can usually find a super-talented band on stage @ The Pike.  Reece has a knack for talent, and Sunday evening's show featuring Los Angeles based indie-rockers Bronson Wisconsin was no exception.
For those who don't know Bronson Wisconsin, the band is comprised of two brothers, Bronson and Preston Taalbi.  Growing up as two of nine kids in a musically diverse home, they were exposed to all the music they could handle and more than enough instruments needed to express themselves. After achieving success as the globally recognized Latin duo, The Taalbi Brothers, Bronson went on expressing a different side of himself as a singer and as a songwriter. What started out as a "one day one song" demoing session, quickly turned into "3 days, 6 songs" and before they realized it, the brothers had themselves their first EP as Bronson Wisconsin.
Bronson Wisconsin kicked off their show Sunday evening @ The Pike with a few new songs off their upcoming (and yet to be named) EP, "Firehose" and "Keep Us Afraid".  Although I have never heard these tracks before, I really liked the way they came together both lyrically and musically.    If these songs are any reflection of the rest of the new EP, we're all in for a real treat.  Next up were two of my favorites, "Little Black Dress" and "That Damn Piano".   As simple as these songs are, the underlying stories are totally relatable and have a way of capturing your soul from the very first note.   Over the next hour, Bronson Wisconsin captivated The Pike faithful with 8 more amazing songs including two smoking covers, Neil Young's "Rocking in The Free World" and a Delta Spirit's, "Vivian". Both songs were spot on vocally and guitarwork was unsurprisingly rock solid.  Killer way for Bronson Wisconsin to end their show in the LBC.
For those who have yet to experience Bronson Wisconsin live, their stripped-down set is ultra-refreshing in a world where music is too often scripted and rehearsed.  I found myself captivated by Bronson's heart-felt vocals and Preston's amazing guitar skill, and left the show wanting to hear more from these uniquely talented brothers.  And if you listen closely to the lyrics and pay attention to their sound, you will hear some of Bronson Wisconsin's major influences ring true within their music – Matthew Logan Vasquez's vocal prowess and Richie Blackmore's guitar genius.  Not bad role-models if you ask me.  John Anderson, ringmaster and CEO of Hunnypot Unlimited (a cutting-edge organization specializing in discovering and cultivating fresh music talent) had this to say about Bronson Wisconsin after a recent show in Los Angeles, CA – "What you get in Bronson Wisconsin is honest songwriting, Midwest sensibilities, dressed up in Los Angeles style.  Keep an eye out for these guys as they are definitely going places."  And when you get a ringing endorsement from one of the music industries finest, you must be headed in the right direction.  Until next time…
For more information on Bronson Wisconsin including upcoming December tour-dates across Texas, click HERE.