BUDDY GUY @ RIALTO SQUARE THEATRE – JOLIET, IL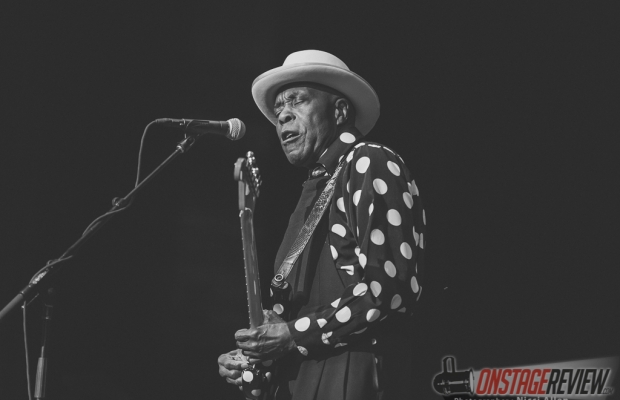 March 31, 2018
While his age certainly does not define him, it was quite surreal to witness a man at 81 years young enter the stage in stylish overalls, a polka dot shirt, a custom guitar to match, and the very same contagious smile that would have been found on a younger Buddy Guy from years past.
The very first thing Buddy yells to the sold out Rialto Square Theatre crowd was "You're damn right I've got the blues!" and even with eight decades under his belt, this legend still sounded like a young bluesman in his prime. The roar from the crowd was an empathetic and sincere cry that can come only from serious blues fans. You see, this was my first legitimate blues show. I've seen a great deal of heartfelt concerts in my short time here, but I have never witnessed anything even close to what Buddy Guy had to show me. The energy from the crowd and the band alike had a depth to it unlike anything I have felt before. There was a noticeable bond among the fans that I imagine can only be described as having "the blues."
Buddy Guy was easily one of the absolute best showmen I have seen live. He knew exactly how to keep the fans on the edge of their seats without losing his extremely genuine and authentic touch. The amount of wisdom that poured out of this man's filthy mouth in so few words was astonishing. He kept a very thick undertone of sincerity beneath his jokes, but would still call the crowd out with a shameless "What the fuck?!" when a portion of them screwed up the lyrics of one of his tracks during a pause for the audience to chime in. Let's just be fair, there isn't a man or woman alive that has the gall to tell Buddy Guy to watch his language. This man's unfiltered mouth and aggressive humor combined for a caliber of entertainment you would expect from a stand up comedian, but it happened to be coupled with a guitar skill set that Eric Clapton once called the greatest of any player alive. Interestingly enough, before playing one of many tribute tracks to the greats, Buddy mentioned that he considered B.B. King to be the greatest player of all time. Knowing that these three amazing humans played together and were close friends over the years absolutely blows my mind.

One simple realization that I made during an especially articulate and expressive solo from Buddy is that even after 15 years of playing music myself, I don't know a damned thing about dynamics, emotion, or musical subtleties, and I have so much to learn. It is one thing to perform quietly, but it is another thing entirely to get dynamic enough to allow the crowd to hear each other breathe for one measure, then virtually rip the doors off the venue in the very next measure. This man plays his guitar strings as equally well as he plays with his fans heartstrings. It was absolutely unbelievable how versatile Buddy's playing was, and that same wide spectrum could not have been possible without the band of brilliant musicians he had backing him up.
Just before playing a heart-wrenching rendition of his track "Skin Deep," Buddy Guy spoke a few words that shined some light on just how enlightened this man really is. "If the whole world would just learn to say 'I love you,' we wouldn't have a damn thing to fight about…" As I wiped the tears off my face while the band finished the track, I came to the assertion that he wasn't saying those words as an opinion, but as fact. This wise soul has been on the planet for 50 years before I was even born, and the lessons he has learned over this time are now invaluably displayed in his raw humanity. The respect I have for him, along with the blues, is at a level that I cannot fully articulate. Please, let us take in these words, his unparalleled playing, and his warm smile as the strong medicine that it is. Thank you Buddy Guy for changing the entire world of music as we know it.