CARPENTER BRUT @ CONCORD MUSIC HALL – CHICAGO, IL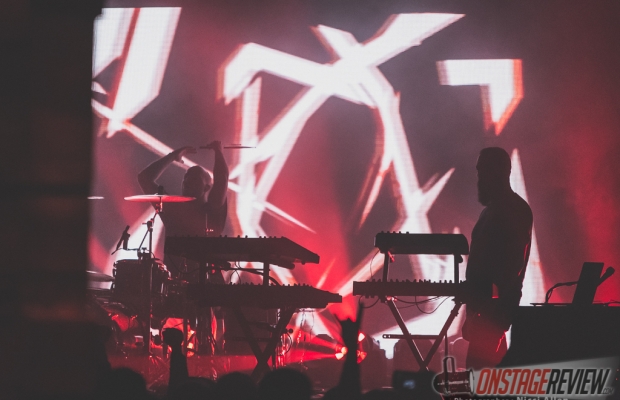 April 26th, 2018
I feel pretty elated about being able to say that Carpenter Brut was my first live Synthwave experience. This man is holding the reins for an entire musical genre as far as I am concerned, and his mastery of the craft is something seriously inspiring to experience live. With the addition of a drummer and a guitarist on stage, this powerhouse trio put together one of the heaviest concerts I have ever seen.
The very first punch of bass as Carpenter Brut came onto the stage was one of the most gnarly sounds I have ever heard come out of a subwoofer. The closest comparisons I can give to how deep and dirty this bass production was throughout the show would be the live bass from Zedd, Death Grips, or possibly Sleigh Bells. The entire venue was quivering for mercy from the low end, and Carpenter Brut only progressively got louder throughout the set.
The 80s chase scenes, old school slasher flicks, and provocative dancing girls being displayed behind Carpenter Brut were there seemingly for both comedic relief as well as some semblance of sanity to cling to as the fans brains and bodies were being bludgeoned and abused by some of the most fantastic bass and synth lines in electronic music today. When properly created, Synthwave brings back everything good about music in the 80s but adds a level of production value and depth that wasn't quite available 30+ years ago.
The two musicians accompanying Carpenter Brut put on a hell of a show themselves. The guitarist was absolutely ripping into his guitar solos like a wild animal and the drummer was relentlessly hammering away without the smallest sign of letting up. At one point Carpenter Brut wandered behind the two and raised his arms showing metal horns as the entire crowd roared in approval. I wasn't too sure what to expect from this particular artist live, but I can definitely say I did not expect it to be anywhere near as brutal as it was. Carpenter Brut needs to find his way into the lineup of a few metal festivals this year. The combination of headbanging and dancing is something that too many fans of both the EDM scene and the metal scene need to experience more of. Carpenter Brut is the perfect dosage of fun and heavy. Absolutely brilliant.