CHICAGO OPEN AIR FESTIVAL DAY 1 @ TOYOTA PARK – Bridgeview, IL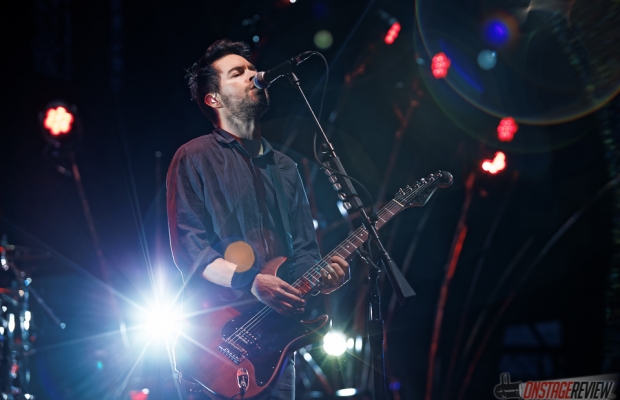 July 15, 2016
The first annual Chicago Open Air Festival came in hot and left an immense amount of metalheads in substantial pain from their heads to their toes, but those who were there understand it is a good pain I am referring to; similar to that of a marathon runner or an athlete after one of the biggest games of their lives. This very specific feeling only comes from when spending an entire weekend abusing the liver, eardrums, and psychological health with ample amounts of booze, excessively loud metal, and not a single break from the onslaught of over 40 brutal metal bands. While I will not be able to cover or comment in detail on every band or every event that took place, I will do what I can to give you a solid perspective of what it was like being in the mix for day 1 of this fantastic new festival.
Toyota Park was jam packed with excellent food, drinks, and merch to supply a crowd of metal heads that aren't easily satiated. Seeing the smile on peoples faces as they wandered over to the beer tent to enjoy Revolution's Fist City along with a burger from the one and only Kuma's Corner showed me what hell's food choices might look like as it welcomes their metal head brothers through the gates. This place had everything you could ever need covered, from all the way down to cooling fans in the center of the fest that were constantly occupied, to a medical staff that was on point and extremely helpful the entire weekend. Unlike other fests that often force you to make decisions between seeing 2 of your favorite bands, Open Air only rocked 2 stages, and left you just enough time to get from 1 to the other throughout the entire weekend.
Opening the side stage as well as kicking off the entire fest was Through Fire, a band worth checking out if you have not already. You couldn't have asked for a better start to the very first Chicago Open Air Fest. This crew literally came out swinging; both guitarists were flailing their axes around like they were being assaulted by bees as the lead singer commanded the crowd to wake up and embrace their inner animal instincts and aggressive nature. This band has been topping metal charts all over the place, including SiriusXM's Big Uns Countdown. They brought an excellent energy and a genuine appreciation towards their fans which are two things that will really help move a band in the right direction. They reminded me of Sevendust, Finger Eleven, and even a little but of Mudvayne was in there as well. This was a hell of a start to Day 1, that is for sure.
If the fans weren't already fired up enough, the two Butcher Babies vocalists emerged with the intent to both tease and frighten every man in the crowd with their terrifying, yet feminine charm. Decked out in dresses nearly as scandalous as some Victoria Secret attire, these two ladies came out with the confidence and power that they always do and nearly leveled a fresh crowd. Shortly after they returned from joining the mosh pit themselves, the girls casually asked with a tone of concern "Do we have any more security, can we maybe get more?" in reference to the amount of guards watching the gate in front of the stage. They then requested as many crowd surfers to the front of the stage as they were able to get, and said they would count high fives as the surfers made their way to the stage. This attempt at setting a record for the most crowd surfers high fives at a Chicago fest set off a wave of bodies forming on their way to the stage. In a very short period of time they must have broken 100, and this group not only warmed up the fans, but the security guards as well.
Opening the main stage was Trivium, a well-rounded Heavy Metal group that knew exactly how to kick off a fest like this on a stage of this size, with a gigantic metal as hell backdrop and some riffage that would make your mother weep. The power/thrash metal style this group brings to the fest was an incredible opening for the main stage. It was clear, judging not just by the excellent music being played, but by the diverse stickers and patches lead singer and guitarist Matthew Heafy had all over his jacket and his guitar, that this band was influenced buy the entire spectrum of music. Throughout the entire set Matthew kept yelling at the fans, "I want to see your asses shaking, and your heads banging!"
As more and more people started pouring into Toyota Park, the energy of the audience as well as the bands began to multiple quickly. The crowd that showed up for Drowning Pool was the biggest at the side thus far. Having never really listened to these guys any more than their radio hits I was a bit surprised at how creative of a sound they were manifesting on stage. They had a slightly psychedelic yet sludgy metal sound about them with some very spacious and smooth guitar effects in between the heavy parts. Even though he has a much different sound, the singer reminded me of of one my all-time favorites, Chino Moreno from Deftones. Before they played what is probably their biggest hit to date, they brought out a very special guest to help them perform it. Just before they began "Bodies," John Hetlinger, the 82 year old badass from America's Got Talent who covered this same song on the show months ago, walked out to the stage to an unbelievable ovation by the crowd. The entire place was riddled with laughter and smiles as they threw their horns in the air and sang along with John and company. It was refreshing and even heartwarming to see a man of his age smiling as intensely as he was while being welcomed by a crowd of metal fans young enough to be his great grand kids.
Hollywood Undead brought an entirely new sound to the main stage halfway through the first day. They started off playing raw, unfiltered, uncommonly heavy hip hop with creepy black and white masks covering their faces. They then shortly afterwards transitioned into something some may not have expected as they cut straight into Johnny Cash's "Folsom Prison Blues" and then into a much lighter and friendlier acoustic track from there. There was a soothing cool breeze cutting through the stadium as Hollywood Undead converted again to a much more blissful party energy that I felt like people may have really needed at that point. The beat they were laying down was actually just as heavy and driving as a lot of the metal riffs throughout the day and was often coupled with nasty guitar riffs anyway. The best part of this entire set, and one of my favorite parts of the entire weekend, was when one of the members yelled out to the crowd "where's that little kid I saw rocking out?… Yes! there he is, bring him up here!" The band then brought 4 more kids up to the stage, put a few on their shoulders and continued jamming out. The look on these kid's faces was a quick snapshot to me of why these musicians all do what they do. For all the garbage stereotypes that the world has about metalheads, it's so very obvious that we all want to just have fun and enjoy our lives; some of us just like to do it a little more aggressively than others.
One of my most anticipated performances in the entire lineup, Periphery, did not disappoint. This was my first time seeing them and I knew they have been known for their amazing production and spectacular live shows. As soon as the band began, the clouds started to open up above us. What started out as a sprinkle slowly turned into a full blown downpour in perfect timing with Periphery kicking into one of their heaviest tracks to date, "Make Total Destroy." To make how good these guys are even harder to swallow, during one of the more ridiculous and complicated tapping riffs, two of the members were casual chatting and laughing as if their hands would do the work with nearly no concentration on their part. I have always listened to Periphery and wondered how much of their music is electronically produced and how much is really them playing, and from first hand I can say that these guys are not only masters of their crafts but they don't hide behind anything. They do have some very simple backing tracks, but everything else is made right there on the spot. Overall, this was one of the most technical and impressive performances of the entire fest.
For those of you who haven't seen In This Moment, you are missing out on one of the most theatrical performances in metal today. Dressed in all black, Maria Brink came out and greeted the crowd as the dark sexual goddess that she is, and the fans went crazy. The rest of the band was decked out in corpse paint and brutal spiked clothing, and the bassist had some kind of badass spiked muzzle on. A few songs in, a voice rang out over the PA discussing the dangers of the notorious black widow spider and the crowd erupted into a frenzy. I hope Maria isn't upset with me for saying so, but I saw a lot of similarities between her and Lady Gaga, and I mean that in the most positive way. Both her and Gaga command not only the entire stage but the crowd too, and they could sincerely compete for best dressed for any given concert. Maria Brink and the rest of In This Moment should be given serious respect from both the musical community as well as the visual arts community. Seeing this group live not only force feeds you filthy metal, but coerces your mind to think in just as dirty of a way.
California natives Of Mice & Men came to the main stage ready for action. Leaving nearly no space in between tracks they seemed as if they were testing the crowd to see if they could keep up. With huge smiles all across their faces, the band almost looked as if they were enjoying abusing their fans like they were. I have seen many Metalcore groups just like this one, but this may have been the most clean and precise performance I have witnessed of this genre. For how complex and relentless some of their tracks were, I was impressed at the execution and effortlessness on their end. This band, among so many others, is one that I am going to dig into a little deeper out of pure curiosity, and because of how solid they were live.
Devil Wears Prada was a treat to see. This 6 piece juggernaut of a Metalcore project came onto the side stage seemingly with something to prove. Every single member was thrashing around on stage and still miraculously keeping excellent time. It's awesome to see a band that is clearly used to not just playing live shows, but giving everything they have for every performance. The psychotic energy was matched quickly by the dense mosh pit that was waiting their arrival. The bouncers had their work cut out for them on this one. There must be a serious following for this particular band because the crowd was possibly the biggest at the side stage yet. It's so great to see bands that are that dedicated to their fans and to putting on the best show they can whenever they get the chance.
I have been a metalhead for nearly my entire life, and somehow I never got the chance to see the legendary Ministry. This performance was one that will stick with me for quite a while. Al Jorurgensen is the only remaining member since the band formed in 1981 and he is one of the most badass vocalists I have ever seen. This guy is a weathered veteran of the twisted and eccentric metal and punk rock community. He has enough piercings on his face to make a child cry in fear, long thick dreadlocks, and a stage presence with a magnetism to it that is uncanny. One of the coolest and most unexpected moments in the show was when Al left the stage and came back with a harmonica in hand. Trading the spotlight with his bandmates as they showcased each of their astonishing abilities, Al ripped into that harmonica like a madman. While the band was seamlessly transitioning from industrial riffs, to thrash metal, to punk rhythms, Al kept an ice cold glare towards the crowd while they roared and assaulted one another in Ministry's honor.
Closing out the side stage was the celestial yet terrifying Meshuggah. Just before the set began, the rain clouds began to clear, the sun was shining through the clouds, and a gigantic double rainbow arced across the sky above the stadium; this was clearly a comical sign from the metal gods that they were in approval of the Chicago Open Air Festival. The crowd would soon brush off the fancy optical illusions in the sky and focus their attention on the brutality that was coming their direction. Immediately after they began ripping into the first track, I was concerned that the sound system they had set up wasn't going to be able to handle the earth-shattering power and percussive abuse that Meshuggah delivers so well. Luckily, the PA did not blow and Meshuggah was able to effortlessly shift the fans consciousness into the place that only their band can manage to create. Shortly into the set, singer Jens Kidman quieted the crowd to talk, which as he said, he very seldom does during shows. While briefly discussing his disbelief of how dark things have been in the world lately, he said "The world would be a better place if we all just started metal bands and made love," which was followed by one of the loudest and most heartfelt crowd responses I have ever heard at a concert. Meshuggah let the roar of the venue taper off a bit, then followed this wonderful feeling of metalhead communion with arguably their heaviest track, "Bleed." As the sun was setting and one of the heaviest bands of all time was closing the side stage with an insane amount of aggression and auditory violence, I smiled and thought to myself, even Meshuggah wants peace.
At this point, the sky was dark and everyone was making their way toward the main stage for the last 2 bands of the night. Chevelle began playing just minutes after Meshuggah had finished their onslaught on the side stage. It was pretty awesome to see many exhausted and sweaty fans running from the side stage back into the main arena. Walking back in I was blown away at how vibrant the lighting was and how much energy the massive army of fans still maintained. The backdrop really popped as some extremely psychedelic lighting and smoke effects flooded the stage. Chevelle put on an incredible show, pulling out classics left and right that had everyone in the building singing along word for word. This group got a hell of response from the crowd and seemed to raise the energy more and more with every track. I was amazed to see how well Chevelle really built a crescendo of energy leading up to the finale.
Ending the first night of Chicago Open Air with Rammstein must have been an idea devised by a madman. After just the first song I wasn't sure the stage or even the stands would still be standing for the next 2 days of the fest. Immediately upon entering the stage fireworks were going off above Toyota park and the fire that Rammstein is so well known for began billowing over the crowd in what seemed like dangerous proportions. I had been told for years that this band puts on a life-changing live show, but honestly, it is hard for me to put together words describing just how intense this experience really was. This was easily the loudest and most epic live show I have ever seen, but I wouldn't be doing it justice if I didn't mention that the men behind the soundboards were putting a masterpiece of a mix together as well; the drums alone were so pristine and crystal clear. It seemed like every member of the band was shooting fire in a different direction at some point throughout the show. The keyboardist was dragged across the stage by the lead singer on a leash, thrown into a metal cart, and had embers poured over his body as explosions riddled the stage. Although presumed to be dead when they began the next track without him, he then rose from the ashes in a sparkling suit that looked like a disco ball and the crowd went completely insane. The stage presence from this group was something I have never seen the likes of. Rammstein continued to drive distortion and pounding rhythms into the crowd and laughed at them all as they did. There is clearly a dark sense of humor involved with this group that is a big part of why fans from all around the world come to see them play. This was an unforgettable show that I can definitely check off my bucket list. Thank you Rammstein for headlining day one of this killer festival and teaching America what true industrial metal is supposed to sound like.
If you missed out on this years Chicago Open Air I imagine next year's will be even bigger and better. Thank you to all the Security guards, the medical crew, and the rest of the staff for taking such good care of such an unruly and uncontrollable crowd, and a special thanks to Jose Mangin from SiruisXM for hosting such a monstrous event! Keep an eye out for coverage of days 2 and 3 from On Stage Review.