Home
/
Uncategorized
/
CHICAGO OPEN AIR FESTIVAL DAY 2 @ TOYOTA PARK – Bridgeview, IL
CHICAGO OPEN AIR FESTIVAL DAY 2 @ TOYOTA PARK – Bridgeview, IL
By Dan Scheiman on August 3, 2016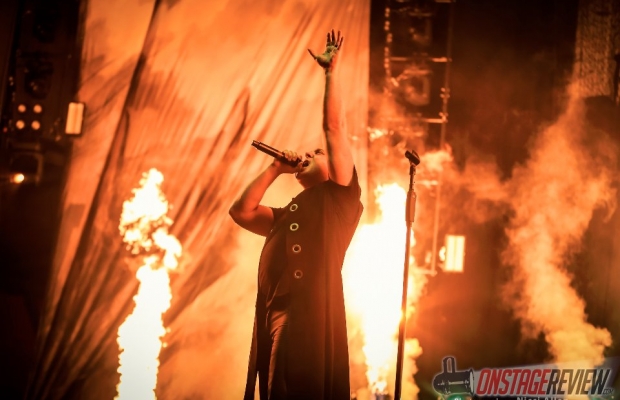 July 16, 2016
As if Day 1 of Open Air Chicago wasn't brutal enough, the second day's lineup was just as stacked as the first. Saturday began with a pack of hungry metalheads being herded through the gates of Toyota Park on the way to their feast of distortion, smashing double bass, and screaming vocals. Day 2 of Chicago Open Air Fest seemed to start off a bit livelier than the first. I think those who managed to push through the entire first day were still buzzing a bit from the intense closing act of Rammstein along with a full day's worth of metal. They must have carried that over to the next morning. Just knowing how incredible the first day was must have generated a lot of anticipation and excitement for the rest of the weekend.
Sadly, I was only able to catch the very end of the first band, City of the Weak, but from what I caught on my way into the fest it seemed pretty awesome. They were a fun and energetic group led by a badass female singer. I looked into them a bit after the fest and they are definitely worth checking out. The second band on the side stage was Silver Snakes, who really managed to stand out immediately compared to many of the other bands. Their performance was good enough to warrant a spot on the main stage. I had seen this group about a year ago and I can truthfully say that they have come a long way since then. With some meticulous composition, airtight execution, and incredible guitar tone, this group put on a radiant and powerful performance. The filthy distorted riffs reminded me of Pelican and the spacious effects and driving drum parts showed some resemblance to Isis or God is an Astronaut. Ending the set on a masterful buildup, Silver Snakes lit a fire beneath the crowd and slowly stoked the flame until they could no longer handle it. Overall, this was a superb performance by an up-and-coming band worth looking into.
Saint Asonia was one of the few groups I had not heard until the fest. This band seemed to crack the ground on their way out to the stage. This group brought a gift to the many listeners of a righteous rock sound full of empowering lyrics. Saint Asonia displayed an interesting blend of similarities to bands like Stone Sour, Live, and even Bush. A few songs in, vocalist Adam Gontier told the crowd about their new album and made it clear that he didn't care how they got their hands on it, he simply wanted them to listen to it. With the whole crew rocking PRS guitars it was pretty clear that a professional sound and killer tone was something important to these gentlemen. As the cool breeze sifted its way through the crowd and around the arena, Open Air Chicago really lived up to its name as the main stage was brought to life for day 2.
Beartooth joined the fest on the side stage and cranked the heat up quickly and remorselessly. After summoning the fans closer to the stage, frontman Caleb Shomo asked everyone to drop down to one knee; almost immediately the entire group followed suit, Caleb screamed into the mic "Get up!… Wake up!" and the band began hammering away and throwing themselves around like animals. This vicious and thrashing sound was something that many of the Open Air Chicago participants were clearly waiting for as since nearly everyone there broke out into rage fueled frenzy during the track conveniently called "Aggressive." About half way through the second track the drummer was playing standing up and swinging at his drums like they were trying to kill him. This display may have been the most energetic set on the side stage since Butcher Babies the day before.

For anyone out there that hasn't been lucky enough to see Nothing More live, you need to make it a priority of yours. I have been saying for a few years now that their live performance is one of the best I have seen from the metal community, but this particular show for the Chicago locals was on a whole new level. Singer Jonny Hawkins came out flailing drum sticks around like a man on fire as he ran up to his many mounted drums at the front of the stage, climbed on top of them, and began pummeling them at an impressive speed. I was always under the impression that this was just a fun bit of showmanship by Jonny until I recently learned that he was originally a drummer for the band. This man is one of the most vibrant and electric frontmen I have ever seen. Jonny and each of the other band members gave everything they had for every single track. The production and sound alone was twice as pristine as the last time I saw them. There was a couple next to me as the band went on saying that they had never really heard much from these guys or seen them live. My response was simply "you are in for a treat." After the second track I glanced over and smiled at their amazement. There is an artistic steel structure in the center of the stage that the band straps a bass onto. That structure became an instrument for every member of the band. At the peak of the show drumsticks were getting tossed between members, instruments were twirling around the stage, and Jonny was front and center on top of the structure screaming at the fans and wailing on his bandmate's bass like a tribal percussionist that had lost his mind. It's not just the energy of this group that makes them so intense live; the talent and raw expression is something you can't find easily within a band. Please take a listen to the new album, and if you get the chance, grab a ticket to see Nothing More live. You will not be disappointed.
Miss May I rolled out to the side with a determination that rightfully seemed to worry both the fans and the bouncers alike. Without any hesitation this 5 piece melodic metalcore band began assaulting the mob of metalheads that had flooded the stage with a mosh pit ready and primed. Miss May I put on the most impressive display of technical guitar skill and speed that Open Air Chicago Fest had seen thus far. The mosh pit appeared to be expanding more and more for every song until the band took a break to request it get even bigger. While most bands make it a point to ask for circle pits, Miss May I commanded the crowd to create the biggest circle pit I have ever seen. This circle of bodies hurled into one another at high speeds. It expanded out past the media tent as well as the VIP tent and soon became a circle pit of 200 or more people. The circle was probably 200 feet in diameter. Some people might be scared while witnessing such a massive group of uncontrolled metalheads, but the fans themselves just laughed and smiled until the song ended or they tired themselves out.

I wasn't sure what I was in store for with Helmet making their way to the main stage but it didn't take long for me to be enlightened. Helmet has been active nearly as long as I have been alive. It shows. I mean this in a purely positive way. Helmet brought a heaviness to the main stage that reminded me of Melvins and even a little bit of Swans. The rhythmic changes, old school metal vocals, disgusting chord choices, and unholy amounts of distortion combined to be something that I can only imagine was too much for many of the less hardened metalheads in the crowd. It was really pretty incredible to see the true variety of metal genres that were displayed at this fest. It's not often that you find such a well-rounded music fest as this. Helmet's performance ended with a gradual build up that continued to get faster and faster which led the fans into a frenzy at its peak. It was pretty spectacular to see some serious metal veterans at work.
Carcass stormed the side stage with absolutely no mercy. These guys instantly kicked the BPMs up way farther than anyone before them. The Drummer was effortlessly crushing some wicked blast beats and the rest of the band's hands were a blur as they all spiral headbanged in unison. The horrific and unforgiving onslaught this band forced onto the innocent crowd before them was a sight to be seen. Occasionally they would take a short break from the blinding speeds and switch to slower riffs reminiscent of Nile or Ahab. Half-way through the devastation Jeff Walker stopped to laugh and say "Don't be scared.It's called Heavy Metal. That's why we have long hair." The fans' energy flared again as Carcass dove right back into a nasty death metal riff. Carcass brought a shock factor to the side stage, that's for sure.
Pop Evil poured out onto the main stage with a very unique and fun spirit about them. The lead singer yelled into the crowd that they weren't at a Taylor Swift concert and that they needed to get up and bounce. Although clearly exhausted, a good majority of the crowd followed orders and the stadium began to shake. Delivering riffs on par with the likes of Rob Zombie, Damageplan, or even DevilDriver, these guys were clearly no rookies to the game. Keeping the electricity pulsing through the venue, Pop Evil put on a killer performance that gave the fans the recharge that they needed.
Deafheaven took Open Air Chicago Fest in an entirely new and horrifying direction. This may have been the performance that is still waking the kids in the crowd up at night with nightmares. With clear Black Metal influence blended into a brilliant display of raw emotion and talent, Deafheaven brought a beautiful and dark cloud with them to share with the crowd. They were adding very eerie psychedelic effects into a relentless, wall of sound concept that was unlike anything I have seen live. Although they reminded me a bit of Agalloch, Emperor, and Ne Obliviscaris, they brought a unique element of psychological torture and dismay to their music that was both impressive and heart wrenching. Occasionally they would let the crowd breathe and lay out a riff that made you feel as if you were floating miles above the earth, but of course, gravity would soon send the listeners plummeting back down to earth as the riffs began getting nasty again. This was a wonderful display of the evolution of metal and the hybrid projects that are coming out of the woodwork lately.
Alter Bridge was a late announcement from Open Air Chicago and was a fantastic addition to the main stage lineup. Alter Bridge combined a strong power metal sound with the vocal power and occasional guitar chops that reminded me of Avenged Sevenfold or even Iced Earth. It was pretty clear that many of those in the stands along with the pit were gigantic Alter Bridge fans as they sang every word from start to finish. These guys may have had the nicest guitars in the entire fest. The sound this group was putting together was a clear combination of killer equipment, fine-tuned tone, and veteran execution of each track. The fact that both guitarists would switch off between lead and rhythm guitar, as well as lead and backup vocals, made for a very well balanced and captivating set. Due to the incredible talents of both men, I feel like the decision to make one man ahead of the other would be exceptionally hard. I didn't know too much about Alter Bridge until this fest, but I am glad I got to witness them live. I feel like a smaller stage wouldn't have done this band enough justice. This was an epic and colossal showcase that I could see headlining a fest themselves in coming years.
The last act on the side stage for day 2 was without exaggeration the most powerful show I have ever seen. Gojira now sits on the very top of my "heaviest shows of my life" list next to bands like Meshuggah, Animals as Leaders, The Ocean, The Dillinger Escape Plan, and Yakuza. I am actually struggling a bit to put the proper words together to describe how mind-bending this was. First, hats off to the sound engineers for not only putting together an unbelievably crystal clear mix, but for keeping these guys from blowing the entire sound system into a million pieces. Each guitarist was playing through 6 4×12 cabinets and still going through the PA. The volume alone was impressive, but that is only a small factor to why this show was so crazy. Gojira's newest album Magma has a few tracks on it, such as "Stranded" and "Silvera", that are completely insane, tracks that not only bend the limits of space and time, but are wickedly aggressive.They were almost too much to handle live. The passion and explosiveness that frontman Joe Duplantier brings to the stage is unprecedented. Yelling out to the crowd "Are we alive out there?," then smirking and saying "This is going well," Joe and the rest of the band were well aware of how badass they were and found it amusing. The crowd response to this show was a combination of pure shock and unfiltered excitement as I stood there slack jawed and nearly in tears. Every kick from the bass drum felt like a punch in the chest, the distortion was strong enough to make you throw up, and the way this band can toy with your mind rhythmically and psychologically is beyond impressive. If I hadn't spent the last 15 years of my life going to metal shows, I'm not sure I would have had the endurance to withstand this entire set. As the crowd screamed like it was the last breath they had in them, Gojira ended their set with what was easily the most violent and creative breakdown I have ever heard. This group of spectacular musicians came all the way from France to show off an ultimate display of metal mastery and they enjoyed every second of it.
Because the next 3 acts were all on the main stage, the fans began to fill the stands nearly to capacity. Breaking Benjamin put on an awe-inspiring show that exceeded my expectations entirely. The smile on singer Benjamin Burnley's face as he and the rest of Breaking Benjamin greeted the enormous gathering of admirers was both genuine and inspiring. Judging by the reverberation of the crowd and the execution displayed by the band, if you weren't aware that there were 2 more bands coming you would have assumed they were the headliner. The quality and clarity of the sound pouring from the stage was possibly the best I heard throughout the whole fest. In between their many hits, they tossed in short snippets of covers from bands like Tool, Nirvana, and Pantera and pulled them off convincingly. As the mob of people grew larger in front of the stage the crowd surfing got out of control. At one point I noticed the crowd applauding in a small group surrounding a specific surfer. It took me a minute to see that the person was holding a guide cane. The applause and cheers grew louder and louder as a blind person was being carried across well over a thousand people. I cannot even begin to fathom how incredible and terrifying this experience must have been for them. They landed safely, lifted both hands in the air, and received a massive eruption of cheers from the whole arena.
This next band was a special treat for me because they are one of the bands that actually led me down the path of being a metalhead as well as a musician from a very young age. I was listening to Korn's self titled album when I was far too young to even comprehend its lyrics or anything about its music, but I loved it. That album may be one of the best debut metal albums of all time. Just as I imagined they would, Korn stepped onto the stage radiating energy and presence, and proving the legend that's told about their live shows to be true. Jonathan Davis gave a sincere thank you to the Chicago fans for being some of their biggest supporters since the very beginning, and then announced the band would be playing a new song that they had never played live before. Needless to say the sea of lifelong fans produced a clamor of monumental proportions after hearing this. I will keep this new track as a secret between me and the rest of the those who witnessed it live. As Korn played various classics throughout the night, I was being violently shoved into spells of nostalgia left and right. I always knew this band was talented and I have always thought their drum work was extremely underrated. Upon a little closer inspection of Munky and Head, the guitar work is way more intricate than I thought. Fieldy was beating the living hell out of his bass that had a sweet set of neon strings on it that really popped. Of course, Jonathan gripped his custom mic stand and poured his soul out onto the floor right in front of his fans just as he always has throughout the years. It was pretty mesmerizing to witness such a passionate artist like Jonathan still at full throttle after so many years. It seemed as though every person in the entire arena was singing along with every lyric (other than twist of course) in between fits of headbanging and moshing wildly. The fact that another band was coming out after this ruthless show by Korn verged on the edge of too much to handle, which is exactly what Open Air Chicago Fest was going for, I'm sure.
The finale for day 2 was the illustrious Disturbed, a band that has been doing permanent damage to peoples hearing worldwide for 20 years. Just before the show began the screens on the sides of the stage read "When music is a weapon we are all indestructible." Vocalist David Draiman marched onto the stage with a titanic presence and the army of fans bellowed at the top of their lungs with fists held high. This man's vocal range and pure power compare to the best power metal vocalists out there. Fire emitted from the stage high into the sky as the pit of bodies grew larger and more unruly with every track Disturbed played. The immense sound that was crashing down onto the crowd was just shy of painful. Mike Wengren's drum set was the most badass kit I have seen since Flo Mounier's from Cryptopsy. His cymbals were suspended above him and it must have been at least a 30 piece kit. As the crowd clapped in perfect unison with the beat, light flashes and fire bursts made the pounding rhythm even more intense. In between tracks, Dave said to his adoring fans "My brothers and sisters, my blood, speak to me!" and the response was that of a crazed mob. Upon a little closer listen to the lyrics, I realized that Disturbed actually has a lot of positive messages underneath their brutal and angry music. That, along with seeing the smiles across the entire band's faces, made me realize that these guys are actually a very positive group overall. Near the end of their set they pulled out a cover of "The Sound of Silence" that completely blew me away. It is sincerely clear that this entire band adores what they do. Thank you, gentlemen, for closing out day 2 of Open Air Chicago Fest with a brilliant display of emotional and heartfelt metal. Although I enjoyed all 3 days of this fest thoroughly, I would say that day 2 was my favorite. I'm going to end this epic tale with a shout out to the security, the bouncers, and the medical staff for taking care of all of us as best they could. I'm sure it's not easy keeping a giant group of metalheads safe and under control. Thank you to everyone that made this happen. I will definitely be joining the party again next year.
Dan Scheiman With an entirely open and unbiased obsession with music, Dan decided to take the opportunity given to him to share his thoughts for On Stage Review. Having been to hundreds of concerts of a variety of styles and genres over the years, he's no stranger to live music. He has been playing bass guitar for over twelve years now and has been dabbling in vocal work, drums, and piano for almost as long. Growing up listening to metal and industrial then transitioning into jazz and classical, and now having a particular love for funk or anything that grooves; his perspective comes from a well-rounded musical background and some amateur experience as a musician. He has too many favorite bands to list, but some of his favorite live experiences include: Sigur Ros, Porcupine Tree, Papadosio, Tool, The Ocean, Animals As Leaders, Lettuce, and of course, Victor Wooten.
Features

Dan Scheiman | September 22, 2019

BEYOND CREATION @ REGGIES -CHICAGO, IL September 20, 2019 Review by Dan Scheiman Reggies was the first stop of the Algorythm North American Tour. The lineup for this tour...

Featured Photographer

Nicci Allen | September 11, 2019

LINGUA IGNOTA @ THE EMPTY BOTTLE, CHICAGO, IL September 9th, 2019 Photos/Review: Nicci Allen When I first heard of Lingua Ignota, the headlines alone sparked my interest. I kept...
ABOUT ONSTAGE REVIEW

On Stage Review is a collaboration of passionate and enthusiastic music lovers coming together to give you an inside look into some of today's hottest and most intriguing artists.

We'll dive into their lives and careers on and off the stage and give you an up close perspective few get to see.

Facebook

ADMIN
Copyright © 2017 ONSTAGE REVIEW.com. Site by FM Imagery.