CHICAGO OPEN AIR FESTIVAL DAY 3 @ TOYOTA PARK – Bridgeview, IL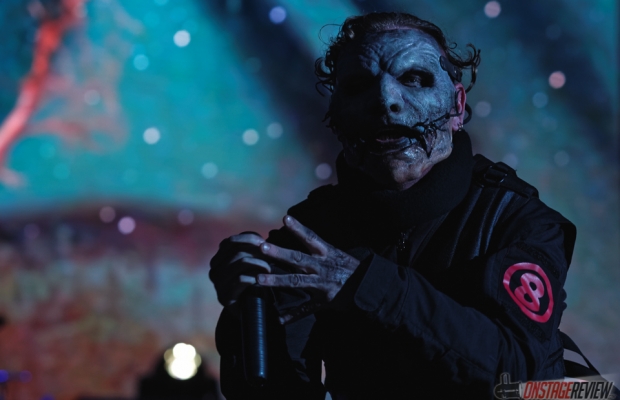 July 15, 2016
Review By Keith Magnine
Day Three of Chicago Open Air Festival was an action packed long hot day. Let's dive right in and take a look at what went down.
Gemini Syndrome is a band that I had never heard or seen live. This band was the opener on the second stage at the Chicago Open Air Festival on day three. I was impressed at how comfortable they looked and sounded on stage even with the huge undertaking of opening a festival of this caliber. Hundreds of people were gathered around and eagerly waiting for some music to start. Once the lead singer Aaron Nordstrom walked out from the side stage he was the focal point before even singing a note. Aaron has an unforgettable and unique look to match the bands equally unique name. His vocal delivery was very controlled and clear yet had the power to command your attention, like a blend of Perfect Circle and Ten Years to give you some reference. The arrangements of the songs were quite good and had a groove that was very easy to fall into even as a first time listener. Drummer Brian Steele Medina played so effortlessly it was a joy to watch him on the kit. The highlight of the set was their song "Anonymous" which had a positive message for such a heavy band and really brought the crowd together. This appeared to be a headlining quality act opening up on the second stage which was a great thing for everyone there. If this was to be the beginning of the day I realized during Gemini Syndrome's set that I was in for a fantastic music experience.
Upon A Burning Body is a very energetic band that demands crowd participation. This is a band that really comes across as a group that could kick your ass. They have an element of danger that goes really well with their musical style which is a mix of Deathcore and Party Rock . They managed to win the crowd over very quickly after the beginning of their set. The crowd was very responsive and all about getting a pit going, and Upon a Burning Body knew it. Frontman extraordinaire Danny Leal has the charisma and attitude to say almost anything he wants and not lose likeability. He got the audience wound up and held their attention very well. It was clear that these guys owned the stage and wanted you to know it. Upon A Burning Body being a four piece band still made a huge sound with only one guitarist. Ruben Alvarez seemed very at home on stage and on his guitar. Bassist Rey Martinez plays his bass with intensity and aggression almost like he's mad at it; this translates to an impressive show and a powerful sound. They boldly chose to cover Lil Jon's "Turn down for what" and it was a good choice. Girls were on people's shoulders immediately after they realized what song was being played, singing along and crowd surfing. Upon A Burning Body is a band that clearly knows how to connect with a crowd and are fearless on stage. I really enjoyed their set.
We Came as Romans opened their set with "Regenerate" off of their self-titled album. Their dual vocal attack was a great contrast to the previous two acts and seemed well rehearsed. At this point in the show the sound was dialed in quite well and the crowd was hungry for more. The stage lighting and fog were now more present adding some depth to the stage and flair to the overall show. The show was now in full swing as far as production goes, with multiple camera men covering the band. We Came as Romans have an amazing stage presence and awareness of other members on stage. It is a wonder that these six guys are able to avoid running into each other with the amount of movement going on. Bassist Andy Glass is a ball of energy that does not seem to be able to stand still for more than ten seconds. He manages to spin on one leg and play bass simultaneously with the enthusiasm of a kid with a new toy on Christmas. Singers Dave Stephens and Kyle Pavone are masters at trading clean and unclean vocals in a way that sounds very natural. The blend of Kyle Pavone's vocal clarity and Dave Stephens's powerful edgy voice add whole extra element to the sound and fullness of the band. Their ability to work together vocally on the breakdowns and quiet transition of their songs is something that was unmatched that day by any of the acts. The song that brought all of their fans together was called "The World I Used to Know" which was sung word for word by a large amount of the crowd. I believe they have a lot of good things ahead of them.
Jim Breuer And The Loud & Rowdy led by Saturday Night Live alum and long time defender of Rock and Roll Jim Breuer was the first act of the day that was on the main stage. The size of the sound arrays and the stage was a little overwhelming at first. I had never been to a show of this size with so many amazing acts. Jim Breuer was also feeling the reality of the magnitude of the show, he was very thankful to the crowd and joked that he didn't think he would ever be on a tour like this. His vocal style is a mix of Brian Johnson from AC/DC with an Ugly Kid Joe type of tongue in cheek delivery. The songs ranged in topics from raising Teenage Girls to the struggle to keep rock alive. In an ode to all that rocks he performed the song "Old School" that has a Joan Jett type beat and transitions to a Judas Priest style chorus. The chorus of "I want that old school riff driven hard rock music for me" and "Turn up that old school riff driven hard rock music for me" pretty much took the entire crowd back to 1986 and it was awesome. Much like Upon a Burning Body taking a chance on a rap cover Jim Breuer took a chance with a hardcore music audience and played old school rock and roll….and it worked. His band was a group of very proficient musicians that could have easily fell in with any major rock and roll or hard rock band. Jim Breuer and the Loud & Rowdy managed to come out and win the crowd over and get a lot of fists pumping in the air and even some head banging going on. I think they were a good addition to the Open Air Festival.
Letlive is a band that has a frontman that every musician imagines having when they start their band. Jason Aalon Butler is a madman and a great vocalist. Imagine early Papa Roach and Cage the Elephant were merged together. Jason sings to the point of exhaustion and gives the fans every last breath of air that he can muster. As a vocalist and performer myself I understand the demand that this type of singing can put on your body. I was very impressed by his stage antics as well as his singing ability. He scaled the stage and climbed to the top, no less than 80 feet above the crowd and sang a song after declaring "I can see home from here!" It was a cool moment, both exciting and nerve racking for the audience and the security staff. Antics aside he band was very solid and a much different sound than any of the other bands on the second stage. They certainly stood out sonically and surely made new fans that day.
Corrosion of Conformity happens to be a band that I have always wanted to see live since I bought their album Americas Volume Dealer. Lead singer/guitarist Pepper Kennan was in a very good mood this day and the band sounded great. They are a gritty thick sounding band that used SG style guitars and can get away with slow drugging tempos and still rock your face off. The set was filled with some tracks representing most of their catalog. I was happy to hear the song "Who Got the Fire" which has a bit of a tricky rhythm but they pulled it off live very well. The highlight of the set was "Clean My Wounds" which is a killer track and probably their most recognizable song to a casual fan. It was interesting to see the different age groups that were there for Corrosion of Conformity. There were the lifelong fans with Corrosion of Conformity t-shirts from the 90's C.O.C tours, and younger fans in their mid twenties. I was very pleased to see how well these guys were performing and the response from the crowd.
All That Remains is a band that I had heard many times on modern rock radio and somehow failed to really appreciate. After seeing All That Remains live on the Main stage there is no doubt that I am now a fan of theirs. This is one of those bands where you stand there watching them and say to yourself "Oh, this is by them" then the next song "Oh, I always wondered who wrote this" They have no shortage of great material and a very large fan base that was there to support them. Singer Phillip Labonte who was also in Shadows Fall at one time asked the crowd if it would be okay to perform a song called "What If I Was Nothing" which was a song that caused controversy with long time fans. The answer from the crowd was an enthusiastic "YES" This was another moment of unity between the band and the audience that was a truly beautiful thing to see at such a large venue. Everyone within sight was singing along and reciting the lyrics nearly word for word. If you get a chance to see All That Remains live I would highly recommend going.
Baby Metal performed on the second stage and were the most polarizing of all of the acts on day three. It seemed that people were either completely mesmerized and/or curious about the band or they were turned off entirely. The musicians in Baby Metal are absolute virtuoso's truly talented individuals who were adorned with white cloaks and face paint that looked pretty scary. The band was an interesting contrast to the three female vocalists that sing and dance in a very poppy style. It's as if innocence and evil came together and formed a Japanese Metal Pop band. From what I could tell the band ended up having a very large gathering watching them by the end of their set. Baby Metal managed to win the crowd over, and that's the name of the game.
Killswitch Engage was one of the bands that I barely got to see as I was in need of some rest after eight sets of nonstop rocking. The weather was just on the brink of being too hot for most, and the sky was very clear with a lot of sunshine and not much wind. It was also quite a hike between the two stages which was necessary because of the volumes of both stages. They certainly needed to be separated as far as they were. The crowd size for Killswitch Engage was the largest I had seen at the second stage for the entire day. They are still a tight and powerful band with a great sense of humor and sophomoric antics. You could really see that they loved being on stage. I wish I could have caught more of their set.
Marilyn Manson was in a somewhat cheery mood and seemed to have a good amount of energy at this show. It felt like there was some kind of renewed unity in the band. This performance was certainly reminiscent of a late 90's level of energy from Marilyn. Within the first song he was off the stage and into the press pit and beginning to litter the stage with pretty much anything he could get his hands on. The sound was amazing and very loud, so loud in fact that the speaker arrays mounted above the stage were vibrating the video screens. The stage set included the full band and additional musicians on keyboards and dual percussionists that made for a very full sound. Long time member Twiggy Ramirez was quite animated on the bass guitar. At times the fog machines were running so long that the band was completely engulfed by the fog. Marilyn had the crowd eating out of his hands for the entire set. About 20 minutes in he decided to head out into the crowd during the song "Mobscene" which resulted in crowd surfing and a tight mosh pit. The band was firing on all cylinders at this point heading into the song "Dope Show" followed by "Sweet Dreams" which Marilyn performed on stilts and crutches making the singer 12 feet tall. There was a bit of down time between some of the songs for stage set changes but the crowd did not seem to mind. The closer of the set was "The
Beautiful People" during which Marilyn headed back out in the crowd among the fans for one last time. The set ended a bit abruptly, but it was exciting, and a very unpredictable set to begin with.
Five Finger Death Punch is a band that converted me into a fan from this show at the Open Air Festival. I was aware of them and how could you not be they have become a staple on rock radio and stayed that way for the past three years. My apprehension was that I could not take them seriously for some reason. Perhaps they were so popular that they were going to go the way of Creed or Nickelback and become the band that is cool to hate. The fact of the matter is that this band is amazing live. They love their fans and of course good old U.S.A as singer Ivan Moody made apparent by leading the crowd into chanting USA many times throughout the set. There appeared to be a lot of respect and brotherhood between the band members also, even with some recent on stage meltdowns these guys held it together and were very professional. FFDP much like Drowning Pool had a guest vocalist join them for the song "The Bleeding" it was young girl who appeared to be around 8 years old. It was a cool moment that presented the band as classy guys that are for crowd involvement, and haven't let the fame disconnect them from their fans. I have nothing but respect for this band after seeing them live.
Slipknot came out after a very lengthy break in the action after Five Finger Death Punch, which may have been a result of Asking Alexandria not performing their set that day. The wait was well worth it and you could feel the anticipation building with every minute. Corey Taylor was surprisingly active on stage even though he had recently had neck surgery. As anyone who has seen Slipknot can attest, they are a dangerous live band with a stage show not unlike a miniature war zone. Their first song featured a 360 degree rotating drum kit loaded with large Tom Toms, and an elevated riser for their mascot Clown to pummel Beer kegs on about 15' above stage level. The band was very tight musically and in full regalia including coveralls and masks. It was clear to see why they were headlining this festival. Corey thanked the Midwest and said "We are back in the Midwest that made this band what it is" Their set was just over an hour and the band was sure to represent their early material off of the album Iowa. The song that had body's slamming back and forth the most was "Psychosocial" This for me was the highlight of their set and a total loss of control as a fan and audience member. It was a long day with a lot of heat and an incredible amount of music that left me spent, sweaty, and appreciative that I was able to attend. I certainly hope that Chicago Open Air Festival 2017 will be a reality.