CHICAGO OPEN AIR @ TOYOTA PARK – BRIDGEVIEW, IL
By Dan Scheiman on July 20, 2017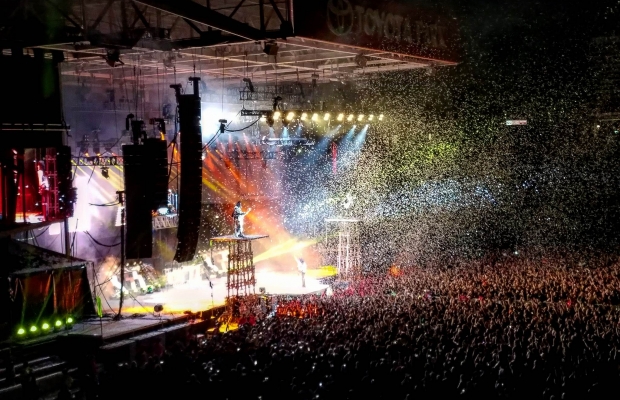 July 14-16, 2017
DAY ONE – By Dan Scheiman
One year after the crew from the first Open Air Chicago was done cleaning up the wreckage that Rammstein, Korn, Disturbed, and their loyal fans left behind, the same crazy Chicagoans showed up for more metal. Even though I missed the return of Korn, I got to bask in the glory of so many other rock legends and metal gods.
On day one I got to see the likes of The Dillinger Escape Plan, Meshuggah, and White Chapel catering to the more modern metal head with a lust for chaos, filthy break downs, and untamed distorted aggression, while the veteran headbanger got a taste of the good ol' days with Anthrax, Megadeth, and the legendary KISS.
Meshuggah and Dillinger should be on every single metalhead's bucket list if they haven't already crossed them off. The heart palpitations delivered by Meshuggah coupled with their relentless double bass and 8-string guitar chugging are unparalleled to any metal band. Hell, they basically invented their own genre that has since exploded in the metal community in Djent. The Dillinger Escape Plan are considered one of the pioneers of their own excessively violent Mathcore style. The amount of talent and emotional expression that these gentlemen bring to the table is something most musicians only dream about being capable of producing.
The precursor to the headlining act was none other than Megadeth. No words are needed for the band that won a Grammy for 2017's best metal performance.
As the evening came to a close, the rock gods known as KISS ascended from the depths of Hell to bring the party to the gigantic crowd awaiting their arrival. Being my first time witnessing these mythical men, I was in no way prepared for what was being brought to the stage. KISS brought a light show, pyrotechnics, visualizers, and a flawless musical execution that set the bar much higher than I anticipated for the remainder of the weekend. Even while altering lineups throughout their career, it was unbelievable to see how much energy and excitement still carried with these men, some of which have been doing it since 1973.
Putting together fantastic lineups that catch the interest of literally any metalhead in one way or the other is definitely one perk of Open Air Chicago Fest, but the fantastic beer, food, and extremely well organized grounds of the fest are definitely an additional bonus.
DAY TWO -By Greg Hamil
This was my first time covering Chicago Open Air, and I wasn't quite sure what to expect. I have covered many festival shows in the past, but most of them with side-by-side stage format, so a show where the second stage is completely outside the main arena was a little different for me, making this most definitely a learning experience for me. For a good portion of the day, I stuck to the main stage and snuck out to the side stage for a couple of bands.
My day started with Cane Hill on the Monster Energy Main Stage. Not being real familiar with this band, I was pleasantly surprised. They were in your face from the first chord to the last cymbal crash. Cane Hill have a great mix from hardcore screamo style to flat out hard rock. They opened with "Ugly Model Mannequin", played a few new songs from an upcoming album that are yet to be recorded, and closed the show with "Jesus". Having heard a lot of bad opening bands in the past, I can easily say Chicago Open Air hit a home run choosing Cane Hill to kick things off!
Next up on the Monster Energy Main Stage was Metal Church. I was personally looking forward to this band as I used to go see them when they were just a club band in Los Angeles, and was understandably curious to see if they still had it. They did not disappoint as they may arguably have been the best sounding band of the day! Opening with "Fake Healer" I knew right away this was going to be a special performance! They followed that up with "In Mourning", "Needle and Suture", then their biggest hit "Badlands" and finally closing out with "Beyond the Black". My only disappointment with their performance is that it was it wasn't longer! Later in the day, I caught up with drummer Stet Howland (formerly of W.A.S.P) and he said that after a short tour in Europe, they would be returning to the states to record a new album and head out on a headlining tour.
Still at the Monster Energy Main Stage, the next band was Avatar! Watch out folks! You could very well see this band headlining a festival like this in the very near future. With a flawless hardcore sound and a theatrical stage presence, this band is the total package! With Johannes Eckerstrom strutting around the stage in his ringmaster outfit and makeup, and the precision of the dual lead guitar solos, the crowd was left wanting much more! Opening with "Hail the Apocalypse", and performing hits, "New Land", "The Eagle has Landed", and "Smells Like a Freakshow" Avatar puts it all out there and leaves you wanting more!
Steel Panther was next on the Monster Energy Main Stage; probably the only band of the day that I wasn't quite sure what feel. Being a "child of the 80's", I couldn't decide if I should laugh or be insulted. Musically, they were fantastic and I get that they lean more towards a comedic style, but I was a little turned off by all the talking in between songs. They opened with "Eyes of a Panther" and included others such as "Fat Girl (Thar She Blows)", "Community Property", and "17 Girls in a Row". I may have enjoyed them a little more if they had been a little farther down the bill on the main stage, or maybe higher up on the Blackcraft Stage, but feel some of the other bands got cheated out of some stage time, by putting Steel Panther in this spot.
Finally, I made it over to the Blackcraft Stage to see Body Count. Ice-T takes Rap and Hardcore Metal and mixes them to perfection! Body Count is a "moshers" dream come true! Body Cout opened with a cover of Slayer's "Raining Blood/Postmortem" and continued with songs like "No Lives Matter", "Cop Killer" and "Body Count". During the performance of "There Goes the Neighborhood", bassist Vincent Price injured himself and had to play the rest of the set from a wheelchair. Now THAT is dedication!
Sliding back over to the Monster Energy Main Stage, it was time for Seether! I have always loved Seether's flawless performances, but have also been disappointed by their lack of stage presence. Most shows I have seen, they just stand at the microphone, play the music and sing with very little movement or crowd interaction. Well that changed for this performance! The music was perfect as usual, but the guys moved around the stage, interacted with the crowd, and I think I even saw Shaun Morgan smile a couple times! Opening the set with "Gasoline", this is one of those bands that just plays hit after hit! Other songs included "Rise Above This", "Country Song", "Fake It", and my personal favorite "Words as Weapons". They closed their performance with "Remedy" which probably got the loudest crowd response I had heard up to that point.
Godsmack was next to light up (literally) the Monster Energy Main Stage. First song of the set was "Whatever" and right away Sully Erna's energy ignited the crowd. Heating things up with pyrotechnics that were synchronized to the music, Godsmack blew everyone away with incredible performances on songs like "Greed", "The Enemy", "Voodoo", and many more. I was torn with theduel drum solo, however. I am a huge fan of drum solos and this is one of the better ones you will ever see, but in a festival show with a limited time slot, I have to wonder if the drum solo should be shelved so that the band can play even more of the hits that the fans would love to hear. Overall though, I can't say I was disappointed in the performance. Godsmack is a great band to lead into the headliner of the night!
Headlining the night on the Monster Energy Main Stage was Korn! No doubt by the crowd reaction, Korn was the perfect band for this spot and was the highlight of Day 2. Another band who can play hit after hit and never have to rely on filler songs, Korn opened with "Rotting In Vain", "Falling Away From Me", and continued on ending the evening with "Freak on a Leash". Korn's nu-metal sound has only become more solid over the years. The albums are great, but the live performance is where this band excels and exceeds. What a phenomenal ending to an incredible day!
DAY THREE By – Dan Scheiman
Day three was without a doubt the best lineup in my opinion. Packing an unbelievable punch with the likes of Behemoth, Lamb of God, Slayer, and Amon Amarth, Open Air really outdid themselves on day three of their second annual fest. Rock legends Stone Sour made an appearance that seemed to draw the biggest crowd next to Ozzy himself.
Other than the corpse paint and brutal riffage from Behemoth, the fire and epic war cries of Amon Amarth, and the mosh pit inducing unholy shredding from Slayer, I was sincerely impressed by Lamb of God's performance. The energy and sincerity that Lamb of God carried with them to the stage was refreshing and inspiring in so many ways. This was a band I more or less brushed aside in the last few years, and now that I have seen how talented and badass they actually are, I will be digging into their discography.
Most importantly, I think that it's very possible that two of the fastest guitarists in the history of the craft were at Open Air Fest this weekend. Kerry King's solos were absolutely some of the nastiest and fastest I have ever seen. I knew Slayer was a well respected band for a reason, but until seeing King rip up his guitar live, I honestly had no idea where the obsession came from.
In that same respect, the reunion of Ozzy and Zakk Wylde was one of the most incredible combinations of two musicians I have ever seen on a stage in my life. I've been a metalhead most of my life and for whatever reason I never gave Ozzy the respect he was due; seeing the legend himself work his magic with Zakk again was… awe inspiring. I have seen Joe Satirani, Tosin Abasi, Simon Girard, Misha Mansoor, and Jake Cinninger live, and I still very sincerely tell anyone who brings up the topic of great guitarists, that Zakk Wylde is the fastest and most articulate I have ever seen live. His speed is light years ahead of anyone in the game, but his passion and technical obsession is something that deserves way more respect than it has been given throughout the years.
It was really a wonderful thing to see the reunion of Zakk and Ozzy as the finally of the second annual Open Air Chicago Fest. This fest combined great beer with great food and metal; there isn't much more you could ask for. Maynard James Keenan's very own Caduceus Cellars wine found its way to the fair grounds as well. Overall I feel like Open Air is putting together the type of festival that metalheads in this area have been looking for and deserve. When the lineup is announced next year I highly recommend checking it out and grabbing tickets for as many days as you can.
Dan Scheiman With an entirely open and unbiased obsession with music, Dan decided to take the opportunity given to him to share his thoughts for On Stage Review. Having been to hundreds of concerts of a variety of styles and genres over the years, he's no stranger to live music. He has been playing bass guitar for over twelve years now and has been dabbling in vocal work, drums, and piano for almost as long. Growing up listening to metal and industrial then transitioning into jazz and classical, and now having a particular love for funk or anything that grooves; his perspective comes from a well-rounded musical background and some amateur experience as a musician. He has too many favorite bands to list, but some of his favorite live experiences include: Sigur Ros, Porcupine Tree, Papadosio, Tool, The Ocean, Animals As Leaders, Lettuce, and of course, Victor Wooten.
Features

Nicci Allen | February 26, 2020

LAMB OF GOD @ HOUSE OF VANS– Chicago, IL February 14th, 2020 Review: Dan Scheiman Photos: Nicci Allen What better way to celebrate Valentines Day, than an intimate winter...

Featured Photographer

Joe Hendrickson | February 18, 2020

Machine Head @ The Metro – Joliet, IL February 15, 2020 Review & Photos by Joe Hendrickson Machine Head made a stop at The Metro on their Burn My...
ABOUT ONSTAGE REVIEW

On Stage Review is a collaboration of passionate and enthusiastic music lovers coming together to give you an inside look into some of today's hottest and most intriguing artists.

We'll dive into their lives and careers on and off the stage and give you an up close perspective few get to see.

Facebook

ADMIN
Copyright © 2017 ONSTAGE REVIEW.com. Site by FM Imagery.