CHRISTOPHER SHAYNE @ NAMM – Anaheim, CA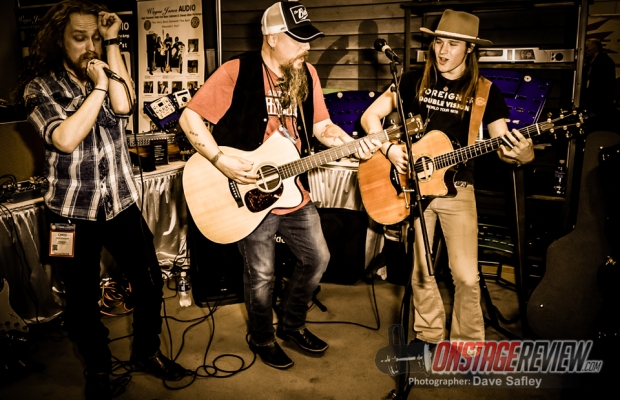 January 19th, 2017
The Christopher Shayne band made a stop over at NAMM for a performance at the ideaBench booth (whom they endorse).
They provided a solid performance with a nice gathering of people around the booth grooving to their music. This band is on the rise and their mini set included 4 to 5 carefully selected songs. The band was welcomed by a warm, deserved applause from current and new fans and spectators of Hall E at the annual winter NAMM. Some history of the band provided by their management group REDLYNE Management:
Band Members: Christopher Shayne: Vocals, Zachary Hughes: Organ Guitar and vocals, Mark Blades: Bass and vocals, Trevor Hammer: Drums, Dave Lansing: guitar and vocals.
CHRISTOPHER SHAYNE hails from Arizona
Genre: Southern Rock / Desert Rock / Country Rock / Outlaw Americana
The band formed in 2015
Debut album Turning Stones released on August 12, 2016
Debut single "Give A Damn" received play on Sirius XM Octane
Touring has included gigs at NASCAR, Country Thunder, Alice Cooper's Solid Rock Foundation, and PBR Finals
Upcoming gigs include opening for Molly Hatchet, Shooter Jennings, Gretchen Wilson, and AZ Bike Week
Sponsored by Affliction and endorses ideaBench products
What happens when Aerosmith was your first concert, in a state which claims music outlaws like Waylon Jennings, Alice Cooper and Dave Mustaine of Megadeth? Enter a blazing new rock star with both shine and grit named Christopher Shayne.
Christopher Shayne, well known throughout the American southwest for his former band Whiskey Six, now delivers dusty southern rock on his debut solo album, Turning Stones. With influences including blues artist R.L. Burnside, the Black Crowes, country rockers Blackberry Smoke and the ultimate in country boogie, ZZ Top, Christopher has written an album which is both an exciting new desert-country-rock discovery and familiar ring for classic southern rock fans.
Turning Stones was produced by renowned producer/engineer Chuck Alkazian (Bruce Springsteen, Bob Seger) at Pearl Sound Studios in Detroit. Staying loyal to his band when a Whiskey Six label offer required he leave them behind, Christopher crafted the twelve tracks with his lead guitarist Dave Lansing, also of Arizona. "There are moments in each song for every aspect of your life." says Christopher, "Life has ups and downs." The album is its own ride, and expresses itself through anger, joy, love, and sadness. It's an honest album – I hope everyone finds some note of truth that resonates with them.
The debut single and video "Give A Damn" is a fierce anthem to Chris's rebellious side. "When I Come Down", a song that wrote itself according to Lansing, brings down-home country harmonies and a whiskey-laden hook. The self-reflective "Take Your Time" and "The River Revival" are tributes to American gospel influences in modern blues music. Title track "Turning Stones" asks "where is my American dream? It looks so much better on TV" with toe-tapping storytelling and Americana twang.
It is rare to find a start-to-finish album these days, as it is to find a natural powerhouse like Shayne, who is beloved for his long red locks and bluesy growl. Along with bandmates Dave Lansing, Mark Blades, Trevor Hammer, and Zachary Hughes, the Christopher Shayne Band is a force to be reckoned with in concert. "We're coming at it with the straight up rock, then adding country to it." says Christopher. "We're riding the edge between genres – it feels a little bit dangerous." The chorus of "Give A Damn" says it all: "Look out world, I'm gonna be a star."
Social media links:
CHRISTOPHER SHAYNE