Compathy discusses new single titled "Cannon"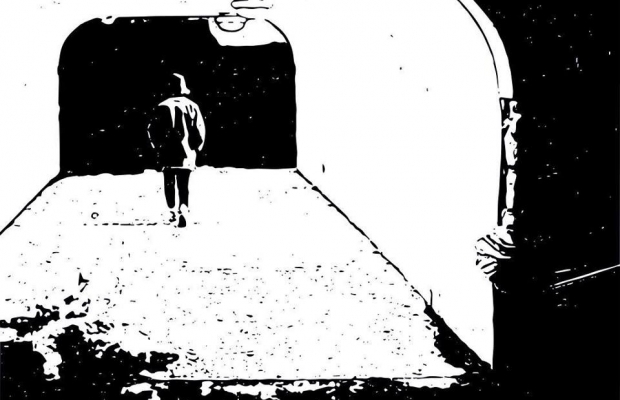 Photo by Rob Haberman
Interview by Victoria Goodman
Chicago acoustic pop-punk act, Compathy, has officially released the follow up single to his debut EP, You Have No Home Here. The act is the project of musician Matt Campbell; who distinguished the single with an upbeat tempo, heartfelt lyrics, and a departure from the themes of his debut EP. "Cannon" is available now and can be listened to on Spotify, Apple Music, YouTube, Bandcamp, and more. Victoria recently had the pleasure of speaking with Matt about how the song came to be.
V: Can you introduce yourself to our readers who may be unfamiliar with you and your music?
M: Well, my name is Matt Campbell and I'm a 21-year-old New Hampshire native, multi-instrumentalist, and songwriter. I'm currently living in Chicago to finish up school at Columbia.
V: What originally inspired you to start writing music?
M: I just kind of started writing when I was about 14 or 15. It's weird, I started writing riffs at first thinking that I would never really be a good lyricist. It wasn't until a few years later that I really started writing "good" songs. I have to say the first album by City and Colour has been a HUGE influence on my writing for almost five years now. Whenever I'm stuck I look back to that album and it feels like coming home.
V: What does the writing process look like for you; do ideas stem from lyrics or do you focus on instrumental writing to begin?
M: It normally takes me a very, very long time to write songs. I have no idea what happened but when I sat down to write You Have No Home Here, the songs just came out. Usually I'll sit down with a guitar and let ideas, lyrics and whatever wanted to come out come out. With writing the EP it was like, everything was already there, and it just spilled out of me onto paper. It was a complete departure from how things usually go.
V: You've been a part of the Chicago music scene for a while now; how has being a part of the local music scene impacted or influenced you?
M: The Chicago music scene has treated me well for the most part! Being an outsider, it was very hard to make connections and try to get myself on shows. I'm very fortunate for the friends I have now. Local music has always inspired me to be a better artist. It has definitely helped me hone a sound that's way different than anything I've done in my career previously.
V: I noticed that you recorded this single at After Glow Recording Studio with Jake Carbonara. Can you tell me what that was like and why you chose to record with him?
M: Jake is my best friend, hands down. Recording with him is one of my favorite things to do. The environment is so relaxed like, we'll go to Chipotle or something before the session, head to his house, hash out ideas then record them. It's always felt so much more natural than being in a traditional studio and Jake is one of the best producers I have ever worked with. He really knows what he's doing. We just have a lot of fun and it's a very great space to let ideas flow naturally.
V: You've mentioned that You Have No Home Here is a darker EP that is themed around a toxic relationship and that "Canon" is a departure from that. I'm under the impression that this was inspired by a situation you lived through, so how did this change impact you and the theme of your music?
M: "Cannon" is very much a song about moving on. Recently, I found myself in another relationship in which I felt like I was giving my all, but the spark wasn't really there. I felt shattered after the breakup so "Cannon," being a song that I wrote a while ago, took on a whole new meaning and presented a necessity to it being released. Unlike the songs on the EP, the lyrics of "Cannon" are a lot less vague. On the EP I tried hard to tell a story but not spell it out for the listeners, and rather keep most of it to myself. I feel that this helps listeners take away more from the songs. "Cannon," is really about trying to move on using every coping mechanism you have, but there's still that underlying urge to reach out to your ex-partner and make sure they're okay, or just to talk to them because you miss them. It definitely felt a little harder to write like this, and I almost feel self-conscious about laying it all out there in a song, but I think this is also the best Compathy song to date.
V: After the artistic growth and development between You Have No Home Here to "Cannon", what can listeners expect to hear from you in the future?
M: I wish I could tell you. I think the songs, when they come, will be a lot different. I'm kind of over writing about the person I wrote You Have No Home Here about, and already the subject focus has switched from ex-girlfriends to talking about myself. I think the new material will be a lot more self-oriented, trying to get my feelings out instead of telling stories, or maybe a bit of both! We'll find out.
V: Who are some of your influences as an artist? Were there any in particular that influenced "Cannon"?
M: Like I said, that first City and Colour album was like, the reason I started writing music about five years ago. I definitely recommend you listen to it. Other acts like Bright Eyes, Smashing Pumpkins, Modest Mouse, I don't know, the list goes on. I also spent a lot of my youth listening to acts like James Taylor, Harry Chapin, Townes Wan Zandt and Hank Williams, older folk singers. That music definitely has had a major impact on the way I write music. When I wrote "Cannon," I was listening to a lot of acts like Basement, Smashing Pumpkins and Modern Baseball, so I would say they really helped make that song what it is. I don't know I could go on for days about artists who influence me, there are so many!
V: Earlier this year you played a show that benefited a non-profit that focuses on mental health education and suicide prevention (Hope For The Day); I noticed that this cause is important to you. Does mental health play a role in your music and the lyrics you write?
M: Yes, a way bigger role than I would like to admit. I've struggled my whole adult life with Bipolar Disorder and for a while I really let it consume me to the point where I was very disrespectful in the way I treated myself and others. There's no taking back things I said or did, but in a lot of ways Compathy is the way I cope with it and is almost like a reconciliation. It's definitely been a productive outlet for a me and has helped me deal with my mental illness and mental health.
V: Do you have any upcoming shows where fans can see you live?
M: Right now I have nothing in the works, but I'm always looking to play shows and get out there!
V: Is there anything else that you would like readers to know that I may have missed?
Uhm, not really! "Cannon" comes out April 14th and will be everywhere you can stream music, Spotify, Apple Music, etc. Thanks so much for the awesome questions and I really hope you enjoy the new music.
"Cannon" is available now! You can connect with Compathy by following him here on social media: