CORY HENRY & THE FUNK APOSTLES @ LINCOLN HALL – CHICAGO, IL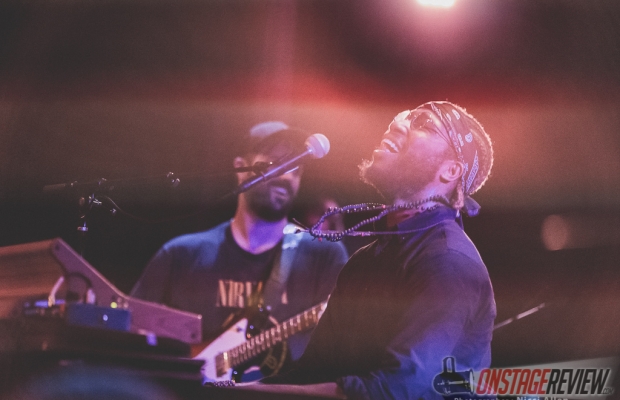 September 17th 2018
Lincoln Hall was pretty obviously sold out. When we arrived we managed to sneak up near the front to get an up-close view for a few tracks. Cory and his Funk Apostles had enough energy and soul to fill a stage twenty times this size but they had to squeeze in tightly together. In retrospect this may have made for a better and more intimate show in the end. The first thing I noticed was Cory's absolutely infectious smile and the ridiculously positive vibe that was pouring from his eyes. The look this man gives off when playing and singing for a crowd is a direct cross between a child being introduced to his very first puppy and a preacher realizing he just saved a broken man's soul standing in front of him.
About half way through what proved to be one of the best funk and soul concerts I have attended to date, Cory Henry brought out a very special guest. Ten year old Justin Schultz was the runner up on his #PickupTradeItAll contest that was a solo contest that consisted of musicians from all across the globe. Justin's talent and charisma on stage was that of a grown man as he ripped into a keyboard solo of his own and then promptly snuck past Cory to continue wowing the crowd on Cory's rig as well. The response from the fans only amplified this kid's smile and vibration on stage. To see someone who would be considered young in the jazz community open up his stage to someone twenty years younger than himself shows nothing but promise and potential coming over the horizon for the music industry.
Once the fans quieted down over Justin's stellar surprise performance, Cory proceeded to rumble the walls of Lincoln Hall with relentless love and unstoppable funk for the better part of three hours. I specifically remember the barkeep mentioning to us that the show was supposed to wrap up a good hour or more before it actually did. One of Cory's jams stayed on a loop of the entire band chanting "party", dancing, and singing for what seemed like ten minutes. I knew full well that this group was going to give us a religious experience, but the true Gospel style soul and power that was resonating with everybody in the venue was breathtaking. I found myself with an ear to ear grin and tears running down my cheeks on too many occasions to count that night.
Cory Henry is arguably the most intuitive, creative, and naturally-gifted musician I have been lucky enough to see live. I put this brilliant man on the same level as some of my idols such as Michael League, Jacob Collier, Anthony Wellington, and Victor Wooten when it comes to musical prowess and sharpened skills. I have heard from a great deal of music enthusiasts that Cory shows the same heart and soul that Stevie Wonder did at a young age. Unfortunately, I wasn't around for that era of soul music, but I can see the similarities and influences without a doubt. It is incredible to me that this man is only a year older than I am (31) and has accomplished as much as he has. Beyond his accomplishments and his finely tuned skill set, what impresses me most about this particular player is his ability to genuinely and honestly "speak" with his fingers. His communicative touch on keyboards is something I find to be sincerely unique to his name. If you aren't already aware of his talent and would like a raw display just go ahead and look up the track "Lingus" by Snarky Puppy. The keys solo in that video is one of the most impressive I have ever seen.
The third annual GroundUp Music Fest is coming up this February in Miami, and I am going to call out Michael League and Snarky Puppy's crew to please extend an invite to Cory Henry & the Funk Apostles.