DANNY WORSNOP & STARBENDERS @ THE FORGE – JOLIET, IL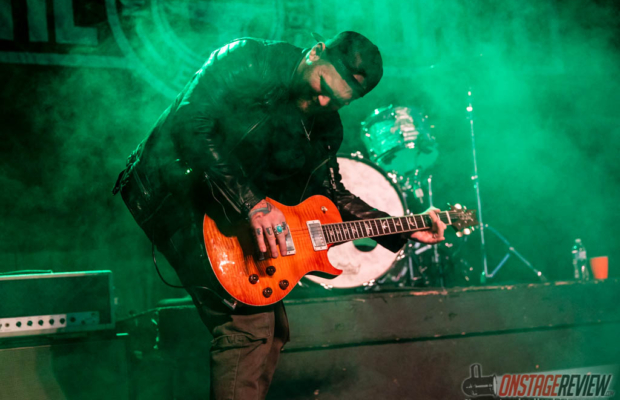 January 15, 2020
Danny Worsnop, of Asking Alexandria and We Are Harlot, set out on tour to support his solo work with special guests, Starbenders. Local Chicago artists, Jay Vanna and Mel Senese started off the night to get the crowd warmed up from this Chicago winter and rocked it. Danny is currently touring off of his second full length album, Shades of Blue, and has also been releasing some separate singles as well.
Jay Vanna is an acoustic, Chicago artist that plays mostly covers but throws in some well written originals to his set list as well. He jokingly posted before the show that he promised not to play Friends in Low Places, which he did not and kept it mostly rock-based despite his vast playlist. He did give a shout out to the late and great Rush Drummer, Neil Peart, while covering a Rush song. You can go to his Facebook page to see any upcoming dates that he has coming up here.
Mel Senese was second on the bill with bringing her original songs and powerhouse vocals. For those that didn't know the band before the show, likely left as fans because the band knows how to give a great performance. Mel's vocals from the low range to the high range are phenomenal and gave me chills. Later in their set, they did a mashup of "Sweet Dreams (Are Made of This)," "No Diggity," and "Baby One More Time." I'll definitely be checking them out again soon and highly recommend you do so as well.
Georgia-based, Starbenders is the special guest on the tour and they created and energy in the venue that was very addicting. It's hard to describe the type of music that they create but to me, it's like an alternative, slightly gothic, rock band? Whatever you want to call it, I was entertained throughout their entire set and it looked like everyone else was too. They're currently on tour in support of their most recent album, Japanese Rooms, that was released in 2019. The band started their set off with, "Blood," on a dark, fog filled stage.  Singer, Kimi Shelter has a strong presence, with a slightly awkward feeling, demeanor that demands the attention of the audience and makes it hard to look away. The entire band was all over the stage from jumping around, headbanging, and getting down on the floor of the stage. Kimi would reach out to the audience and ask, "how the f*** are you doing?!" with everyone responding in cheers. Bassist, Aaron Lecesne, and guitarist, Kriss Tokaji, were constantly interacting with each other and having a blast on stage and made them a lot of fun to watch, as well as Drummer, Emily Moon, pounding away on the drums. You should absolutely give this band a shot and see what the fuss is about. They have a very bright future and I can't wait to see what else they do!
Before Danny took the stage, "For Those About to Rock" by AC/DC played over the sound system and cheered the audience when he came out on stage. The fans sang along with the first song of the night, "Ain't Feeling Sorry," and were so happy to see Danny in a more intimate setting, comparing to seeing Asking Alexandria or We Are Harlot shows are.
Danny has such a strong soulful, yet raspy voice that can hit many different genres and can hit the high notes that ring throughout the venue. Kasper Viggo Jensen was the lead guitarist along with him on the tour and he absolutely shredded the solos while also joking around with Danny through the set. Kasper's guitar playing is made to look so effortless while being so complex. Danny and Kasper were the only musicians and the other positions were filled in on a track which didn't change the quality of the music whatsoever and makes it a simpler setup overall.
What I appreciated that Danny does is sincerely thanks the crowd for being there because music is his life and puts all of his heart into it. Towards the end of the night, he took the time to talk and joke around with the fans before his set was over. For someone that's a fan of his, it means a lot to see that he's a down-to-earth artist that is willing to take the time do this. He played an acoustic version of the song, "Victoria's Song," that's written about his wife and the video was recently released on YouTube with clips from their wedding day. To end the night, Danny played an acoustic version of his first Asking Alexandria single, "Moving On," which was perfectly done. Overall, I am very happy that I had the chance to go to this show and I can't wait to see him again, as well as what's to come.
One thing that was announced for fans is that there will be new Asking Alexandria, We Are Harlot AND Danny Worsnop albums expected to be released this year so that'll give you something to look forward to!
You can find all of Danny's music on his website, as well as the rest of the tour dates on this tour with Starbenders.
Jay Vanna
Mel Senese
Starbenders
Danny Worsnop