DEAD & COMPANY @ ALPINE VALLEY- EAST TROY ,WI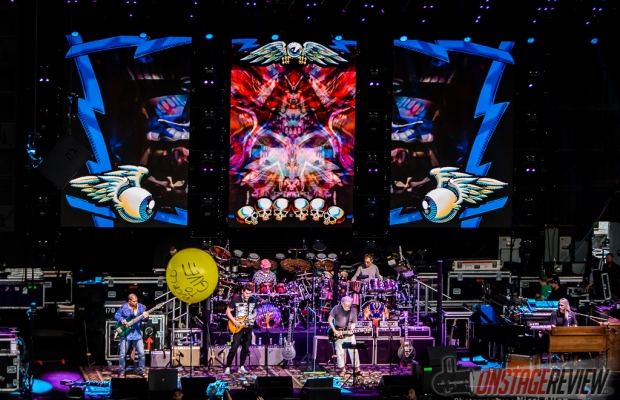 June 23rd, 2018
When most people hear "The Dead" referenced in conversation about music, there is an unspoken understanding that this can only refer to THE Dead; the Grateful Dead. There is such a legacy behind this band that will always carry on, and it has, with members of the band still jammin and showing no signs of stopping. Dead & Company has been doing just that, with the following current lineup of familiar friends on tour this summer:
Mickey Hart – drums, percussion
Bill Kreutzmann – drums
John Mayer – lead guitar, lead/backing vocals
Bob Weir – rhythm guitar, lead/backing vocals
Oteil Burnbridge – bass guitar, percussion, lead/backing vocals
Jeff Chimenti – keyboards, backing vocals
I had the pleasure of catching them on their stop at Alpine Valley in East Troy, Wisconsin. This occasion happened to be both my first Dead experience, as well as my first show at Alpine Valley. Beside the fact that way too many people were packed into the place (capacity of 37,000 is quite a few) leaving few open spots to view anything but the hanging TV monitors, it was an overall feel-good fun time. I don't believe I have ever seen so many adults in one place acting as children laughing, dancing, batting around balloons, and just generally having a banger of a party. I couldn't help but wiggle along, myself.
Opening up with the track "The Music Never Stopped," Dead and Company proved they were there to proclaim their staying power. The band jammed 2 full sets of music that evening, with a sprinkling of familiar crowd-pleasing cover songs such as "The Weight" by The Band and "All Along the Watchtower" by Bob Dylan. The great thing about Dead and Company shows is that no two are ever the same- each night of the tour might have a similar setlist, but always unique. While I would have liked to hear more of the better known Grateful Dead songs, the set at Alpine Valley was a well-rounded mix of tried and true tunes as well as deep cuts. Ending the show was the party anthem "One More Saturday Night," which couldn't have been a better choice for an unforgettable Saturday evening under the moon. "Don't worry about tomorrow, Lord, you'll know it when it comes, When the rock and roll music meets the risin' sun. Hey! Saturday Night!"
Set 1:

Set 2:

(

with 'Part Time Lover' )

Encore: