DREAM THEATER @ NATIONAL GROVE – Anaheim, CA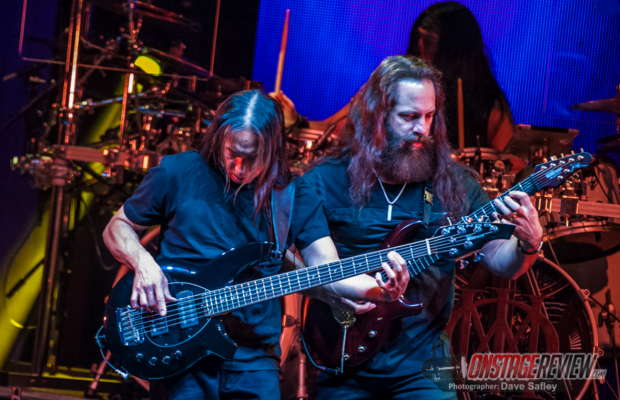 November 16, 2016
Dream Theater formed in 1985, a progressive metal rock band with their roots in Boston, made a stop on their current tour for The Astonishing at the City National Grove of Anaheim with a double-set show.
The visuals were amazing, taking the viewer on a journey of each track backed by their progressive musical styles. Graduates of the Berklee College of Music, John Petrucci, John Myung, and since 2011 Mike Mangini on drums whom replaced the original drummer Mike Portnoy, and frontman since 1991, singer James LaBrie took the audience of new and old die-hard fans on a musical ride throughout the night.
A surprise on this leg of the tour, and what a wonderful one at that, was during their new track "Our New World," Lzzy Hale of Halestorm made a guest appearance, contributing her amazing vocal talent for a standing crowd of fans rocking with the song from start to finish.
The entire album of The Astonishing was played on this tour, causing poor reviews from some of the long time fans that were not too happy about not hearing some of the classic older tracks from the band. James LaBrie responded they realize that this choice will not please everyone but since new album The Astonishing is a conceptual album it is best fit to be played from beginning to end. The Astonishing was released on January 29th, by Roadrunner Records.
Much like a play, the show was presented by a set list description of acts:
Act 1:
"Dystopian Overture
"The Gift of Music"
"The Answer"
"A Better Life"
"Lord Nafaryus"
"A Savior in the Square"
"When Your Time Has Come"
"Act of Faythe"
"Three Days"
"The Hovering Sojourn"
"Brother, Can you Hear Me?"
A Life Left Behind"
"Ravenskill"
"Chosen"
"A Tempting Offer"
"Digital Discord"
"A New Beginning"
Act 2:
"2285 Entr'acte"
"Moment of Betrayal"
"The Patch that Divides"
"Machine Chatter"
"The Walking Shadow"
"My Last Farewell"
"Losing Faythe"
"Hymn of a Thousand Voices"
"Our New World" (with Lzzy Hale)
Encore:
"Power Down"
"Astonishing"
Encore 2:
"As I Am"
"The Spirit Carries On"
"Pull Me Under"
Dream Theater