ELECTRIC SIX REVIEW @ DURTY NELLIE'S – Palatine, IL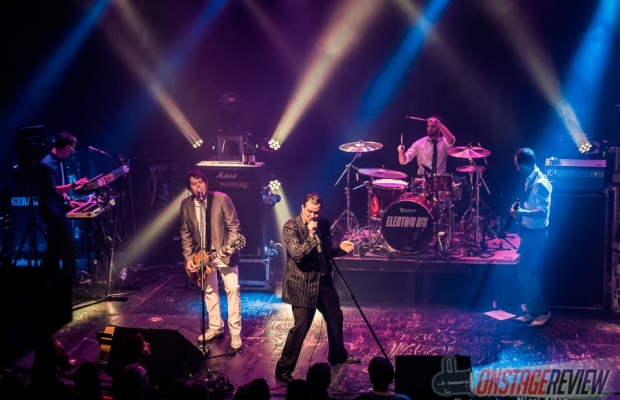 March 4, 2016
Electric six are an incredibly heavy, yet funky, punk rock band that are certainly a unique bunch. This group can range all the way from disco and dance music to smooth jazz and lounge vibes as well. These guys have been doing what they do best since 1996. One of the two original members left and front man Dick Valentine, came out smiling and greeting the crowd with drink in hand, openly expressing how he had been drinking all day. This statement sparked a loving cheers from the crowd, raising their glasses and welcoming the rest of the band to the stage.
Each of the members were dressed extremely well for the occasion, but also looked as if they had freshly escaped somewhat of a bar brawl. Dick immediately gave off an interesting vibe that was a cross between a young Frank Sinatra and Tom Waits. His smile was still genuine, but you knew these gentlemen were up to no good. These seem like the kind of guys you would love to have a drink with.
Electric Six came out swinging. They opened with one of their more recent releases, "Karate Lips". It was so excellent to see such a die hard fan base dancing, head banging, singing, and even moshing to every single track throughout the night. I have a particular sweet spot for heavy music that still manages to force people to dance and have fun, and this is a prime example of just that. The crowd was one of the more diverse I have seen in a while. Some people were decked out from head to toe in fancy clothes while others were wearing leather jackets and metal T-shirts, and all of the above were enjoying themselves thoroughly.
If the crowd wasn't already excited enough, Electric Six's classic "Gay Bar" made the place go nuts. This among a few other classics such as "Dance Commander" and "Danger Danger!" brought an entirely new life to the crowd. These fans weren't just seeing one of their favorite bands, but a band they grew up with as well. The smiles in the room were contagious from the stage, to the fans, and all the way to the bartenders. It seemed like everyone in the building was feeling both classy and a little rowdy all at the same time.
With a similar energy to that of Dog Fashion Disco or Gogol Bordello, this was a surprisingly fun show to check out live. I wasn't too aware of what these guys did before this but I will certainly be paying attention now. Keep up the good work fellas.
Photos by Nicci Allen