EMMA RUTH RUNDLE @ EMPTY BOTTLE – CHICAGO, IL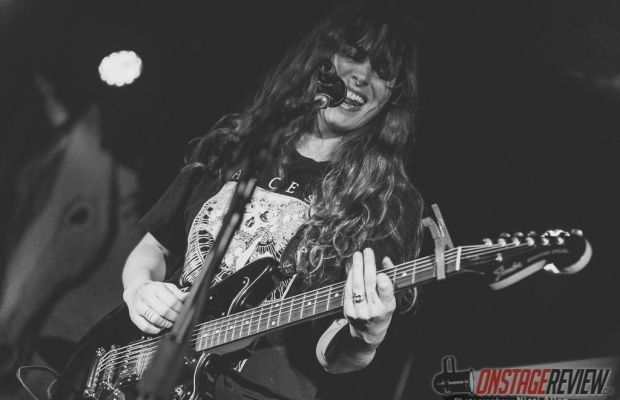 September 25th
I don't think I could have been in a better place to witness Emma Ruth Rundle in all of her brilliance than front and center at one of the most intimate venues in Chicago, The Empty Bottle. This ideal setting coupled with some heartfelt music that could be described as ambient, post-rock, neo-folk, and even at times progressive doom metal (depending on who you talk to) was a night I won't soon forget. Regardless of how someone would label her music, all of the progression, momentum, and uniqueness comes entirely out of Emma's passion for what she is doing.
The phrase "wears their heart on their sleeve" is not quite enough to describe this woman's approach to music. Its more like she gently places her heart on the stage to show how beautiful it is, then promptly stomps on it and force feeds it to the audience with a smile. On one hand her music is soothing, wonderfully composed, and therapeutic, but then on the other hand the emotional fuel that she throws onto that fire will occasionally turn her music into a weight that would make atlas buckle at the knees. The raw heaviness and pure anguish that she weaves into every bit of each song is simply astonishing.

Going in with little experience of her recorded music, I was expecting a chill and relatively passive performance, but I was surprised by much much more. This is definitely an artist whose recorded works do no justice to her live shows. Normally it takes me a few songs to allow the emotional construct of a concert to get to me, but I was legitimately choked up by the third track. Half way through the show my stomach was quivering with empathy and tears were running down my cheeks.
As a member of Marriages and Red Sparrows, Emma is no stranger to heavy music. That being said some artists whose live performances remind me of what I saw that night are Royal Thunder, Yakuza, Rachel Grimes, Baroness, and HAELOS. This artist should be an inspiration to any aspiring musician. Anyone that can compose and perform such passionate pieces without falling apart on stage deserves immense respect and acknowledgement. Thank you Emma for showing us so much of who you are through your music.