FOREVER DEAF FEST @ BEAT KITCHEN- Chicago, IL
By Nicci Allen on December 16, 2018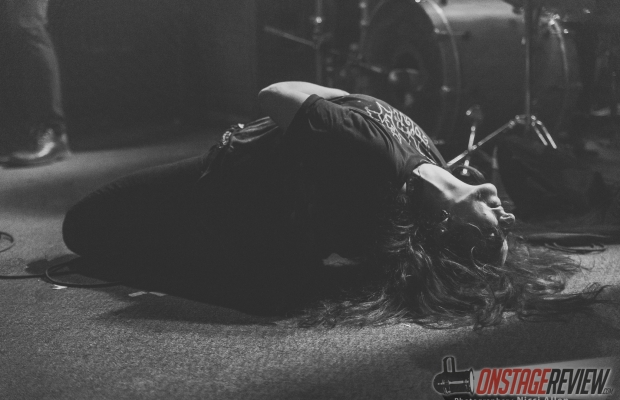 December 7th, 2018
While we did not manage to make it out to both days of Forever Deaf Fest, I assume we may have been paying for hearing aids had we gone to day two as well. This was the debut Forever Deaf Fest hosted by the intimate and beloved hole-in-the-wall Beat Kitchen of Chicago. Though that may sound snarky, some of the best metal shows I have seen have been at Beat Kitchen and venues similar to it. We picked up a few killer draft beers and wiggled our way through the crowd like Ace Ventura at a Cannibal Corpse show. Unfortunately, we literally walked in as Bloodletter was getting off the stage.
The first performance we caught was Snow Burial. This group immediately reminded me of a young Isis or earlier Baroness. That being said, some of Isis's early albums still sit in my eyes as profound masterpieces. The wall of sound Snow Burial pulled off was mesmerizing and coupled with multiple layers of vocals and a tasteful amount of distortion, this was a refreshing start to a low-key metal fest. It is good to see truly passionate musicians still coming out of the woodwork of Chicago.
Next up was Rezn. This group definitely caught me off guard, putting on such a powerful and clearly well thought out performance. This is the type of band that you can use to introduce doom and stoner metal to a novice metalhead and regardless of if they acquire a taste for it or not, they will respect the depth and intellectual fortitude that it displays. This band combines an enormous amount of distortion, a caliber of synthesis that I do not fully understand, occasional saxophone that should be much much more frequent in my opinion, and heartfelt drone style vocals to create a sensation of drowning in audio waves while being entirely paralyzed by a psychedelic nightmare. I found myself slack-jawed, confused, and euphoric all at once on a handful occasions during this set.
The precursor to the headliner was the the wicked and unnerving Immortal Bird. This was a welcome, yet completely ridiculous change of pace from the previous few bands. With undertones of really well-executed black, death, and doom metal along with an absolutely stunning endurance and speed to go with it, Immortal Bird was a spectacularly vile treat to say the least. Occasionally breaking from the unholy and unrelenting machine gun style assault that they do so well, this crew would toss in a riff that reminded me of the legendary Gorguts. This type of abrasive and psychologically damaging approach to writing always brings a smile to my face. The last metal band introduction that had my eyes and my smile this wide simultaneously upon seeing live for the first time was Inter Arma. Immortal Bird did it all. The talent and clearly sharpened skills that each member of this band possessed was outstanding. I would definitely suggest looking into this group.
Last but absolutely not least, was the mighty Novembers Doom. I can only imagine that this will be the most intimate setting I will ever get to see such a legendary tyrant. Words cannot fully describe the brilliance and unstoppable power that Novembers Doom brings to their live performances. Ending the first night of this fest with such a band could have easily left no venue standing for the second night, but it seems that after the battle was complete, the stage was still intact. For anyone reading this, if you are unaware of the mastery and godliness of Novembers Doom, I suggest you stop reading, get yourself some quality headphones, and properly acquaint yourself with them as well as the other bands on this monster lineup. That is of course if you aren't one of the many who lost their hearing at the first Forever Deaf Fest. I suppose we can all do as Beethoven (the first metalhead) did after he lost his hearing, and feel the music instead. Maybe next year we will have some fans draped over the Emperor cabinets stacked on the stage to continue getting their metal medicine in whatever way they can. I suggest we keep this tradition alive going forward.
Thank you to Metal Shop, Rebel Radio, Emperor Cabinets, Kuma's Corner, Beat Kitchen, and everyone who came out to help make this spectacular Chicago metal fest happen.
Nicci Allen is a photography/graphic design major who has been an active and involved member of the music scene since she was old enough to be let in local shows. Whether it was bartending concerts at The Pearl Room, being an involved member of the Girls of Metal, booking and promoting local shows and benefits, attending festivals and supporting artists of every genre, or DJing and writing her own music, Nicci has always made music a necessity in her daily life.
Features

Nicci Allen | February 26, 2020

LAMB OF GOD @ HOUSE OF VANS– Chicago, IL February 14th, 2020 Review: Dan Scheiman Photos: Nicci Allen What better way to celebrate Valentines Day, than an intimate winter...

Featured Photographer

Joe Hendrickson | February 18, 2020

Machine Head @ The Metro – Joliet, IL February 15, 2020 Review & Photos by Joe Hendrickson Machine Head made a stop at The Metro on their Burn My...
ABOUT ONSTAGE REVIEW

On Stage Review is a collaboration of passionate and enthusiastic music lovers coming together to give you an inside look into some of today's hottest and most intriguing artists.

We'll dive into their lives and careers on and off the stage and give you an up close perspective few get to see.

Facebook

ADMIN
Copyright © 2017 ONSTAGE REVIEW.com. Site by FM Imagery.