Gojira & Pallbearer @ The UC Theatre – Berkeley, CA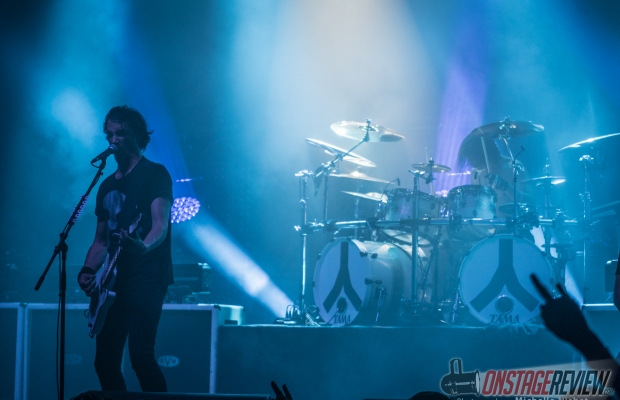 Theatre – Berkeley, CA
July 30th, 2017
Photos and Review by Michelle Nisbet
The combination of Gojira and Pallbearer made for an extremely heavy and unique listening experience for fans. With both bands having different musical styles and coming from different parts of the world- Gojira from Bayonne, France and Pallbearer from Little Rock, Arkansas, fans of metal go crazy for both. The firsts stop of this summer tour kicked of in Berkeley, California at the UC Theatre. The show was completely packed- for good reason.
Pallbearer opened their set with a loud galloping guitar riff that immediately grabbed the attention of everyone in the venue. Uncontrollable head banging soon began from the first floor, and I assume the second floor as well. The songs that followed kept the mood, including the tracks off their most recent album "Heartless." A great thing about Pallbearer is that their songs take you on a journey and usually provide around 10 minutes of continuous metal goodness. They were able to fit in a satisfying amount of music before they handed the stage over to the headliner, Gojira.
Gojira took to the stage as dark silhouettes and the rapid and flawless, percussions of Mario Duplantier started off their set. With every beat there was a flash of light. Soon with every flash of light, there was a tuned-down crunch of a guitar. The innovative production continued throughout the set. Visuals ranging from pastel light washes of every color, mesmerizing strobes, and smoke shooting all the way to the roof of the venue. The band has also never sounded better- the sound guy kept an exceptional mix going throughout the show. Playing many songs off their latest release "Magma", the crowds energy matched the band. An epic drum solo lasting minutes with swirling beams of light left the crowd in awe. Frontman Joe Duplantier was excited to let the audience know that the band has been going for 20 years. You could tell how genuinely happy the entire band was to be preforming. This is a tour not to be missed, check out a show near you!
Gojira
Pallbearer