GOO GOO DOLLS @ Genesee Theatre – Waukegan, IL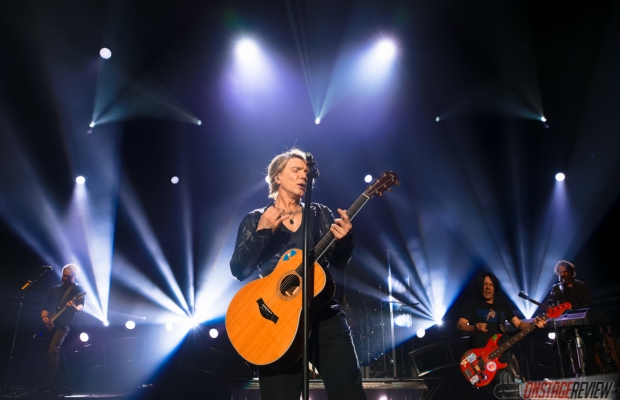 November 09, 2016
The Goo Goo Dolls graced the stage at Waukegan's historic Genesee Theatre on November 9th, 2016. There was magic in the air with an interesting mix of fans of all ages from young adults to seniors, many coming as families. No doubt because although, the Goo Goo Dolls have now been producing music for 30 years, their songs have stood the test of time and still connect with the younger generations of today. Aiding in their success, a loyal fan base that has allowed the Goo Goo Dolls to mature and reach out to a new audience.
As the lights dimmed, the crowd roared while John Rzeznik and Robby Takac took to the stage opening with "Over & Over" from the band's new album "Boxes." Fans cheered, danced, and sang along to what seemed to be every song off of the night's lengthy 23 song set list. It was wonderful trip going back in time with songs like "Already There" from their 1993 album "Superstar Car Wash" or "Name" from the 1995 album release "A Boy Named Goo." We also heard popular hits such as "Iris" from 1998's "Dizzy Up The Girl" album, "Smash" from 2002's "Gutterflower" album, "Better Days" from 2006's "Let Love In" album, and "Rebel Beat" from the 2013 "Magnetic" album.
For many bands with such popular hits in the past, it can be a hard sell to play new material in front of fans that are waiting to hear the next familiar tune and send them down memory lane. Sadly, more often than not, new songs end up as intermissions for breaks to the rest room or bar. Surprisingly, six songs from the Goo Goo Dolls' new album "Boxes" made their way into the set including: "Over & Over," "So Alive," "Lucky One," "Free of Me," "The Pin," and "Long Way Home." The audience not only never left during these songs, but cheered on as if they were a staple such as "Slide." This seems to only further exemplify the popularity of their new sound among fans and prove that the Goo Goo Dolls are here to stay.