GREGORY ALAN ISAKOV @ THALIA HALL, Chicago IL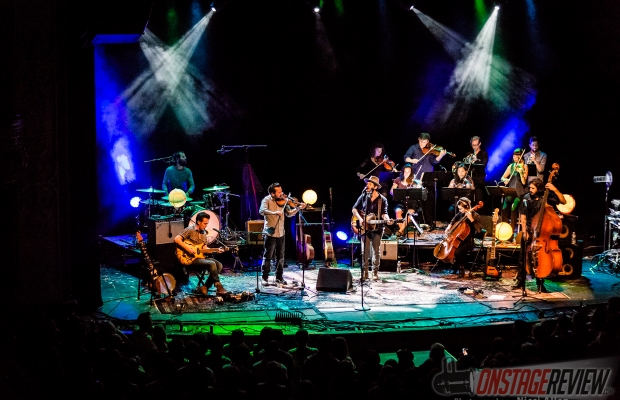 June 16, 2016
Being relatively unfamiliar with Gregory's work going into this show, I wasn't entirely sure what to expect. The anticipation and genuine excitement within the venue could be felt as soon as you walked through the doors, and you couldn't turn your head without seeing a sea of smiles.
Gregory entered the stage to a warm greeting and applause by his loving fans followed by a silence so enveloping that even he seemed to take a moment to appreciate it and smile before he began. Not sure if it was more so the venue's acoustics, Gregory's voice, or the equipment being used, but as soon as he started to play I was enthralled by the brilliant and vibrant sounds being draped over the crowd.
One by one the members of the band began to come out to join Gregory on stage. As if my senses weren't already being stimulated enough, or the strings of my heart weren't being pulled quite as tight as Gregory had planned; by the third track he had a drummer, bassist, guitarist, solo violinist, and an 8 piece orchestra accompanying him on stage. Just within the first handful of songs, this group displayed a gradual and serene build up of dynamics and emotional momentum measuring up to some of the greatest I have ever witnessed live. It all began with a soothing guitar and a feather-light voice, and before I could even catch my breath I found myself drowning in an invigorating flood of orchestral vibrations, a driving beat, and that same voice pushing out more passion and authenticity than I thought could come out of one man.
As Gregory introduced his band he genuinely referred to them as his best friends. The smiles and laughs between band members throughout the show were a wonderful display of a group of musicians that thoroughly enjoy what they do.
Seeing this performance live sent a surge of nostalgic feelings through me as I reminisced about seeing similar artists such as Andrew Bird, Jason Webley, Damien Rice, and Dustin Kensrue live. Gregory Alan Isakov is a unique and wonderfully talented artist and story teller that deserves every bit of the attention he gets now and then some.