Hair Nation Festival @ Irvine Meadows – Irvine, CA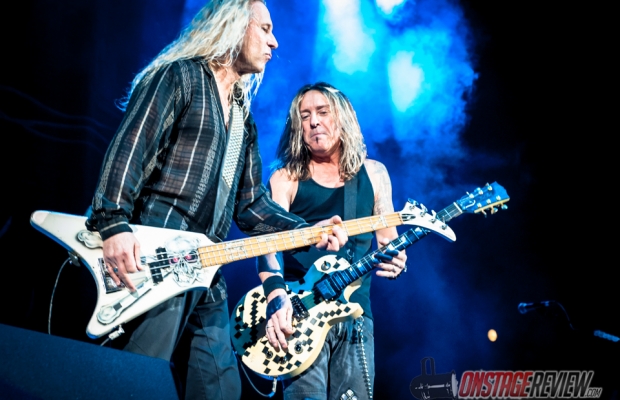 Date: September 17th, 2016
On September 17th, 2016, the SirusXM's Hair Nation Festival opened its gates at 1:00 PM for a full day of bands on two stages. On Stage Review was there to capture some of these great moments of music from some of the best bands of the 80's, 90's, and current touring artists – rounding out until almost midnight. Many have noted this show is like traveling back in time, back to all the bands and clubs hosting live music on the Strip in the 80's and 90's – So many stories of larger than life parties and a true celebration of music back in the day.
 It was one hot day; mid to upper 90's, but it did not stop the thousands of fans from supporting this event from the beginnng to the end.  The show brought in fans of young and old with the wide variety of music.  Artists that performed on the Main Stage were: The Aviators (Battle of the Band winners) Tuff, Vain, Britny Fox, Junkyard, Enuf Z'Nuff, BulletBoys, Vixen, Faster Pussycast, Lita Ford, Slaughter, Yngwie Malmsteen, Kix, Bret Michaels, and Vince Neil.  Artists that performed on the Festival Stage were: Electric Hound (Battle of the Bands Runner up) Odin, Gabbie Rae, Circus of Power, Bang Tango, Pretty Boy Floyd, LA Guns with Phil Lewis and Tracii Guns.  Battle of the Bands was held in Hollywood prior to this event, for the two lucky winners to play at the festival.
 Phil Lewis and Tracii Guns, whom have not played together in 15 years, joined forces again with LA Guns on the Festival Stage, which put on an amazing show to a dense packed crowd during the same time Lita Ford was playing the Main Stage. Lita Ford was on point with her band playing as tight as ever. She has been touring for many years now and her polished skills show. Battle of the Band winners The Aviators continued to push out some great tracks, new to many, but a great band to see. Next up were Electric Hound rocking some very cool tracks on the Festival Stage. Gabby Rae and local artist  put on a fantastic show with her band belting out some wicked vocals – as she always does. Such talent in this girl with a righteous band backing her!  Bullet Boys, whom have been back playing many local shows and national shows, were a bundle of energy and rocked the main stage – love these guys!
 Slaughter hit the stage with some impressive vocals backed up with a high energy, very talented band cranking out some of their most popular tracks. Zoltan Chaney on drums was killer, Jeff Blando was a phenomenal talent on guitar along with Dana Strum's bass lines. Put that all together with Mark Slaughter's vocals and these guys put on an amazing show, backed with a solid stage presence.
 Yngwie Malmsteen, as Eddie Trunk has noted, is a bit different from the other bands on the bill.  Nevertheless, he put on one heck of show with his electric rock riffs.  Kix was amazing as ever, playing all the hits of the day.  Many of the other bands on the bill, including Tuff, Vain, Britny Fox, Junkyard, Snuff Z'Nuff, Vixen, Circus of Power, Odin, and Pretty Boy Floyd, all rocked their top hits for the crowd.
 Faster Pussycat performed to a large crowd of dedicated Hollywood Fans.  Brett Michaels, now with Cinderella's Eric Brittingham in the line up, hit the stage with passion rocking his most popular tracks to a very enthusiastic crowd.
 Vince Neil was the closing act of the night. His solo band consists of Slaughter members, Jeff Blando, Dana Strum and Zoltan Chaney.  Jeff Blando was able to pump up the power cords of Motley Crue's most famous titles, supporting Neil's powerful vocals thoughout his energetic performance.
To sum it up, a blast was had by all at Irvine Meadows. Sadly it is true that this great music venue, which provided millions of South Orange County fans with some of the best moments in music since 1981, will be closing at the end of October, 2016. Apartment buildings will take the place of this amazing venue. For those whom would like to support Live Music in Irvine CA, please visit www.SaveLiveMusicIrvine.com
Hair Nation Festival
Electric Hounds
Gabbie Rae
Vain
Bang Tango
Enuff Z'Nuff
Bullet Boys
Faster Pussycat
Lita Ford
Slaughter
Yngwie Malmsteen
Kix
Brett Michaels
Vince Neil