HOUSE OF WATERS @ SPACE – Evanston, IL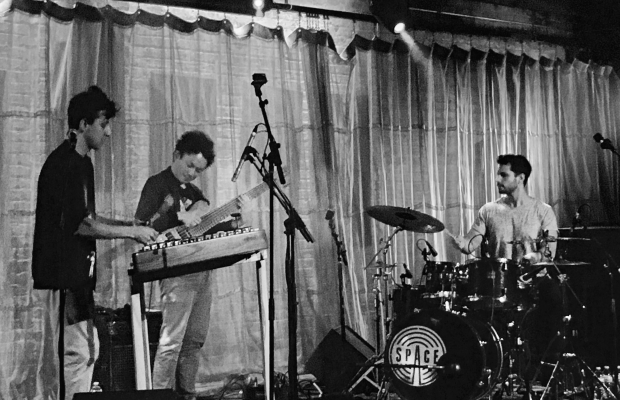 House of Waters is a band that is bending the very fabric of the musical universe as we know it. In terms of creative rhythms, pioneering techniques, unique instruments, and their approach to composition, this band is unparalleled. Max ZT is an absolute wizard on the hammered dulcimer, Moto Fukushima is one of the most versatile and creative bass players I have witnessed to date, and Ignacio Rivas Bixio blends it all together with an impressive drumming style that fits seamlessly to create the wonderful trio that is House of Waters.
The first time I came across these amazing musicians was just about a year ago at the first Ground Up Music Festival in Miami. Within the last two years Michael League (of Snarky Puppy) has proven he knows how to find both unique and virtuoso level musicians to add to his Ground Up family. With each member carrying their own cultural background and extensive educational accomplishments, they bring influences from all over the world to create a brilliant melting pot of Jazz Fusion, World Music, African dance, Irish folk, and Latin influences to name just a few.
I was slightly surprised to find the venue to be set up for seating, but it is understandable knowing much of their fan base is comprised of jazz enthusiasts. I can't complain about having a perfect view for the entire show either. Nonetheless, I stood in the back so I could move freely without bothering others. With the drum and bass duo of Fukushima and Bixio being just as tight and groove oriented as Hiatus Kaiyote, The Motet, and Tower of Power, there was no way I was going to be able to sit still. The rhythm section casually yet carefully laid down an air tight groove as Max poured emotion from his wonderfully complex instrument. The melodic depth that Max adds to what is already a gorgeous seascape of euphoric music is something that will give you chills to your core.

You see, a little known fact about these gentlemen's music that isn't evident until you see them live is that they get insanely heavy as well. While their writing can get a little abrasive melodically and aggressive rhythmically from time to time, the real plunge into the rock, dance, and metal genres happens when they let loose live. The speed, finesse, and pure talent of each member is on par with any of the greatest in the game today, and they are not afraid to showcase that fact in tasteful yet exploratory ways. This band truly has something to offer every music enthusiast, but I cannot stress enough the importance of experiencing them live. Thank you gentlemen for taking the world of music to a place it has never been.