IF THESE TREES COULD TALK @ BEAT KITCHEN – Chicago, IL
By Steve Nawrocki on September 4, 2016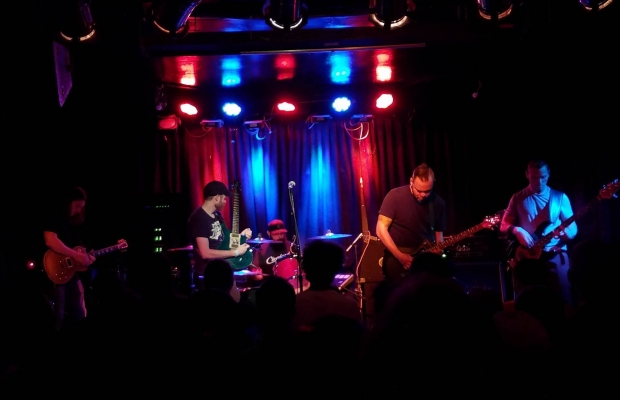 September 1, 2016
I've always said that the best time to see a band perform is right before they expand to the next big stage of their career. Everything is aligning in this perfect moment of progress; the band is firing on all creative cylinders, the audience feverishly passionate. There's a palpable sense in the air that everyone involved is sharing a special moment. This is the point that Akron, OH natives If These Trees Could Talk find themselves as they began their first ever national headlining tour in Chicago at the Beat Kitchen in support of new album The Bones Of A Dying World, their first for renowned label Metal Blade.
The band opened their set with the stunning track "Solstice" from the new album, with guitarist Cody Kelly's soaring leads floating above the chugging rhythms of guitarists Jeff Kalal and Michael Socrates, the snarling stomp of bassist Tom Fihe, and the shuffling precision of drummer Zack Kelly. This triple guitar attack is a signature of the sound of If These Trees Could Talk, mixing Tool-esque tones and looping serpentine riffage with an epic post rock-alyptic atmosphere creating a meticulous menagerie of string euphoria. Rarely are the three guitarists playing the same thing and yet somehow this is not ever overwhelming or confusing, as every part is simultaneously holding its own weight while also acting as a complement to the others. While performing new songs such as the progressive rock infused "Berlin" or older favorites like the haunting groove hymn "The First Fire" from album Red Forest, the amount of thought and attention to detail the band gives to structure and songwriting is not only readily apparent, but is quite simply staggering. That attention to detail translates to the live setting with such remarkable effect that it was almost as if the Beat Kitchen was built specifically for them as the sound of the interplay between band members was flawless.
Without a vocalist these trees don't have much to say in the literal sense, but this is truly a source of beauty in the experience that is If These Trees Could Talk. The level of depth and emotion pouring forth from the songs "speaks" more than limiting words ever could, leaving any message open to the interpretation of the listener. Every member of the audience seemed to be having their own personal conversation with the music surrounding them, multiple individual interactions intertwining amongst a blanket of melody. Based on the performance on the opening night of this tour and on the stellar new album, it is evident that the music of If These Trees Could Talk will be having these conversations with a steadily increasing number of individuals.
Features

Dan Scheiman | September 20, 2018

NORTH COAST FESTIVAL – CHICAGO, IL August 31st – September 2nd, 2018 Review By Dan Scheiman Photos By Nicci Allen Ever since we made the fourteen hour haul out to...

Featured Photographer

Taylor Regulski | August 18, 2018

Taylor Swift Reputation Stadium Tour @ Raymond James Stadium Tampa, FL August 14, 2018 Review & Photos by Taylor Regulski What do snakes, unicorns, detectives, and Olaf the Snowman have...
ABOUT ONSTAGE REVIEW

On Stage Review is a collaboration of passionate and enthusiastic music lovers coming together to give you an inside look into some of today's hottest and most intriguing artists.

We'll dive into their lives and careers on and off the stage and give you an up close perspective few get to see.

Facebook

ADMIN
Copyright © 2017 ONSTAGE REVIEW.com. Site by FM Imagery.