INDIGOSUN @ HOUSE OF BLUES – Chicago, IL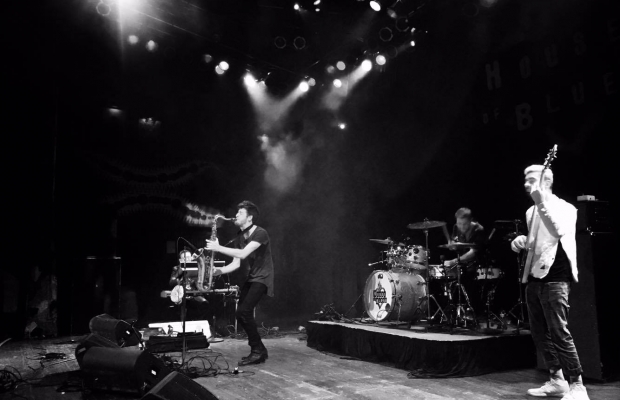 December 2, 2016
It's past 1 a.m. on Memorial Weekend, 2012.
Umphrey's just slayed the last of what seems like 27 sets. I'm fried in every which way possible after a brutal day of raging in 90 degree heat.
I've had enough. It's time to find my tent among the Red Sea of tents at Summer Camp Music Festival.
I'm cruising through the woods enjoying the sights, when I hear something faint in the distance.
Impossible. The nearest stage is too far away. It sounds like it's coming from somebody's campsite.

What I'm hearing is no ordinary late night campsite jam sesh.
What I'm hearing is the grooviest of chilled out funkadelia: the soulfullest of get-downs.
It's as if Daft Punk, Herbie Hancock, and Charlie Parker dropped a ten strip together and built a tree house with a spaceship landing pad right here in the forest.
Umphrey's and Moe are resting for the evening. I had every intention of faceplanting dead in my tent, but the forest is still alive tonight and I've found it's beating heart.
It's IndigoSun, and I'm an instant lifelong fan.
Fast forward 4 years to Friday December 2nd, at the House Of Blues Chicago and the magic I stumbled upon in those woods is still alive.
IndigoSun is a 4 piece outfit from Chicago, Illinois that's been killing the local jam/festival scene for years.
Steve Florian of Conflux and Quantum Entanglement is a monster behind the kit. He possesses a rare blend of finesse, pocket, and creativity and is the backbone of one of the tightest rhythm sections you'll ever hear.
Michael Cantella of BYZMUTi lays down the most obese of bass lines. Seriously, each one is a fat kid cramming a box of deep fried twinkies in his face with violence. His pocket is deep, and his fills are next level.
Kyle Liss is a wild animal on the keys. He's a tremendous soloist and songwriter and plays with pure passion. You'll rarely if ever see anyone have more fun playing the keys and you will NEVER see anyone get down harder on a keytar. Period.
Though no longer a full time member of the band, Lucas Ellman is the OG front man: a saxophone slayer of the first degree. He can do it all on the sax and is a commanding presence on stage.
I've had the pleasure of meeting these men at various festivals and shows. They are as terrific of humans as they are musicians.
Tonight they are playing the entirety of Behind Closed Eyes, a magnum opus of psychedelic jazz funk that radiates a soulful shine of peace, love, and booty moving vibrations.
Apparently Lucas has just flown in from New York 2 hours ago, and with no rehearsal the band intends to slay.
And slay they do.
From start to finish the energy is lit, the crowd is moving, and everyone is smiling. The joy is palpable throughout a crowd of familiar faces; faces of fans that have grown to love the music and message of IndigoSun as much as I do.
They nail every song as well as the first time I heard them in those S-camp woods 4 years ago.
Lucas solos like a man possessed and Kyle rips the keys and keytar like a legend. All the while Steve and Michael keep us dancing with dank grooves. They close the evening with my favorite IndigoJam "Welcome Home."
I've gotten down to exhaustion, danced into a near coma. Unlike Summer Camp this time I WILL faceplant… unless I hear a funkadelic jam band playing in my neighbor's kitchen upstairs. I've learned to always follow the jams wherever they go; you never know what you might find.
I can't recommend IndigoSun enough. If you're a fan of the Chicago Jam Scene, they can't be missed.
Follow IndigoSun on Facebook.