JIMMY BUFFETT @ HOLLYWOOD CASINO AMPITHEATRE – Tinley Park, IL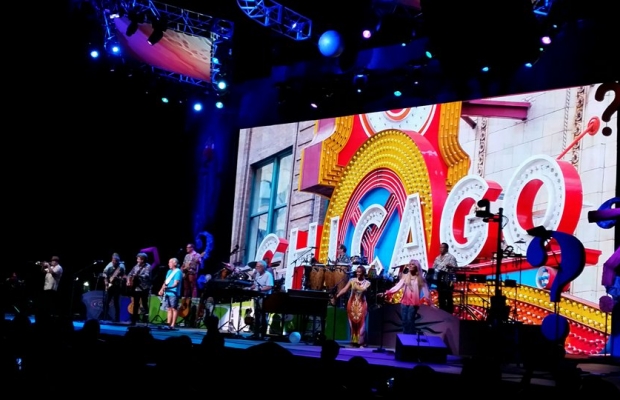 June 25, 2016
Jimmy Buffett is the most legendary and successful musician I have seen since I saw Paul McCartney last year. When I see men like this, who have over 50 years of experience in the music industry, I tend to pay a little closer attention simply because I know I can learn some important lessons from veterans like this. The lesson I learned on this particular evening, as the sun was setting over a sold out Hollywood Casino Amphitheatre, was that life is way too short to not smile and enjoy yourself every chance you get. This is a message that Jimmy has preached for his entire career, and after seeing his vibrant smile and his unbelievably lively stage presence, I know now why he has such an immense following of die-hard fans.
As I walked through the parking lot I realized the last time I was in the presence of a group this wild was the last Dave Matthew's Band show I went to. Jimmy Buffett fans show up as early as they are allowed to, and begin tailgating and drinking to an extreme that would compete with the most intense sports fans out there. Because Jimmy only comes around once a year, these fans come out with their fins up, and they treat this celebration of music, love, and partying as the holiday that it should be. Seeing a nearly 70 year old man dancing on stage barefoot in shorts and a tee shirt, having just as much fun as he did in his youth, was inspiring beyond belief; not to mention that he could legitimately pass for 55. I think Jimmy Buffett is proof that those who take the time to let loose, enjoy themselves, and appreciate the simple things in life, may very well live a longer healthier life.
The pure joy and good vibes that radiated from this man as he orchestrated more than 10 other incredible musicians, was a display of sincere purpose and talent that I had never quite seen the likes of. Everyone on stage was jamming, dancing and singing in front of a backdrop video that made it seem like we were on the beach in a paradise far away. Switching the background from a beautiful waterfall, to a brilliant blue sea, and even a volcano, Jimmy truly made us feel as if we were on vacation in the tropics. A friendly cartoon coconut came to give the fans a "Coconut Telegraph" voiced by the one and only Jeff Bridges. Of course the classic "Margaritaville" got the entire crowd singing and hugging one another.
About halfway through the show, Jimmy gave a heartfelt dedication to an old friend in the late great Glen Frey just before playing the Eagles classic "Take It Easy". This cover, along with a tremendous version of Van Morrison's "Brown Eyed Girl", were two of the best tributes I have heard in some time. It is hard for me to wrap my mind around the long list of masterful musicians that Jimmy Buffett has been friends with over his long career, but I can say that their influences on him are evident in so many great ways. On that same note, the ways that this man has influenced not only the music community, but the entire world, is something that will be talked about for years to come.
My personal projection is that Jimmy Buffett could easily keep doing what hes doing for another 5-10 years, but because there is a solid chance he could hang up the guitar and spend the rest of his days laying on the beach instead of touring, I would get yourself a set of tickets next time he comes to town.