JOANNA CONNOR @ KINGSTON MINES – CHICAGO, IL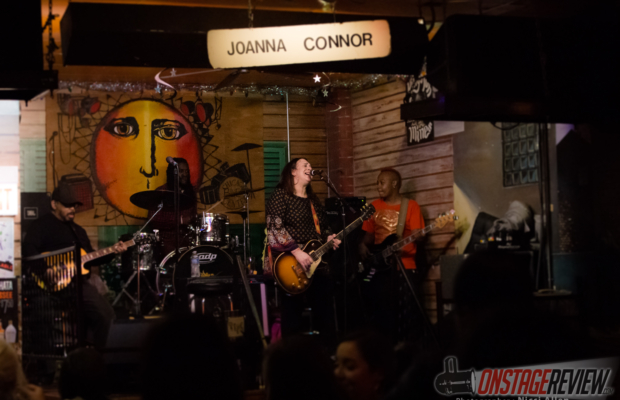 February 1, 2019
Immediately upon entering The Kingston Mines I felt as if I had been transported to an underground jazz bar in New Orleans. My mind quickly switched from focusing on the cold Chicago wind to the warm, welcoming, southern hospitality vibes and the soulful sounds of Joanna and her bandmates filling the entire bar. The genuine smiles throughout the entire place were a clear indication that Joanna and company were killing it.
Joanna had a stage presence that was both friendly and intimidating at the same time. This woman can be smirking at her bandmates and laying down a smooth blues groove one second, then absolutely ripping into a malicious guitar solo and laughing maniacally the next. The ability to play a wide range of genres coupled with chops to compete with the best of the best makes Joanna a true Chicago gem. What I love most about her playing and what makes her stand out among other guitar players is her aggression and the way she really makes her guitar scream. The more wild of her solos reminded me a bit of King Buzzo from The Melvins, while her calmer side made me think of the great B.B. King. The accompanying musicians in Joanna's band were pretty damn impressive as well. The subtle hints at showing the crowd their chops as well did not go unnoticed and whenever one of them would take a solo Joanna would smile, step aside, and let them strut their stuff. These gentlemen laid down an air tight pocket with a clarity and quality that was sincerely pristine. For what could be considered a hole-in-the-wall venue, the production and sound quality was stellar.
While each band was playing up to four sets that night, we couldn't stay until 4AM like the barkeep wanted us to. Before we left, we did manage to catch another absolutely mind-blowing performer in Nora Jean Bruso. This Chicago based blues-fueled siren of a woman brought a voice to the stage that was strong enough to the fill the venue without a microphone. I am willing to bet that I could dedicate the remainder of my life to nothing but singing and I would never be able to compare to what this woman could do with her voice. Accompanying this legendary Chicago voice was another group of fantastic musicians as well.
Overall, this was a wonderful evening. It seems like The Joanna Connor Band plays the Kingston Mines pretty frequently. If you're into hard hitting blues guitar I would highly suggest stopping out there to see this group.