JOE SATRIANI@CHICAGO THEATRE – CHICAGO, IL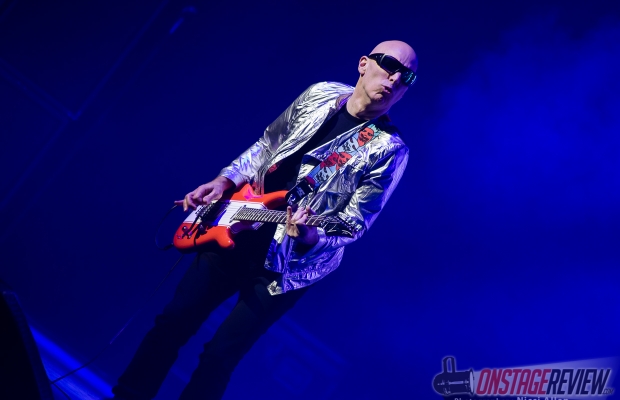 April 14, 2016
Just 2 years before I was born, Joe Satriani put out his first full length solo album Not Of This Earth. If my parents knew what was good for me they would have started me out on Satriani's music right away, but instead I had to have my ego crushed when I stumbled on his mind melting work as a young bass playing teenager.
Joe Satriani is known worldwide for what he can do with a guitar, he has topped sales charts year after year, and is personally responsible for teaching and helping mold amazing guitar players all over the world such as Steve Vai, Kirk Hammett, and Alex Akolnick. In the same respect, many of the young shredders and amazing guitar players of today arguably wouldn't be who they are without the ripple effect that Joe Satriani created.
This particular show, referred to as the Shockwave Tour, was celebrating 30 years of music and success. Even just the thought of growing up in the era that he did, then conquering it not long after to become one of the most successful and respected guitarists of all time, is too much for me to wrap my head around. This being my first live Satriani experience, I thought I was prepared for said Shockwave, but I was not. Just in case their are any superfans reading this and prepping for his show, I won't throw in any huge spoilers or track listings.
Being accompanied by the likes of Bryan Beller on bass, Marc Minnemann on drums, and Mike Keneally on guitar and keys, Joe had an incredibly strong and talented supporting cast. Aside from each member being glued inside the pocket for the entire show, it was pretty amazing to see how much Joe could draw out of each member at any given point in the show. Sometimes it would be the accents and rhythmic compliments he would offer, occasionally it would be him spontaneously increasing or decreasing the speed, and other times it would just be the fluidity of his dynamic changes, but whatever it was, you could see the way he was affecting the entire band.
Even beyond his communication with the band, his connection with, and love for the crowd was something special. He opened up a bit after a few songs thanking the fans of Chicago who recognized him from the very beginning and helped get his music noticed on a larger scale. He mentioned being inspired by many of his friends over the years throughout the writing process and then said he considered everyone who was there that night to be a friend as he thanked them for their support. This was especially awesome to hear from a legend like him.
Now it goes without saying that Satch's guitar work was razor sharp, fast as hell, and insanely complicated throughout the entire show, but I want to elaborate on a portion of his playing that may not be getting the respect it deserves, and that's the expression and depth that he offers. With newer technology, incredible guitar equipment, and the YouTube generation growing as fast as it is, we have kids all over the place shredding with just as much intensity and damn near as good of technique as Satriani and many of the other greats, but what a lot of young kids fail to really pay attention to and respect is developing a true voice with your instrument. This particular guitarist has a way of telling you a story, taking you on a journey, or even making you physically feel like you are flying without a single spoken word.
Joe Satriani is a technical wizard without a doubt, but his expressive capabilities on a guitar after 30+ years rivals any other six string player as well as many soulful jazz players on entirely different instruments such as John Coltrane, Miles Davis, and Herbie Hancock. The intense and refined voice that this man has found with his guitar is something that takes time as well as an unbelievable amount of work and dedication. Joe's creativity and psychedelic touch that he adds to his music is something that I think has inspired entire genres of music over the years. It would be nearly impossible to find a rock, metal, prog, or even jazz guitarist of this decade that hasn't been directly influenced by Joe Satriani.
There was a specific moment while Joe was tearing into a guitar solo with absolutely no regard for those who could have gotten hurt around him, where his fingers were moving in ways I wasn't honestly sure was possible, and his fans began standing up one after the other to cheer him on wholeheartedly, that I understood why he is so sincerely loved by his fans. The entire venue was standing and screaming as I watched Joe Satriani raise his arms and very genuinely gesture his extreme gratitude towards the crowd.
While trying to recover from blinding speeds, mind boggling melodic twists, and the air tight precision and articulation from the rest of the band, I came to the realization that I had just witnessed one of the great pioneers of the electric guitar. To be able to see and really soak in the work of a true veteran and all around musical virtuoso was something I know I will not forget.