Judas Priest, Saxon & Black Star Riders @ Grossinger Motors Arena – Bloomington,IL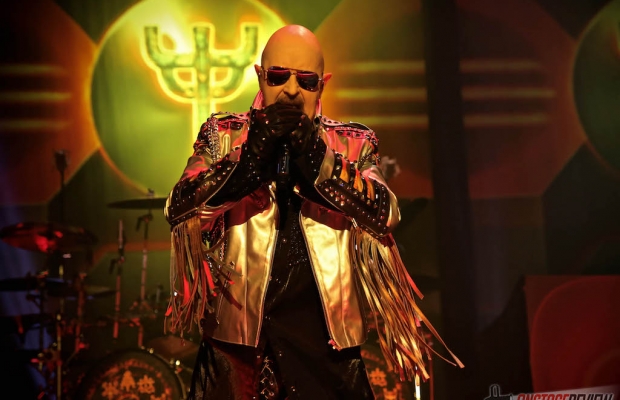 April 8th, 2018
The Metal Gods are back on their Firepower tour with special guests Saxon & Black Star Riders!
48 years, 18 albums…
Judas Priest has proven they can still bring it. This was evident on their tour to support their latest release, "Firepower".
The mood was set when the ultimate tribute to the British invasion of heavy metal, the Black Sabbath classic, "War Pigs" began as the intro to the performance. The band opened with the title track off of the new album, "Firepower". This was followed by a barrage of classic tracks from the earlier years of their legendary catalog. The performances of the two other songs from the Firepower album, "Lightning Strike" and "Evil Never Dies" managed to hit with the same intensity and ferocity as the older songs in the set and proved that these songs deserve their place among the classics. Overall, the set was a great blend of old and new and it left the crowd immensely satisfied.
Judas Priest has often been proclaimed one of the greatest heavy metal bands of all time, and rightfully so! After 48 years, and the heartbreaking news of Glen Tipton's diagnosis with Parkinson's disease, one would think that this tour could be a final goodbye for the Metal Gods. Hopefully this is not the case as the final backdrop of the evening assured the fans that "The Priest Will Be Back!"
Setlist:
Intro: Recording of War Pigs" – Black Sabbath
Recording of "Guardians" as additional intro
1. Firepower
2. Running Wild
3. Grinder
4. Sinner
5. The Ripper
6. Lightning Strike
7. Bloodstone
8. Saints in Hell
9. Turbo Lover
10. The Green Manalishi (With the Two Prong Crown) -Fleetwood Mac
11. Evil Never Dies
12. Some Heads are Gonna Roll
13. Breaking the Law
14. Hell Bent for Leather
15. Painkiller
Encore:
Recording of "The Hellion" as intro
16. Electric Eye
17. Metal Gods
18. You've got another thing comin'
19. Living after Midnight
Recording of "We are the Champions" – Queen
Black Star Riders
Saxon
Judas Priest