KING CRIMSON @ AUDITORIUM THEATER – CHICAGO, IL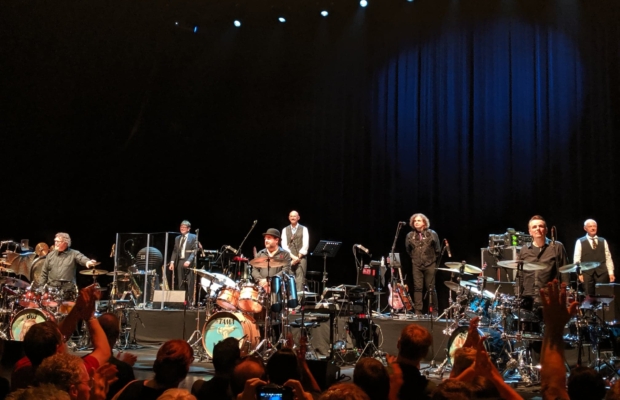 September 10, 2019
Being what appeared to be the youngest person in the crowd, an aspiring musician, an avid music lover, only having minimal knowledge of King Crimson's discography, and this being my first live King Crimson concert, I can imagine that it is safe to say that my experience was not only unique, but possibly similar to what some of the veteran fans around me may have experienced at my age 30+ years ago. Actually, it is entirely possible that one of the gentlemen in the crowd with me this night may have been in Auditorium Theater, at 31 years old, having his first King Crimson Experience in the late 70s… before I was even born. Trying to wrap my mind around this humbling thought is much easier than it was to comprehend the profound creative brilliance and musical pioneering that I was introduced to on this evening.
While I have seen a fair amount of shows within my generation that I consider to be of the same caliber as King Crimson, not a single one of these bands could say that they found their identity as musicians without first surviving what King Crimson did to music in the 70s. This band (both the original members and the mostly new group playing this evening) took the sophistication and elegance of jazz, mixed in both atmospheric and transcendental formulas, and also got mercilessly heavy to the point few bands are even capable of. One moment I was admiring the beauty and playfulness of a flute solo, then immediately was drifting outside of myself following Robert Fripp and company's psychedelic soundscapes, only to be flung back to reality with a devastatingly abrasive and distorted auditory assault. I think it added a great deal to my experience because I was unaware of what was coming. The remainder of the crowd knew every word and every transition.
Upon listening to their discography today, I am reminded of some of the tracks that truly bent my consciousness in such odd but fantastic ways live."Epitaph" with beautiful melodies and heartfelt lyrics, "Easy Money" with a raw and unfiltered funk rock vibe, and "Indiscipline" with surreal rhythmic changes and aggressive breakdowns. Every moment that I began to settle in to a specific mood or emotion, it seemed as though King Crimson would hoist me up, examine me like a lost and confused puppy, and then promptly toss me back into their indescribably intense musical universe. There was eye contact made between me and a few of the members during particularly amazing sections, and I am fairly certain that they knew I was not a weathered King Crimson fan. I would even get smirks occasionally that made me think even more so that they knew at least one audience member was on a completely uncharted journey.
The lighting and visibility of the stage made for a wonderfully enjoyable show, but because of every members unbelievably pronounced musical skill set, I did occasionally find it difficult to decide which member to focus my attention on. This was a good problem to have. Not often do you get this many virtuosos all on one stage together. My apologies for not offering the details on this review about song alterations, key changes, or first time moments, like a long time fan might have supplied. My perspective is my own because this was my first dive into the Crimson pool if you will. I usual throw into my reviews the "reminds me of" portion, but in this unique case I will mention some of my favorite bands that I will always were directly built and influenced by the might King Crimson. Thank you King Crimson for helping mold myself and a lot of my favorite musical influences such as Opeth, Porcupine Tree, Melvins, and Tool, and of course the entirety of the jazz and rock community as well.
As an additional bonus to what was one of the most impressive concerts I have seen in years, I was sitting what must have been no more than twenty feet from one of my all-time favorite percussionists, Gavin Harrison. The last time I managed to see this mastermind of a drummer work, his magic may have been for Porcupine Tree's Deadwing tour in 2005. That concert drastically influenced my development as a musician and ultimately inspired me to follow Gavin to this King Crimson show. This concert will be cherished in a very similar way for years to come. Gavin was joined on stage by two very unique and equally as ridiculous drummers in Pat Masteloto and Jeremy Stacey. The three of them were showcased at the front of the stage while the remaining members were lifted above them just a few feet behind. The ability for these 3 to reverberate with one another and act seamlessly as one drummer was nothing short of dumbfounding.
I will be a King Crimson fan for the rest of my life. Now that I have entered The Court of The Crimson King, I fear I may never return to everyday reality. This was the 50th anniversary showcase. I would strongly suggest catching a concert before the original members are no longer playing.