Kings of Chaos + Franky Perez and the Truth @ Irving Plaza – New York, NY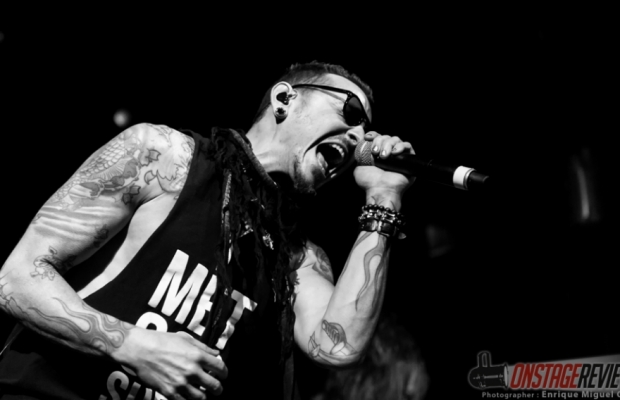 Just five days before Christmas, New York City had 7 kings visit Irving Plaza for a very special evening. The "Kings of Chaos" is a super group that consists of various musicians . Even since forming in 2012 , the line-up changes every year and mainly covers songs from legendary bands ranging from: ZZ Top, The Cult, Led Zeppelin and Guns N' Roses just to name a few. This year's line-up revolved around seven very talented musicians that revolutionized rock and roll throughout their careers. Matt Sorum being the only core member in this year's lineup, Steve Steven (Billy Idol), Billy Duffy (The Cult), Robert DeLeo (Stone Temple Pilots), Robin Zander (Cheap Trick), Billy Gibbons (ZZ Top) and Chester Bennington (Linkin Park) were called in for this year's all-star roster.
To start off the night, Franky Perez and the Truth, who also appeared in Kings of Chaos 2013, opened with a memorable performance, mixing in blues/hard rock/ southern rock n' roll music style that had the audience singing throughout the performance. A crowd favorite that set the tone was "Baby, Please Don't Go." The crowd instantly recognized the song surrendered into the beat. To finish the set, "Closer" (Nine Inch Nails) and "Whipping Post" (The Allman Brothers Band) were a perfect combination as it kept the momentum going, setting the stage for the Kings of Chaos.
As I made my way towards the photo pit, Irving Plaza was already crowded as anticipation was built up with the front row of the barrier was at its fullest. Fans were getting their cell phones ready to record the event, while the musicians were being introduced on stage. As for me, I was looking forward to photographing one of my favorite singers as a teenager, Chester Bennington. Remembering the moment he came up on stage was breath taking, as I've never seen Linkin Park live. Not only did his presences ignite the crowds' energy but the two songs that started the "chaos" was "Vasoline" a Stone Temple Pilots song (which he briefly took over as vocalist before exiting in 2015) and Billy Idol's "White Wedding" helped elevate the intensity surrounding the band. The crowd was hooked from there on and after a few songs with Chester, Robin Zander took over vocals for a few songs that included: "Hello There," "Surrender," and "I Want you to Want Me." From there, we had the privilege to be in the same room with Billy Gibbons replacing Zander, performing ZZ Top's hit songs: "Waitin' For the Bus," "Sharp Dressed Man," and "Tush" before concluding the night with Led Zeppelins "Whole Lotta Love".  As a fan stated before exiting the venue "It's not rock n roll without a Zeppelin song".