LACEY STURM @ ROUTE 20 – Racine, WI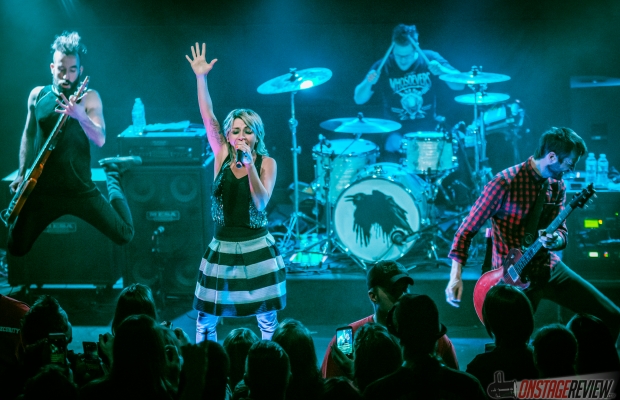 February 10, 2017
Lacey Sturm, ex-Flyleaf vocalist, packed the house at Route 20 in Racine, Wisconsin with her 2017 tour guests Palisades, Stitched Up Heart, and Letters From The Fire.
2016 was a big year for Lacey as she not only released her new book, "The Mystery: Finding Love in a World of Broken Lovers," she also released her first solo album, Life Screams. Lacey made it pretty clear that she shows no signs of slowing down in 2017 as she set off on a epic tour of rock (starting in mid January and ending in mid February) featuring the most up and coming artists.
Letters From The Fire kicked off the night with a bang and they definitely made sure energies were high. If you haven't heard of Letters From The Fire, I recommend checking them out sooner rather than later! They have a new record out called Worth the Pain featuring songs "Worth the Pain", and "Give in to Me" which can be heard on Sirius XM's Octane channel and other rock radio stations. Vocalist Alexa Kabazie shows off her skill while she demonstrates her amazing dynamic control.
The crowd made it pretty apparent that they were excited to see Stitched Up Heart perform as the already full venue became even more crowded. Just in the past year, Stitched Up Heart has gained a huge following in Wisconsin. Front woman Mixi (Alecia Demner) has a scream like you wouldn't believe, and if you saw her you'd be just as surprised. This petite long haired beauty can belt like no other and is surely making a name for herself in the rock and metal world. Mixi is an artist thats all about her fans, and it shows when you see how she interacts with the crowd while she is on stage.
Palisades, a post-hardcore band that was formed in early 2011, made an appearance after Stitched Up Heart. Having just recently been introduced to Palisades, I was most excited to check out their performance. In January 2017 they released their second album with Rise Records, which seems to be giving the band traction to gain a larger following. Palisades put on a spectacular performance, as well as impressing a few new fans, including myself.
Lacey has a fantastic, very distinctive voice which most can recall from her previous work with Flyleaf. Since Lacey's departure from Flyleaf, she has focused on her solo work as well as writing. Lacey's debut album, Life Screams, came out last year and hosts many hit songs which were played throughout the night. The set was kicked off with hit song, "Impossible", which was very fitting to sum up the message that Lacey sends through her music. Many times throughout the set Lacey spoke about the struggles and hard times she faced, as well as the success that came from it all. We were also fortunate enough to hear some of Flyleaf's songs throughout the night too! The band, which consists of Josh Sturm (Lacey's husband) on guitar, bassist Ben Hull, and Tom Gascon on drums, made sure to keep up the pace and put out some of the highest energies all night!
All in all the show was outstanding, and the lineup of amazing musicians could not have been better. There are only a few dates of the tour left, with the last show being on February 14 in Pittsburgh, PA, but if you have the opportunity to check out any of these bands in the future – definitely go. You won't regret it!
Lacey Sturm
Palisades
Stitched Up Heart
Letters From The Fire