LAMB OF GOD PLAYING AN INTIMATE VALENTINE'S DAY SHOW @ HOUSE OF VANS -CHICAGO, IL
By Nicci Allen on February 13, 2020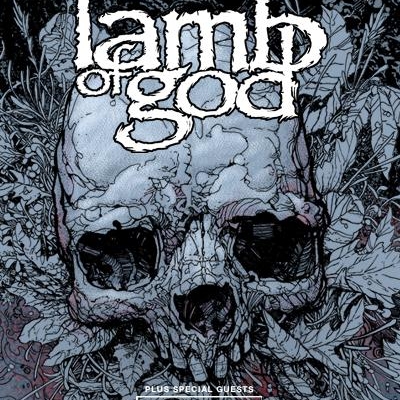 Lamb of God on February 14th
Featuring Harm's Way and Special Guests
Photography Exhibit Featuring Works of D. Randall Blythe
About Vans
Vans® , a VF Corporation (NYSE: VFC) brand, is the original action sports footwear, apparel and accessories brand. Vans authentic collections are sold globally in 84 countries through a network of subsidiaries, distributors and international offices. Vans also owns and operates more than 600 retail locations around the world. The Vans brand promotes the action sports lifestyle, youth culture and creative self-expression through the support of athletes, musicians and artists and through progressive events and platforms such as the Vans Park Series, Vans Triple Crown of Surfing®, the Vans U.S. Open of Surfing, Vans Pool Party, Vans Custom Culture, Vans Warped Tour® , and Vans' cultural hub and international music venue, House of Vans .
Vans, "Off The Wall" Since '66
Nicci Allen is a photography/graphic design major who has been an active and involved member of the music scene since she was old enough to be let in local shows. Whether it was bartending concerts at The Pearl Room, being an involved member of the Girls of Metal, booking and promoting local shows and benefits, attending festivals and supporting artists of every genre, or DJing and writing her own music, Nicci has always made music a necessity in her daily life.
Features

Nicci Allen | February 26, 2020

LAMB OF GOD @ HOUSE OF VANS– Chicago, IL February 14th, 2020 Review: Dan Scheiman Photos: Nicci Allen What better way to celebrate Valentines Day, than an intimate winter...

Featured Photographer

Joe Hendrickson | February 18, 2020

Machine Head @ The Metro – Joliet, IL February 15, 2020 Review & Photos by Joe Hendrickson Machine Head made a stop at The Metro on their Burn My...
ABOUT ONSTAGE REVIEW

On Stage Review is a collaboration of passionate and enthusiastic music lovers coming together to give you an inside look into some of today's hottest and most intriguing artists.

We'll dive into their lives and careers on and off the stage and give you an up close perspective few get to see.

Facebook

ADMIN
Copyright © 2017 ONSTAGE REVIEW.com. Site by FM Imagery.