LINGUA IGNOTA @ THE EMPTY BOTTLE- CHICAGO, IL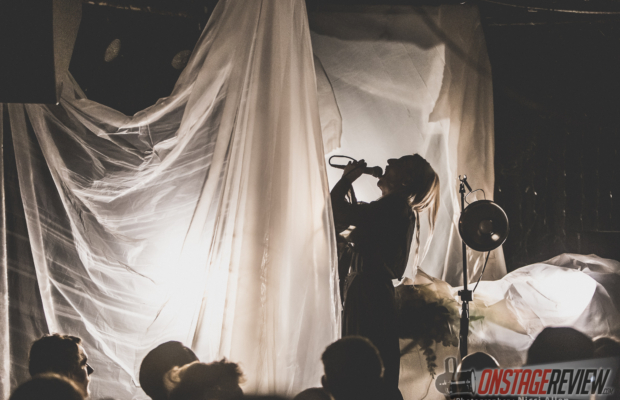 September 9th, 2019
When I first heard of Lingua Ignota, the headlines alone sparked my interest. I kept seeing countless articles about how she was a survivor of domestic violence, and was using her music as an emotional outlet to cope with her own harrowing experiences, as well as an educational tool to help others. Having personally struggled with eating disorders, misogyny, and abusive relationships, she unfortunately (for her) has a lot to write about. I knew I had to see her live to support this brave and inspirational human, and witness the intensity of her performance firsthand.
After only getting started with this project in 2017, Lingua Ignota (Kristin Hayter) is already an icon and patron saint for those who have been through or are going through pain. Being a classically trained vocalist only adds to her divine representation.
When she first entered the room, about a half hour before she was set to go on, the crowd cheered in surprised excitement. She smiled & waved and then started setting up all of her gear that was strewn across the back of the stage. Standing on chairs to hang plastic sheets from the ceiling on both sides of the stage as well as behind her table that was set up with her laptop and mic, she plugged into multiple lamps and power strips from a pile of tangled chaotic cable mess. All of this she did with a determined and deeply focused expression, as if the crowd was not there. No one helped her… Kristin does everything all on her own, and all her own genuine blood sweat and tears are wept for the sake of sharing her message with the world. Her first album was actually entirely self-released and 100% of the proceeds were donated to the National Network to End Domestic Violence not-for-profit organization.
Once the ambient presence was sufficiently staged by Lingua Ignota, the sold-out crowd stood silently mesmerized as she proceeded to pour her entire soul into her set. She perfectly performed a mix of her 3 albums, but mostly songs from the latest masterpiece CALIGULA. I stood there jaw- dropped among the audience just as drawn in to her powerful conjuring as the rest of the room. Her name actually relates to the concept of soul possession, & "God speaking through a body," and this is entirely apparent in her performance. At times she wandered off the stage into the crowd, with one of her stage lamps entangling her body, furiously whipping the light around her backless-dress bare back. This left welts but she didn't seem to feel it, almost appearing to be having an out-of-body experience releasing her lyrical torment. Just as she sings in "I Am the Beast" "All I want is boundless love, all I know is violence…" this is the impression she leaves from her overtaking screams of anguish on top of what is best described as doomy distorted noise. The entire room was rattled figuratively and literally from her impassioned voluminous production. Lingua Ignota possesses such a beautiful voice that calls out from a profoundly tortured soul which has clearly been through hell and beyond.
My expectations for this show were immeasurably surpassed, and I highly recommend catching her performance before she is making headlines selling out all of the great concert halls.