Logic Presents: Bobby Tarantino vs. Everybody Tour with NF & Kyle @ Mid Florida Credit Union Amphitheatre Tampa, FL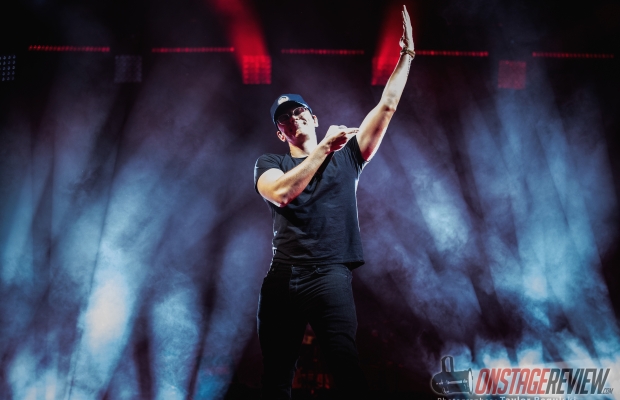 June 22, 2018
"NO F**K BOYS ALLOWED!" was the theme of the night. The crowd may not have heard this until Logic took the stage but, positive vibes were there from the beginning. I have been to the Mid Florida Credit Union Amphitheatre numerous times in the past four years. I have never seen the venue as packed or the crowd as excited as it they were for Logic's Bobby Tarantino vs. Everybody Tour.
If Lil Yachty is the "King of the Teens", SuperDuperKyle might be in the race for "Prince". At least that's the impression you get from watching the crowd react to his performance. Sure, an amphitheatre is hard to play to when you're not the opening act and the crowd has yet to file in. But within the pit, fans were ready to party. If the iSpy artist said jump, the crowd asked how high. You could tell Kyle has entertainment in his veins. There is a difference between a show and a performance. And his stage presence was palpable. Some artists crowd surf. Kyle surfed the crowd. Literally.
Overall, Kyle's performance was perfect for the sunset slot. His vibe was nothing but  light and fun. The act that followed on the other hand… a little more complicated. NF has talent as a rapper. That much is clear. Yes he's much angstier than the opener, but behind that angst seems to be the genuine emotion of a self-identified outcast. That being said, the Michigan rapper toned down his performance by rapping over his own recordings. He has the talent to rap fully live but, chose to focus more on the aura of the performance rather than the delivery. Regardless, the Real Music artist presented fans with moody lights, dark attire, and a truly deep message. Many may have been there for Logic but, NF wouldn't Let You Down, as he closed with his hit song.
By the time Logic took the stage, the crowd had grown restless. A 35 min delay between NF's set and his surely didn't help. The moment the Baltimore rapper took the stage, the energy of the previous performance came surging back in an instant. 
The first time I heard Logic was 2012. He started catching some serious YouTube buzz with the song The Spotlight for his swift delivery and flow. Gliding over a remix of Justice's D.A.N.C.E., I knew then that this kid had a real shot to break into the industry. A year later, he was signed to Def Jam records. Another solid mixtape and a couple albums later, he started to become a lot more mainstream. After 1-800-273-8255 dropped…nothing's been the same.
Logic has truly grown into a performer since I last saw him in 2015. At the time, he had an afternoon slot on the Perry's Stage at Lollapalooza. The vibe that Saturday afternoon compared nothing to what was witnessed this evening. What Logic did on that Tampa stage far exceeded my expectations. From a rapping perspective, I got exactly what I thought I would. Logic performs his songs very well. He doesn't skip words and his energy is infectious.
That infectious personality shined through during the moments in-between his songs. Logic did things you rarely see at a concert. He truly cares about his fans and kicked off the evening singing happy birthday to a fan and giving him his hat as a birthday gift. The surprises kept coming when he brought a fan on stage to play 5 rounds of Street Fighter against him. You could tell that Logic doesn't make his tour about him, but rather about his fans. Logic's demonstration of compassion and awareness truly shined through when he stopped mid freestyle to spread the crowd and aid a fan who collapsed from dehydration. How many artists have you seen do that?
If you're familiar with Logic's music already and enjoy it, then you'll enjoy his show. If you're looking for a "cool" but inviting rap show to bring your kids to, then you'll enjoy this show. If you're generally about peace, love, positivity, and hip hop…well then this might be the best 2 hours of your life. It's clear that Logic takes all of his performances to heart and memory just as he remembers his fans who follow have followed him around the country for years.
My typical opinion of hip hop shows is that it is very difficult to do something special. Don't get me wrong, it's one of my favorite genres. But live rap performances often fall flat. Artists either skip words, rap over their own recordings, or rely too much on the audience to get through the performance. Logic managed to do the exact opposite. He delivered every bar, didn't skip a beat, and engaged his fans in a fun and unique way.
Bobby Tarantino might not be for everyone, but it's hard to not appreciate Logic's core message of positivity and what he brings to the culture.